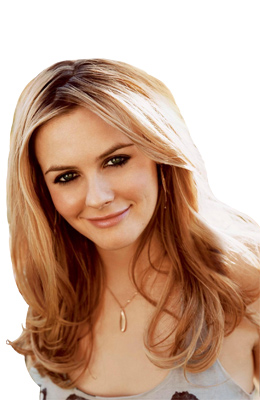 My son makes me deliriously happy. He is delicious, and I could watch him, and hang out with him and snuggle with him forever. He is very healing.
"
"
Alicia Silverstone (www.thekindlife.com) is best known for her roles in Hollywood films such as Clueless and her portrayal of Batgirl in Batman & Robin. Her performances have garnered Emmy and Golden Globe nominations and she also won National Board of Review. To top it all off, she is also a New York Times bestselling author!

In Spring 2012 Silverstone will guest star in ABC's hit comedy series Suburgatory alongside Clueless co-star Jeremy Sisto. Later in the year she will star alongside Krysten Ritter and Sigourney Weaver in the romantic horror-comedy Vamps. Written and directed by Amy Heckerling, the writer-director behind Clueless, the modern-day story focuses on two beautiful young vampires who are living the good nightlife in New York until each has to make a choice that will jeopardize their immortality.

Silverstone recently wrapped production on the comedy Gods Behaving Badly co-starring Christopher Walken, Edie Falco and Sharon Stone. The film is set in modern-day New York and tells the story of Greek gods as they intervene in the lives of a young couple.

Silverstone was last seen starring in Butter alongside Hugh Jackman and Jennifer Garner which was released in March 2012. The comedy takes place in Midwest U.S. and she plays the adoptive mother of a teen girl who becomes a major contender in the butter-carving competition.

From January to March 2010, Silverstone starred alongside Laura Linney in Donald Margulies's Time Stands Still on Broadway. She was nominated for an Outer Critics Circle Award and received rave reviews for her performance as Mandy. "…in a tricky role to which she brings warmth, actorly intelligence and delicate humor. She achieves the lovely feat of allowing us to laugh at Mandy's shallowness even as we are charmed by her good-heartedness."—The New York Times.

In October 2009, Silverstone released her first book titled THE KIND DIET: A Simple Guide to Feeling Great, Losing Weight, and Saving the Planet. The book went to Number One on the New York Times bestseller list. In THE KIND DIET, Silverstone shares her journey toward a more conscious way of eating and reveals how it has made her feel better than she ever thought possible. The book is filled with personal anecdotes, motivational tips, and nearly 100 delicious recipes. In February 2011 the paperback version of THE KIND DIET was released with contined success and making the New York Times bestsellers list yet again.

Silverstone is a dedicated advocate of the planet and its animals and even bared all in PETA's first-ever naked veggie testimonial PSA in 2007. In 1993, Silverstone made her feature film debut starring as Adrienne Forrester in The Crush, playing a teenaged girl who sets out to ruin an older man after he spurns her affections; won two awards at the 1994 MTV Movie Awards for the role—Best Breakthrough Performance and Best Villain.

After seeing her in The Crush, Marty Callner decided Silverstone would be perfect for a role in a music video he was directing for the band Aerosmith, called "Cryin'"; she was subsequently cast in two more videos, "Amazing" and "Crazy". These were hugely successful for both the band and Silverstone. They also got her noticed by filmmaker Amy Heckerling, who, after seeing them, decided to cast her in Clueless. Clueless became a sleeper hit and critical darling during the summer of 1995. Silverstone's performance was so well received she won the National Board of Review Award for "Best Breakthrough Performer", the MTV Movie Award for "Best Female Performance" and "Most Desirable Female" and the American Comedy Award. "Funniest Actress in a Motion Picture."

In 1997 Silverstone played Batgirl in Batman & Robin and starred alongside Benicio del Toro and Christopher Walken in the dark comedy Excess Baggage which she also produced. Other film credits include Beauty Shop opposite Queen Latifah; Blast from the Past, Kenneth Branagh's film adaptation of the Shakespeare play Love's Labour's Lost, Stormbreakers with Mickey Rourke and Ewan McGregor; Le nouveau monde alongside James Gandolfini Global Heresy, Scooby Doo 2: Monsters Unleashed and Scorched with Woody Harrelson and John Cleese.

Her television credits include NBC's Miss Match, for which she was nominated for a Golden Globe, and voicing the lead character in the animated television show Braceface which garnered her a Daytime Emmy nomination for "Outstanding Performer in an Animated Program". She also executive produced 75 episodes.

In 2002, Silverstone made her Broadway debut as Elaine Robinson in The Graduate. She has worked with director David Mamet on Speed the Plow and Boston Marriage at the Geffen Playhouse in Los Angeles. After seeing her performance in Speed the Plow Donald Margulies cast her in his Time Stands Still readings before it was a finished play.

Alicia Silverstone currently resides in Los Angeles.
More articles from Alicia...
Alicia Silverstone offers tips for living green