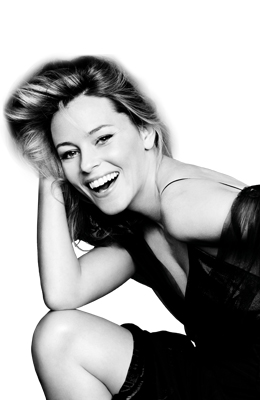 As a working parent you got to have a good village and it takes a village. I have a running tally 24-7. If I'm not there I ask, 'Where is he, who is he with, what is he doing, does he miss me?' Once I know the answer to those questions I can go about my life. It's just checking that list every day.
"
"
Elizabeth Banks (www.elizabethbanks.com) has become one of Hollywood's most sought after and versatile actresses. This year she has appeared as Effie Trinket in the international hit The Hunger Games, What to Expect When You're Expecting, Man on a Ledge opposite Sam Worthington and People Like Us opposite Chris Pine and Michelle Pfeiffer.

She will next begin production on Catching Fire the highly-anticipated sequel to The Hunger Games. Upcoming in October, Banks appears in Universal Pictures' Pitch Perfect, which she is produced with her husband, Max Handelman, through their company, Brownstone Productions. The cast includes Anna Kendrick, Brittany Snow and Rebel Wilson.

In August 2011, she was seen in Our Idiot Brother opposite Paul Rudd, Emily Mortimer and Zooey Deschanel, directed by Paul Haggis. Our Idiot Brother and The Details premiered at the Sundance Film Festival in January 2011 and were both purchased for distribution by The Weinstein Company.

She also starred opposite Russell Crowe in The Next Three Days in 2010. In 2008, Banks received critical acclaim for her role as First Lady Laura Bush opposite Josh Brolin in Oliver Stone's W. The impressive cast included James Cromwell, Richard Dreyfuss, Ellen Burstyn and Jeffrey Wright. In Kevin Smith's Zack and Miri Make a Porno Banks (Miri) and Zack (Seth) played two broke friends who decide to cure their financial ills by making an X-rated movie.

Banks' additional feature credits include her breakthrough roles in the Academy Award-winning films Seabiscuit, in which she starred as Marcela Howard opposite Jeff Bridges and Tobey Maguire, and in Steve Spielberg's Catch Me If You Can. She has also appeared in Role Models, Meet Dave, Invincible, The 40-Year-Old Virgin, Fred Claus, Sisters, Slither, Heights, The Baxter, The Trade, Ordinary Sinner, The Uninvited, Daltry Calhoun, Sexual Life, John Singleton's Shaft with Samuel L. Jackson and cult hit Wet Hot American Summer starring Janeane Garofalo and David Hyde Pierce. She also appeared as journalist Betty Brant, a role that director Sam Raimi created for her, in Columbia Pictures' three blockbuster Spider-Man films with Tobey Maguire as the title character.

On the small screen, Banks earned an Emmy Award nomination in 2011 for Outstanding Guest Actress in a Comedy Series for her performance as Avery Jessup on NBC's30 Rock. She has also appeared on ABC's Modern Family and in a recurring role as Dr. Kim Porter on NBC's Scrubs. In 2007 she appeared in the CBS mini series Comanche Moon, Larry McMurtry's prequel to Lonesome Dove.

In addition to producing Pitch Perfect, Banks also produced Disney's 2009 sci-fi thriller The Surrogates, starring Bruce Willis, through her company Brownstone Productions. Upcoming projects for Brownstone, which Banks runs with her husband Max Handelman, include Tink, a Disney live-action romantic comedy in which Banks will star as the title character of Tinkerbell; Forever 21, a Dreamworks comedy which Banks will star in and produce; Too Far From Home, a Universal film about three astronauts who were stranded on the international space station.

Her extensive theater credits include many roles in American Conservatory Theatre productions, as well as the Guthrie Theater's production of Summer & Smoke directed by David Esbjornson. In 2006 Banks played Cherie, the female lead in William Inge's comedy Bus Stop, as part of the Williamstown Theater Festival.

Originally from Massachusetts, Banks received her Bachelor's Degree from the University of Pennsylvania and her Graduate Degree at the American Conservatory Theater. She currently resides in Los Angeles.
More articles from Elizabeth...
Elizabeth Banks talks about internet privacy