Posted: Nov 16, 2014 9:00 PM
Don't spend your hard-earned cash on pricey holiday photography. These photo backdrop ideas are easy to construct with a few supplies and minimal imagination.
A floating winter wonderland
Photo credit: Green Wedding Shoes
Sugary marshmallows take on an ethereal quality when they're strung on clear wire for whimsical hanging garlands. String and hang the garlands for a photo that looks like your babies are waltzing through a winter wonderland.
Lessons in geometry
Photo credit: A Ruffled Life
Of course, nothing is quite as eye-catching as a bright and colorful backdrop pattern. We love how these triangle sparkles provide a modern take on holiday cheer.
Surrender to holiday sparkle
Photo credit: Plain Vanilla Mom
If you're going to use holiday lights as your photo backdrop, make sure you string them properly for the perfect shot.
Beautiful minimalism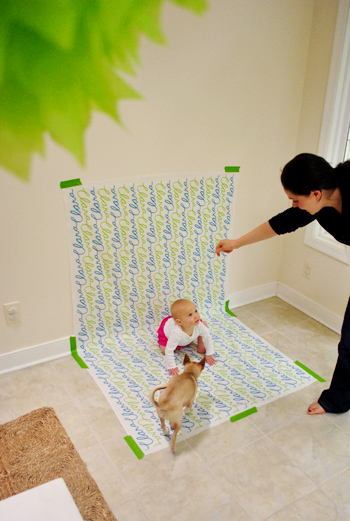 Photo credit: Young House Love
We love the simplicity of a beautiful piece of fabric for a photo backdrop. This simple fabric tutorial works best with itty bitty babies who can't yet roll or crawl away from your perfectly-placed cloth.
Splash with color
Photo credit: Lovely Indeed
Are you more of a New Year's Eve family? Use bedazzled, colorful tinsel for a photo backdrop that practically toasts the new year.
A walk on the lighter side
Photo credit: Mom Tog
Balloons are a quintessential component of a proper childhood, so use an eye-popping line of balloons to frame your little ones in a perfect photo. Too colorful for your tastes? Use green, red and gold balloons, of course.
Messages of holiday cheer
Photo credit: One Claire Day
If you have a chalkboard or access to chalkboard paint, this simple and cute chalkboard backdrop is perfect for your family. Make it special with a cleverly chalked statement.
A sky full of stars
Photo credit: Design Work Life
Hang garlands of stars from the ceiling for a holiday photo that's stunning in its simplicity. And, oh yeah, it still sparkles just a bit.
Snowy and dreamy
Photo credit: Hank & Hunt
It's hard to go wrong with a white photo backdrop, and this faux-snow backdrop certainly delivers. All you need is craft glue, a poster board and a meticulous eye for shredded white tissue paper. Imagine your cuties cuddled up in the middle of a snowscape without ever chilling their fingers and toes.
Cute and cozy cuddles
Photo credit: I Love You More Than Carrots
The holidays are perfect for cuddling under blankets and imagining magic. This backdrop of ornaments and canopies captures the memories nicely, don't you think?
Photo credit: KidStock/Getty Images
More from My Family
Should I bring my child to a funeral?
How to foster your preteen's uniqueness
Teaching kids about God without choosing a specific sect