Posted: Apr 19, 2012 11:12 AM
Interested in cloth diapers but can't stomach a big stinky pail of you-know-what in your nursery? We've got good news. Cloth diapers have come a long way and some styles are just as easy to use as disposables. Get the down and dirty on all your cloth diapering options -- they're not your grandma's diapers anymore!
All-In-One (AIO) diapers
If you are new to cloth diapers and looking for something that isn't going to require a PhD in diapering to use, AIO diapers are your gig! They look and act like a disposable diaper. (Actually, they are often way cuter with colorful patterns outside!) The only difference is that you throw them in the wash, rather than the trash after each use. Our favorite brand is bumGenius Freetime, which comes in three sizes with Velcro tabs for easy on-and-off and can meet your baby's needs from birth all the way up to the potty-training years.
Pocket diapers
Pocket diapers are almost as simple as AIOs to use, except that they come with an insert that you have to stuff each time before you diaper your baby. The advantage of pocket diapers is that you have more control over how absorbent your diapers are. During the daytime, you can stuff with a thinner liner, while at night you can use a heavier soaker insert. Also, sometimes just the insert will be wet and so you won't have to wash the whole diaper. We love the Blueberry One Size Bamboo Pocket which has a waterproof exterior and a silky bamboo and organic cotton layer inside. And did we mention how stinking cute the designs are?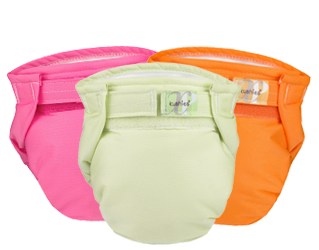 Fitted diapers
A fitted diaper is an absorbent diaper that has no waterproof outer layer so it must be used with a cover or wrap. Without the extra outer layer, fitted diapers dry faster than AIOs. They also come in sizes that are adjustable and can fit your baby from infancy through toddlerhood. We're head over heels for Kissaluvs Marvels One-Size Fitted Diaper which fits most babies from 10-40 pounds and has elasticized legs and waist for a snug, leak-proof fit. They are available in 6 adorable prints with an organic cotton exterior and a cushy inner layer made of bamboo velour. Awwwww!
Diaper covers
If you use a fitted diaper, you are going to need a few waterproof diaper covers. These adorable Coveralls from Blueberry are lightweight with a laminated interior that is a breeze to wipe clean. Wanna go old school? You can use these covers with flat and prefold diapers too!
Diaper care
Most brands of modern cloth diapers can be washed right in your own washing machine just like clothes. If you'd like to leave a little more of the mess where it belongs, you may want to invest in a diaper sprayer like this one from bumGenius. With a high-pressure nozzle that easily attaches to your toilet, you don't have to get your hands dirty to get even the poopiest diapers squeaky clean. Just hose off those bad boys right into the toilet and voila! Cloth diapers couldn't get any eaiser.
More about your baby
Fun ways to chronicle your baby's development
First words: Encouraging your baby to talk
5 Unique ways to welcome a baby