Posted: May 09, 2012 8:00 PM
Mary Riesgraf is one of the many amazing women across the country who have started their own businesses. Riesgraf is the founder of
Sweet Mary's
-- a confectionery house based in Los Angeles that offers her delicious, gourmet treats from white chocolate and raspberry popcorn to caramel-chocolate apples. Riesgraf took time out of her busy schedule to talk to allParenting about her business, her daughters and more.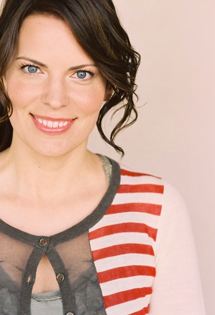 Sweet Mary's has caught the eye of a variety of celebrities including actress Jenna Elfman, designer Rebecca Minkoff and actors Jason Lee and Timothy Hutton. We talked to Riesgraf about how she got started and how she involves her three daughters into the business.
allParenting: For those unfamiliar with your business, tell us a little bit about Sweet Mary's.
Mary Riesgraf: Sweet Mary's was started out of pure joy that my sweets brought to my friends and family. I started making homemade sweets for holiday gifts and everyone kept telling me to start a business. I was afraid of making such a big commitment so I didn't consider starting a business until Fall 2011. My boyfriend Leif and my three daughters (Grace, 11, Sarah, 10, and Emma, 8) were my biggest fans encouraging me to go for it. I am so glad I started. I have had a blast making sweets and I love hearing all of the great feedback from our customers.
allParenting: How did social media help the business take off?
Mary Riesgraf: Twitter was a huge help! I had no idea how fast and furious Twitter and Facebook could make a business grow. I sent an email out on a Sunday evening to a few friends letting them know I was in business. I went to bed and when I woke up I had over a 100 emails from people wanting to place orders! I couldn't believe it! My sister had tweeted about me and a bunch of our friends re-tweeted... It was explosive! The funny part is I had no way to take credit cards, no shipping system set up, customers couldn't even order online. I had a very generic website with my email and phone number and didn't have enough supplies on hand to fulfill the orders! It was a good problem to have and within 48 hours I was up and running! Everyone was so patient and so positive. That week I went to bed every night with cheek aches from smiling so much.
allParenting: Who was the first celebrity to order from Sweet Mary's?
Mary Riesgraf: Jason Lee ordered 150 of our Signature Caramel Chocolate Apples for his wedding. It was very exciting and such a beautiful compliment to be a part of his special day.
allParenting: How do you connect with your daughters through baking?
Mary Riesgraf: My daughters are young and we bake often together. It's fun to remember back when I had a 3-year-old, a 2-year-old and a newborn -- all at the same time. I lived in a very small town in Idaho at the time and the winters were unbearable, so there wasn't a lot of outside play time. Baking is something you can do at almost any age. The clean up may take a bit more time with toddlers... hee hee... but teaching my daughters how to measure ingredients, read a recipe, set an oven, use a mixer (or mix by hand), how to crack an egg (always a fun one to teach) are abilities they will keep with them forever! There are so many television shows on Food Network and my daughters and I love to watch them together and learn new tricks and try them out. When my family gets together, we hang out in the kitchen. We love to cook, love to bake and love to sit down together for a meal.
allParenting: How are your daughters involved in the business now?
Mary Riesgraf: My daughters are not only a big help but they love to help. They are great at marketing -- they love to talk about Sweet Mary's at school. They do other important jobs such as: cutting ribbon, putting stickers on the boxes and most important, they help me come up with clever new ideas for sweets. Recently, Sweet Mary's was featured on a news channel in Amarillo, Texas. As I was watching the clip, my 11-year-old Grace yells, "I made that box and I put on that sticker... this is so cool!" It was a really great feeling to see her be excited and proud about her contribution.
allParenting: What are the benefits and pitfalls of running your own business?
The benefit is that I get to take my daughters to school each morning and pick them up at the end of the day. I get to attend their soccer games, school plays and other school events. I think every Mom wants to have the freedom to do these things. I think pitfalls happen when there is no schedule. I am a firm believer in office hours -- there is a time to work and a time to shut it down. When you work for yourself you set your hours and if you aren't careful, you will be working around the clock. I learned this quickly. I would say, "I just want to check email quick" and 45 minutes later I would finally be done. So now I work during the hours I set and don't look at work until the next day.
allParenting: How does your family stay connected despite the pressures of running your own business?
Mary Riesgraf: My parents started a company 33 years ago and they had their sixth daughter along the way. Yes, six girls, no brothers! My parents still run their company and all six of us girls have worked for them at one time or another. Communication is huge for staying connected. You have to make time for each other and keep work at work. Separate business from family. The key to avoiding conflicts -- chocolate -- lots of it.
I am grateful for my daughters and the lessons they teach me. Children are so wise. I am glad Leif and our girls could see I could do this business before I could and I am glad they kept pushing me to do it. They are my blue sky each and every day!
More about food
Walnut flax waffles
Applesauce breakfast crumb cake
Cupcakes to go