Posted: Jun 18, 2012 8:00 AM
While a video monitor isn't necessarily a
must-have
, it certainly is a great
nice-to-have
. Whether you live in the smallest of apartments or the largest of estates, a video monitor is a worthwhile investment to give new parents a little peace of mind.
I am a big fan of the video monitor because not only does it allow you to sneak a peek on your sleeping baby without a squeaky door giving you away, but it helps you determine if the crying you hear is due to tantrum and not injury. Some of the better video monitors have such good picture quality (during the day!) that you can even see your baby breathing. That is a peace of mind that I don't mind spending extra money to have.
Video monitors have come a long way in recent years. There are some key features that you may want to consider when shopping for this type of monitor.
Compact parent unit. No one wants to carry a TV from room to room, so choosing a monitor with a compact parent unit is a good idea. One with a belt clip for hands-free carrying and a stand to set it up on a table is even better.
Multiple camera capability. If you plan to have more than one child, having one parent unit that can see multiple cameras is a great idea.
Battery-powered camera unit. Because there are times when there isn't a handy outlet in the location you want to set the camera, one that also takes batteries is useful.
Parent unit with rechargeable battery. The parent unit will be used most of the time on batteries. If the unit comes with a battery that recharges when you plug it in, you will save quite a bit of money on battery changes.
Battery life. Read reviews on websites like BabyGizmo.com to find out which monitors have a long battery life. You will not want a monitor that eats through the battery power in an hour.
Night vision. Most video monitors have night vision to allow you to see your baby in a dark room. Some are better than others.
Zoom/pan features. The zoom feature is great when you want to zoom into your baby's face to give you the peace of mind that they are still breathing -- while the pan feature will come in handy if you are still using the monitor in your toddler's room.
Wall mount feature. If you won't have a dresser nearby the crib (but still out of baby's reach!) then you want to look for a wall mount option for the camera unit. Most monitors come with it.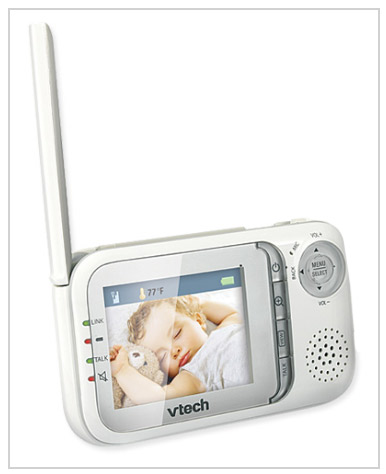 ^...Our editor says... I like the VTech Safe & Sound Full Color Video & Audio Monitor. Baby monitor technology and quality has come a long way in just the past five years -- since I bought our first one that had a grainy monitor and cost a small fortune. I now have the VTech in my preschoolers' playroom, which is upstairs and it's awesome. The video quality is great and it saves me a trip upstairs when things get just a little too quiet for my comfort. Baby monitors are great for babies, but you can use them well beyond infancy! - Laura Willard
Watch Hollie give the 4-1-1 on baby monitors
More baby must-haves