Posted: Aug 17, 2012 7:00 AM
Celebrity mom Tori Spelling talks about enjoying family time and getting back to basics. Every once in a while, we all need to slow down a little bit and take time out to bond and have fun with our kids.
In this fast-paced, high-tech world, every once in a while, you need to slow down, get back to basics and just enjoy some good old fashioned family time. Of course, we like the parks and playgrounds like most families, but sometimes the best kind of family fun is right in your own backyard. Dean and I just pack up a picnic basket, spread a blanket on the grass and enjoy some relaxing time with Liam, Stella and Hattie.
You don't need to spend a lot of money or even leave your own home to enjoy quality time with your kids. Sometimes with children, it's the simple things that mean the most. It's those lazy afternoons spent laying in the yard and watching the clouds go by that they (and you) will always treasure and remember.
Making crafts is also a ton of fun -- from macaroni pictures like the ones we used to make as kids to creating tie dye T-shirts with Stella.
Here are some more simple family activities that enhance bonding and inspire creativity, plus they are a whole lot of fun.
Make your own playdough
Sure, you can buy those bright yellow canisters with the premade stuff, but it's so much fun to make your own. And it's easy too! Mix the following ingredients in a saucepan and stir over medium heat until the dough is pliable and forms a ball.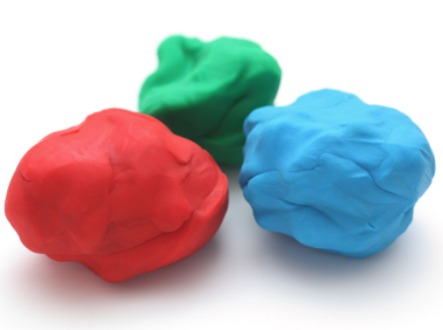 1/2 cup salt
1 cup flour
2 tablespoons cream of tartar
1 cup water
1 tablespoon oil
Food coloring of your choice
Even young kids can help with the measuring and mixing -- just be sure that you handle things yourself once you put the pan on the stove. After the dough has cooled down, you can store it in sealed plastic bags in the fridge. It will last up to six months.
Kids love playdough. They can roll it into snakes, make letters, build snowmen and so much more.
Play Sardines
If your kids love Hide and Go Seek, they'll love Sardines. In this game, just one person hides and then everyone else tries to find her. If someone finds her, they hide in the same place until the last person finds the whole group. This is a fun game for the whole family to play indoors or outside.
Do family karaoke
Whether you have a karaoke machine or just a microphone hooked up to your computer, you can do family karaoke. Each person takes a turn performing their favorite song -- whether it's the Barney theme or Justin Bieber's latest hit.
Paint outdoors
Warning -- this is really messy. Let your kids put on some worn out clothes that you don't mind getting covered in paint. Roll out giant pieces of butcher paper on the ground, then let them go crazy with finger paints. When they are done, they'll probably be covered head to toe in paint. Don't worry, you can just hose them off. You can hang up their finished masterpieces or even use it as wrapping paper.
More celebrity moms
Celeb mom style steals: Jada Pinkett Smith
How Rosie Pop fits style and sanity into every aspect of her life
Alicia Silverstone: Raising kind kids