Posted: Nov 10, 2012 7:00 AM
Vanessa Lachey chatted with us about her amazing new role as a mom to baby Camden. The
Wipeout
host shared how she and her husband Nick Lachey make time for each other, as well as some of her favorite household products that streamline life as a busy mom.
Vanessa Minnillo Lachey has hosted MTV's Total Request Live, been a correspondent for Entertainment Tonight,  acted in TV roles such as 30 Rock, but the Wipeout host says her favorite role is that of a mom to her son Camden, who was born on Sept. 12.
Camden John (or CJ Lachey, as she will call him), is the first son for Vanessa and her husband Nick Lachey. The actress chatted with us about her new life as a mom, as well as her campaign with P&G called "Have You Tried This Yet?"
That first big milestone
Vanessa said that Camden has reached a big milestone — that first smile!
"He is good! He is sleeping and eating — and he is actually starting to smile at me and Nick's voice. He knows it is us now which is awesome!" she said.
The perks and perils of pregnancy
Vanessa is definitely one of those lucky few women who look gorgeous throughout their pregnancy, and she said that she loved being pregnant... until the end.
I didn't get morning sickness and all the symptoms other women talk about... until the last trimester.
"
"
"I loved it for a multitude of reasons. One, we had just gotten married and it was an exciting time for us as newlyweds. Secondly, it was my first and you are infatuated by your first pregnancy and all the changes that go along with it. Third, it was easy! I didn't get morning sickness and all the symptoms other women talk about... until the last trimester." She remembered saying that by the time week 39 hit she "was so done!"
"If I was a turkey, my timer would have popped out!" she said. "I was ready. The stretch marks, sciatica, carpal tunnel and the emotions — everything that you could possibly imagine hit me like a ton of bricks!"
Embracing her new mom body
Vanessa said that she is still wearing her maternity clothes and she is not rushing into losing weight or exercising. "I am amazed that everyone asks me about exercise because any women that have had a baby will tell you that you are not allowed to do anything for the first 4 to 6 weeks," she said. "I mean, literally doctors' orders: don't walk, don't exercise, don't lift things out of the car. So not just for me, but for any woman — you are not supposed to do anything."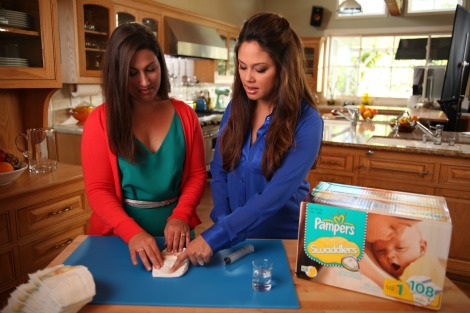 Have You Tried This Yet?
Vanessa said she has always looked for products to streamline her life and that is why she loves working with P&G's new campaign called "Have You Tried This Yet?" in which she shares her favorite products to other women and families. "I don't want to spend time in the kitchen or doing laundry. I want to spend time with him. So it is great that there is a company that allows me to do that — and that is P&G and their products," she said.
I don't want to spend time in the kitchen or doing laundry. I want to spend time with him.
"
"
So what are her favorite products? "Right now we are using Pamper's Swaddlers diapers that have the wetness indicator. So literally at a glance, you can see if the diaper is wet and needs a change. You don't have to take his diaper off or make a fuss because there is an indicator on the outside of the diaper," she said. "The sensitive wipes are great. They are easy and I know they are doing the job but also conditioning his skin. The Bounty Basic paper towels are the number one kitchen item because with literally one sheet it can swipe the mess up. Tide Touch of Downy Unstopables are 2 in 1 for my laundry so they are cleaning, softening and I'm not having to do all these steps."
Keeping her relationship with Nick strong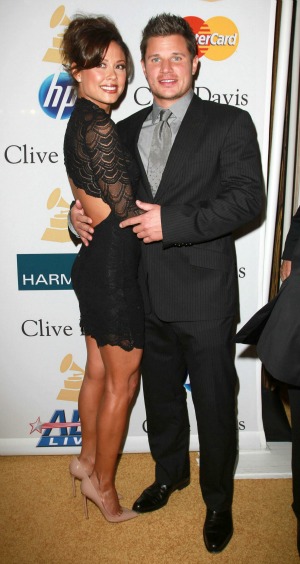 Vanessa said that she and Nick make a point to keep their relationship strong by taking time each night to chat and re-connect. "Every Sunday we watch Homeland together. That is our thing to keep our reality so it is not all about the baby," she said.
They have had a night out together with baby Camden, but said it got somewhat "kerfuffled" because they forgot to make reservations. "We tried to go out and eat sushi (because you can't eat sushi when you are pregnant) and we got there and we forgot to make a reservation because we were too busy 'oohing and ahhing' over Camden," she laughed, saying the night eventually turned out great because some friends joined them.
"That is the first time I pumped and left enough milk for someone to feed him if he gets hungry and I felt OK leaving the house," she said. "I was only 5 minutes from the house — but I felt like a new woman being able to leave the house."
Now that her family is growing, Vanessa said she is looking forward to continuing with old traditions, such as putting the Christmas tree up the day after Thanksgiving and starting some new ones this holiday season. "What I'm going to start is to give him an ornament every year so when he leaves the house at age 18 and goes to his college dorm, I'll have 18 ornaments to pass on to him for his friends to make fun of."
What's next for Vanessa? The sky's the limit!
I'm really loving just being a mom. It is the best job ever.
"
"
"In this industry I feel fortunate that you go in waves and there are times where you are working 20 hours a day and other times you can take off and I'm choosing to take this time off through the holidays so I can fully relish being a new mom — and after that I don't know! " she said, when asked what is next for her. "That is the beauty of the choices we have. I love sharing things with people and things I have learned. I have had fun with acting on television — and my most fun was 30 Rock with Tina Fey! So I think the sky is the limit!"
"I'm not going to put restrictions on myself for now. I'm really loving just being a mom. It is the best job ever. It has the ultimate reward — to see that little guy everyday. And now that he is smiling at us, it melts my heart," she said.
Find out the meaning behind the baby name Camden (and how she feels about having the same baby name as Kristin Cavallari!) as well as Nick's hilarious confession at our interview on SheKnows >>
Photo credits: WENN and Vanessa Lachey
More celebrity moms:
Liz Lange shares maternity fashion tips for looking chic on a budget
Celeb mom style steals: Kate Hudson's boho chic
Tori Spelling throws a princess tea party for Stella