Posted: Jan 20, 2013 9:00 PM
Bring in the New Year on the right note with this simple, DIY Happiness Jar. By starting this new tradition that has the whole family focusing on your sweetest moments of 2013, you're all sure to notice and remember the small memories that really make your family's time together fabulous.
It's easy to remember the big things. First days, long trips and shiny awards are the memories that photo albums are made of. But it's really the little things that make a family special. It's the hot chocolate mustaches, the uncontrollable giggles, the phrase that was repeated over and over — and over! — again that we wish we could grasp, hold onto and memorize. The family Happiness Jar is how you can do just that.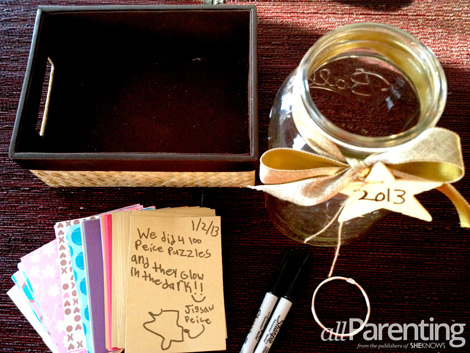 What you'll need
A large Mason jar

Decorative ribbon

Paper (I used a variety of plain and print paper cut to 3-

1/2-inches

x 5-inches)

A small tray (to keep materials organized and accessible)

A loose-leaf ring (to bind the memories together at the end of the year)

What you'll do
Creating the Happiness Jar is simple and fun to do as a family. Giving your children jobs such as picking and organizing the paper, tying the ribbon or labeling the year sends the message that this is all of your activity and priority.
It's also meaningful to create the jar and present it as a family gift.
Fill your small tray with the jar, paper, pens and a loose-leaf ring and place it somewhere visible and easily accessible.
Brainstorm as a family the kinds of moments you'll be writing, who may write and when.
Model with a recent example. From finishing a new favorite chapter book to ice cream for dinner, to your littlest one's first joke — your jar will be filled with your family's priceless small moments in no time.

One more thought
At the end of the year you'll have a jar full of handwritten notes focusing on the sweetest, funniest and happiest small moments your family shared. Consider reading them all on New Year's Eve, hole-punching each one in the corner and binding them with the loose-leaf ring to create a heart-warming family keepsake.
More on family time
Family time: Getting back to basics
From 9-5 to family time
The importance of family mealtime