Posted: Feb 01, 2013 10:30 AM
Valentine's Day is made for all things sweet, red and pink. And this homemade lip gloss fits the bill. It's simple to make, fragrant, lovely and sure to put a smile on your favorite tween's (glossed!) lips. Make one for her, and help her make some for her sweetest friends.
Confession: I love Valentine's Day. The candy, the decorations, the card exchanges. They all make me swoon. I've (happily) passed this adoration on to my children, and one of our favorite things to do together is make Valentine's Day gifts for our friends and family. There's nothing like receiving a thoughtful, homemade gift. And there's truly nothing like bonding with your tween making that gift! This homemade lip gloss is simple to make and sweet to receive.
What you'll need
Vaseline

Kool-aid or any drink mix powder

Stickers or labels
What you'll do
Transfer the Vaseline into a medium-sized, microwavable bowl.

Heat the Vaseline 30-seconds at a time, until it's soft and easy to stir.

Thoroughly stir the drink mix powder into the Vaseline, using as much powder as you'd like — the more you use, the tangier your gloss will be.

Scoop your homemade lip gloss into the jars and allow them to cool before closing and labeling the caps.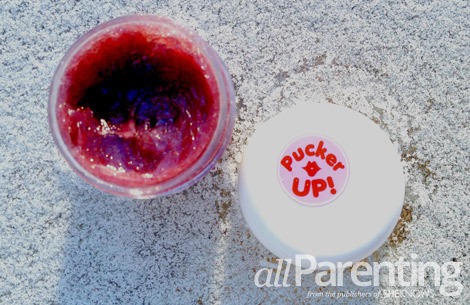 More on homemade gifts
Easy fleece scarf tutorial
DIY fabric flip flops
Create your own chic and simple earrings