Posted: Feb 01, 2013 1:00 PM
The pregame show and halftime show can entertain kids with bright lights and upbeat music, but once game action begins on Super Bowl Sunday, kids' interest can wander. Create a kid-friendly Super Bowl party with easy football-inspired games, crafts and healthy snacks.
Show your spirit
Even if your kids aren't interested in the outcome of the Super Bowl, there's something fun about choosing a side. Buy face paint in the colors of the teams and hire the oldest child, a neighborhood friend or one of the adults only interested in the halftime show to paint faces. Designs can be football and team related or simple shapes like stars, hearts or rainbows.
Make Popsicle stick pom-poms with pre-cut streamer pieces. In the days leading up to the party, take 10 or 15 minutes to pre-cut crepe paper or ribbon streamers. Kids can gather as many pieces as they like around a Popsicle stick and let an adult or older child complete the pom-pom by securing the pieces with a few twists of a rubber band.
Super Bowl for kids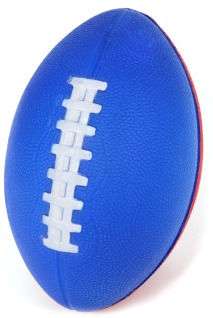 Play Super Bowl hot potato using a small, Nerf football and some family-friendly tunes. As kids are left holding the Super Bowl ball, they can step in to be in charge of the music, taking turns so the game lasts a while. A variation of this can be played using the always-popular Super Bowl commercials as the music.
Hang streamers from a doorway leading to another room in the house. In front of the door, place pieces of masking tape on the floor, at various distances in 2-foot intervals. Blow up a balloon and have the kids take turns trying to throw it through the streamers from different distances.
Snack breaks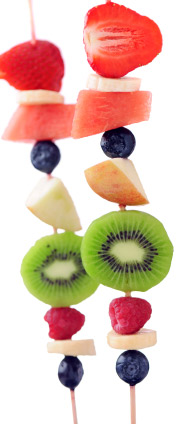 Football cookies, nacho bars and chili are staples at game-day parties, but providing healthy options is important for kids who often like to snack almost constantly when food is available.
If kids are old enough to be careful, let them create their own kabobs from a buffet of foods. Offer both sweet and savory options and let them choose the order and types of food they include.
A large selection of fruit works well for a bright, colorful and sweet option. If you're not opposed to a bit of extra sugar, you can anchor each kabob with a fluffy, won't-slide-off-the-stick marshmallow. On the savory side of the buffet, try red and yellow cherry tomatoes, pieces of cucumber, some olives and chunks of cheese.
With a variety of ages in the same house, providing options and flexibility will make your guests feel like winners — no matter what happens during the game!
More about entertaining
Budget-friendly party tips
Adults-only s'mores in a glass
Cheesy and delicious party snacks