Posted: Feb 01, 2013 12:00 AM
Follow our game picks for family fun to ensure a great evening of laughter with your children.
When your kids look back on their childhood, some of their fondest memories will include the times the family laughed and played together. Likewise, some of your fondest memories will include family vacations, game time, and playing at the park. But with busy schedules, it can sometimes feel difficult to set aside time to just enjoy each other over a board game. We've pulled together a list of games that will hopefully make family fun a little easier to schedule and enjoy on a weekly basis.
Favorite board games
Most parents teach their children to tell the truth, but this game is all about fibbing for fun. You will laugh out loud at some of the creative bluffs your family members come up with in an effort to out-fib each other on the way to victory. Buy it at Wal-mart.
This classic drawing game is fun for kids of all ages. Players attempt to draw clues in an effort to have team members correctly guess the prompt. It's kind of like charades, except with drawing rather than acting. Buy it at Kmart.
Cranium and Cranium Hullaballoo
Cranium is like the decathlon of board games, because it offers players a wide variety of activities, like drawing, acting, singing, and trivia. The original Cranium is better for older children, teenagers, and adults, but Cranium Hullaballoo is appropriate for the younger crowd. Buy it on Amazon.

Favorite card and dice games
While you can buy an official Farkle set at the store, all the equipment that is required is a set of six dice and pen and paper to keep score. The rules are rather exhaustive and you'll need to have a good handle on the scoring guidelines before beginning, but once the game gets going, it's hard to stop playing.
This game is another classic game, but its makers also offer numerous game variations and updates. All that you need is a set of Uno cards, a couple of willing participants, and a very limited understanding of Spanish. Buy it at Walgreen's.
Parents love this game because it teaches children how to multi-task and strategize all while having fun. It's best for children ages seven and up because of the focus it requires. Buy it at Toys 'R' Us.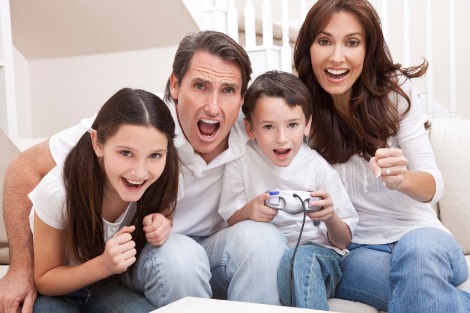 Favorite video games
This video game has been around for ages and you may very well remember it from your own childhood. The game is a classic because it can engage the whole family in go-cart style racing with funny characters and tracks. It's available on Nintendo systems. Buy it on Amazon.
Imagine everyone in your family competing in a dance off. Now package that experience in a video game, with fun songs and dance moves. The original Just Dance video game is definitely for older children, but versions are available for younger kids, too. It's available on several systems. Buy it at Best Buy.
Of course, these are just our top picks for family fun. Any activity that gets your family talking, laughing, and enjoying one another is worth scheduling into your week!
More for your family
Family-friendly resorts
Indoor games for hours of entertainment
From work mode to family time