Posted: Mar 03, 2013 5:00 PM
Despite the fact Bourbon Street has an adults-only rep, Mardi Gras is filled with family fun. But, even if you don't head for the French Quarter, you can still celebrate at home with these four Mardi Gras crafts for kids, from decorated masks to Fat Tuesday bead necklaces.
Bring the mystery and glamour of New Orleans' biggest celebration to your playroom when you decorate a DIY mask with just about any festive craft supplies you have on hand. And, remember that these masquerade mask crafts for kids can be used year-round for any spontaneous celebration!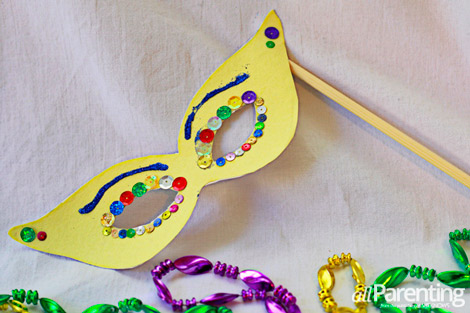 Materials:
Large paper plate
Yellow, purple or green sheet of construction paper
Glue
1 chopstick
Gold, purple or green embellishments such as: glitter, sequins, paint, markers, feathers, etc.
Directions:
Draw or print a masquerade mask shape onto a piece of construction paper. The internet is chock full of free mask templates if freehand just isn't your style.
Cut the mask shape from the construction paper and use to trace onto the paper plate. Cut out the matching shape from the paper plate. Remember to cut out the eye holes!
Match up and glue construction paper mask to the paper plate mask. Once attached, glue one end of the chopstick to one side of the back of the mask and allow to dry.
Embellish with gold, purple and green adornments and... voila! Your kiddo is ready to celebrate Mardi Gras in style!
Your youngster will feel like royalty with Marti Gras crafts for kids that let them customize their holiday gear! Use glitter, stick on jewels or marker-colored foil to really make it sparkle.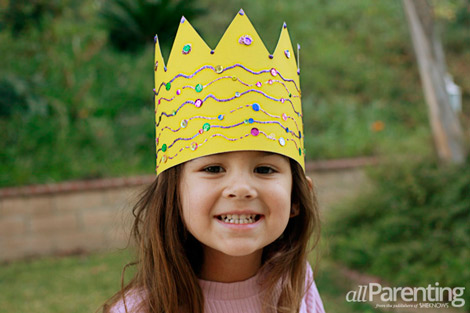 Materials:
Poster board
Scissors
Glue
Glitter
Stapler
Pencil
Directions:
Measure a 6-inch tall strip of poster board to fit the length of your child's head. Cut to overlap slightly at each end.
Using a pencil, lightly create a zig zag pattern extending about 2 inches down from the top. Cut out the pattern with scissors.
Using glue, glitter or any other embellishments you choose, have your youngster decorate the Mardi Gras craft for kids any way she chooses. Allow to dry.
Wrap the crown around your kiddo's head to measure, remove and secure with staple and she's ready for the festivities!
Jesters are the symbol of fun, so let your little joker shine through with a Mardi Gras craft for kids that's designed with a good time in mind!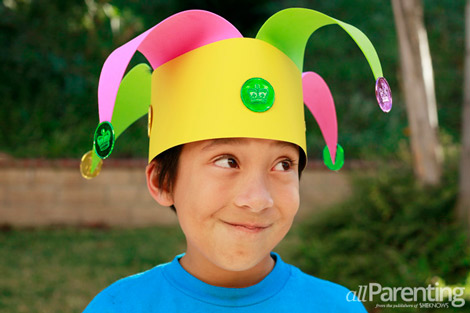 Materials:
Green, purple and yellow foam sheets
Plastic Mardi Gras coins
Hot glue
Scissors
Directions:
Measure a 4-inch tall strip of foam sheet long enough to wrap around your child's head. Cut to overlap slightly at each end.
Cut equal lengths of triangles in alternating colors to form the points of the jester's hat.
Glue triangles to the inside of the foam headband strip, allowing a majority of the triangle to hang over the outside of the hat.
Hot glue plastic coins to the ends of the triangles as well as along the headband strip.
Re-measure around your kiddo's head, remove and secure with hot glue for an instant boost to your Mardi Gras party!
No Fat Tuesday is complete without Mardi Gras beads! But, with this Mardi Gras craft for kids, you can celebrate the holiday in a kid-friendly way.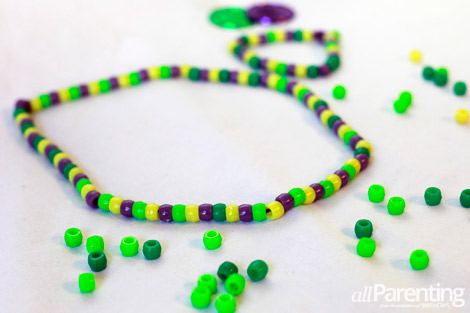 Materials:
Jute cord
Purple, yellow and green beads
Scissors
Directions:
Cut one necklace-length piece of jute cord, measured to fit your child.
Start by help your youngster tie one bead to the end of the string, then have her alternate colors of beads until the length of the cord is filled.
Tie one end of the string to the original secured bead and you're done!
Note: Colored macaroni or paper chain pieces can also be strung to make a Mardi Gras-worthy impromptu bead necklace, too!
Read more crafts for kids
Make your own sidewalk chalk
8 Easy Christmas crafts for kids
4 Messy outdoor crafts for kids