Posted: Feb 27, 2013 11:00 AM
Anyone who sees a child make a rocket ship and a castle from an empty box can attest to the power of imaginative play. Dress-up supplies and building toys give kids the chance to shape their own worlds. Stock your playroom with these six toys to enhance make-believe play.
Books and flashcards help children learn to read. Stringing beads helps with fine motor skills and a little dance party that includes some skipping helps with gross motor development. But to help your children expand and cultivate their creativity, take time each day for a bit of make-believe play. Imaginative play lets their magic shine through as they pretend to be anything they can dream.
Superheroes will save the day in adorable, personalized capes and accessories from BabyPop Designs. You can personalize capes with a variety of colors and designs so everyone in your house can be represented in your superhero collection. The capes and accessories have easy-to-fasten Velcro tabs, so parents can sit back and eavesdrop on the interesting superhero powers kids decide to invent (babypop.com).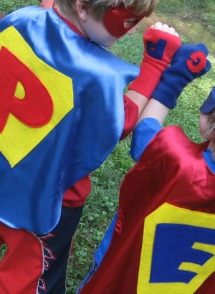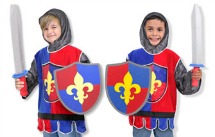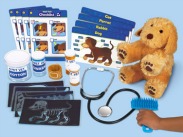 Stock your dress-up bin with this choose-your-own adventure combination of any three costumes from the Little Dress Up Shop. The online retailer carries costumes ranging from medieval knights to waitresses and veterinarians, so parents can be sure they are ready for any whimsical costume request (littledressppshop.com).
Bring home this Pet Vet Center for your little animal-lover. The stuffed puppy is adorable, and the x-rays, bandages and grooming brush are only a few of the included items that will help children learn about biology, grooming and pet health (Lakeshore Learning).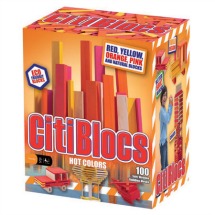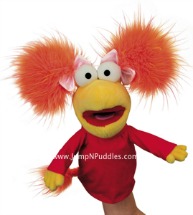 Wooden blocks offer the perfect opportunity for kids to learn about balance, spatial reasoning and even gravity, when their creations inevitably come tumbling down. Citiblocs, shown here in a colorful combination, are a set of identically-sized rectangular blocks that can be arranged in any number of configurations, whether your builder envisions a city, a castle or a set of baby furniture (Fat Brain Toys).
Many children's libraries carve out room for a little puppet theater because creating puppet shows is a creative way for kids to learn about narrative and storytelling. Start your own puppet collection with this Jim Henson Fraggle Rock puppet from Jump N Puddles (jumpnpuddles.com).
Finally, don't overlook the clothes and old shoe boxes huddled in the back of your closet. Old bridesmaid's dresses may be obvious additions to imaginative play, but an old vest can become a policeman's uniform and a shoe box turns into a castle for homeless Polly Pockets.
More about toys
Talking about sharing
Stylish toy organization tips
Learning through play