Posted: Mar 17, 2013 11:00 PM
Math is fun with these educational games inspired by the NCAA March Madness basketball tournament. Kids can make their own brackets and compete against family members or set up a living room basketball hoop while basketball lovers watch the game.
Sportsbooks in Vegas list odds on the winner and local sports bars see tables crowded with fans, friends of fans and copies of brackets filled with gleefully highlighted predictions and angry slashes of black pen through predictions gone wrong. March Madness, the widely-embraced nickname for the NCAA men's basketball tournament, brings basketball fans, college sports fans and people simply looking to have fun together to watch games or poke fun at goofy college mascots.
It's bad form to sneak your kids into Vegas casinos to bet on sports, but you can use the excitement around the tournament to strengthen math skills and family bonding. Show kids math is fun with these educational games. Use our printables and suggestions to introduce four cool math games into your family's March Madness traditions.
Develop number sense with Jersey Games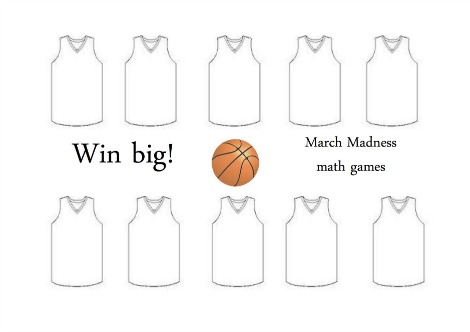 Number the jerseys, using different numbering systems depending on the age of the participating children. Younger kids can use numbers 1 through 10, while older children can choose their own numbers — even basing them on their favorite basketball players. Other systems like numbering by 2s, 5s or 10s will work as well.
Once the jerseys are numbered, color and cut them out to work on fine motor skills, and then the real fun begins. Mix up the jerseys and have kids order them from least to greatest — or greatest to least. Sort jerseys into different categories, like even numbers and odd number or numbers greater than or less than six.
Gamble for goodies with Family Bracketolgy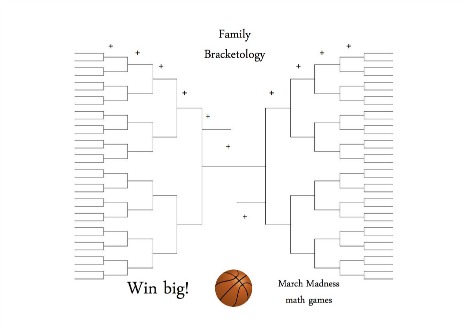 Print a bracket for each family member and fill in the participating teams. Points are awarded for each win, with more points scored for each subsequent round of play.
Decide on a prize for the high scorer in each round and for the overall winner. Prizes can range from coupons to get out of chores and choosing dinner selections to bigger things like a requested toy.
Add and subtract with Basketball Counting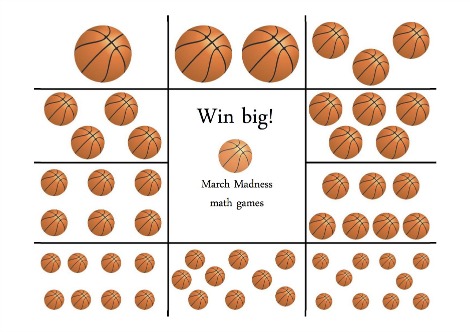 Cut out the basketball cards and count the basketballs on each one. Younger children can label the cards with the number to reinforce the connection between the written number and the amount of objects represented.
Practice adding and subtracting with the cards. Older siblings can work on multiplication at the same time.
Practice percentages with Shoot and Score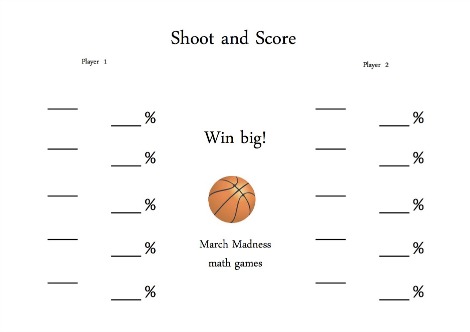 Set up a small basketball hoop — or a full-size one if your kids are up to it — and practice shooting free throws in sets of ten. Record the number of made shots in the numerator (top number slot) of the fraction. Add zero to that number to find the percentage of free shots made.
For a variation on Shoot and Score, pick other shooting positions around the room or the driveway, marking them with a bit of masking tape or sidewalk chalk.
More about fun with math
Math games at home
The link between math and music
Keep learning during summer months