Posted: Mar 26, 2013 9:00 AM
Typical Easter gifts involve chocolate bunnies and jelly beans, but filling an Easter basket with candy can lead to over-excited kids and toothaches. Choose Easter gifts that look just as sweet without the side effects of sugar.
Pastel dresses and white patent leather shoes mark Easter's arrival. Little boys don mini-suits and keep on ties long enough for beautifully posed pictures next to Easter baskets that climb somewhere above their knees. Whether you hide your Easter baskets or have them visibly awaiting your children Easter morning, you might be wondering how to fill the basket with sugar-free treats.
These six Easter gift suggestions include craft supplies, ways to welcome warmer weather — and maybe even a tiny bit of candy.
Outside fun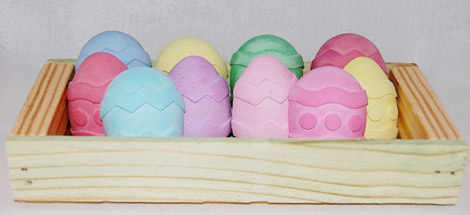 Replace chocolate eggs with this 10-pack of egg-shaped sidewalk chalk. With Easter often introducing warmer weather, sidewalk chalk is the perfect craft for kids. Draw pictures, spray the chalk with water bottles to intensify the colors or play games like hopscotch on grids they've drawn themselves (Etsy, $19).
Easter books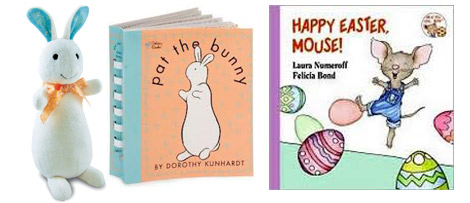 Tiny tots will love the combination of the Pat the Bunny book by Dorothy Kunhardt and matching Large Plush Pat the Bunny. The iconic book has something for little hands to do each page, from stroking soft fur to playing peek-a-boo with a character in the story (Amazon, book $9, bunny $15).
Older children will be pleased to see Mouse celebrating Easter in Happy Easter, Mouse! by Laura Numeroff. The familiar mouse works to discover who is hiding Easter eggs in his house (Amazon, $6).
Protect their eyes
If you've let wearing sunglasses slide a bit during the winter months, Easter is the perfect time to get back in the habit of sliding them onto little faces. Julbo USA has styles for all ages and color combinations to please even the pickiest child. The shock-resistant glasses offer 100 percent protection against UVA, B and C rays, so you know your child's eyes are protected each time they're in the sun (JulboUSA.com, Booba style $40).
Candy without toothaches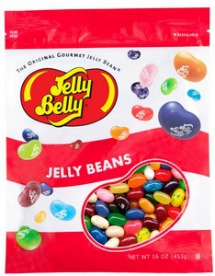 If you can't resist including a little candy with their Easter gifts, consider Jelly Belly candies. They have such an intense flavor, a few beans will seem like a decadent treat and help parents control sugar consumption. Sample assorted flavors and let them choose their favorite (JellyBelly.com, $9).
Ten little piggies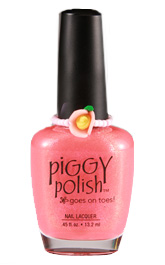 Tuck a bottle of Piggy Polish — shown in Pinknic — into her Easter basket. Piggy Polish doesn't contain DBP, toluene or formaldehyde, meaning you can feel safe painting her little piggies with it (PiggyPolish.com, $9).
More about gifts
Gifts for tech-loving moms
Moms talk Father's Day
Kid gifts to avoid