Posted: Apr 01, 2013 11:00 AM
Are you always struggling to find clothes that fit your child? Discover the best clothing brands that offer variable sizes for thin children and husky children. We'll help you find clothes that your child will feel comfortable in.
Not every child fits into regular clothing sizes. There's nothing wrong with a kid who's hard to shop for, but it can limit fashion options. We've found the best brands and tips for dressing kids who require slim or husky fits of clothing.
Find pants with adjustable waistbands
When you're shopping for bottoms for kids with skinny waists or larger than average waist sizes, adjustable waistbands are your best friend. Look for inner elastic with buttons on jeans, shorts and slacks. Look for skirts and shorts with lots of elastic and ties for girls. When you're dressing a husky kid, you want to find a balance between clothes that are too tight and clothes that are overly baggy. When you shop online, read descriptions carefully and make sure the sites you purchase from have a return policy.
Use belts and specialty bands
Use belts to help make clothes fit your children better. Unlike your fashion-favorite belts, function is more important than style for kid belts. Avoid dressing little girls in overly tented or baggy clothing when they wear husky sizes. A belt can help define a waist so a little girl feels more confident. For little boys, a belt can help pants from slipping down. Even toddlers can benefit from belts thanks to innovations like Dapper Snappers, which help parents cinch the waist on regular clothing sizes for kids who are very thin or small.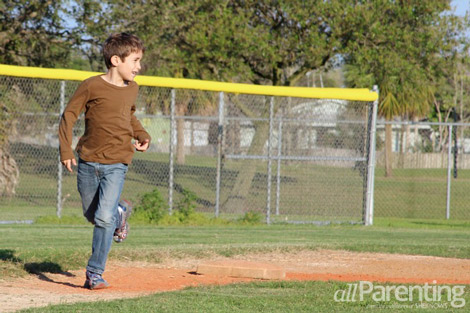 Shop stores that carry slim and husky sizes
For some kids, adjustable waistbands and belts don't help enough. Many brands of clothing carry specialty sizes. Husky, plus and slim sizes are helpful for jeans and long pants, particularly when children don't have an average height to waist ratio. Many of these sizes are only available online. When you find a brand and fit you love, stick to that brand to avoid purchasing bottoms that don't fit your child. Old Navy, Gap, J.Crew, The Children's Place and JCPenney carry sizes for slim- and plus-sized children and teens. For girls, try juniors brands that carry large and plus sizes. Make sure she doesn't feel like she needs to sacrifice fun fashion for a good fit. Kids of all sizes should enjoy expressing themselves with what they wear.
Invest in custom tailoring
While it adds more to your clothing budget, tailoring may be a necessity for kids who don't fit the clothing size mold. Get estimates before you commit to a tailor or seamstress. Overly long jeans and pants can be hemmed at the ankle. Dresses can be taken in at the waist or hemmed at a knee length. If you have a friend who sews, you can also offer to trade services or goods in exchange for help with your child's clothes. (Or this may be time to take up a new hobby.) Some older kids may fit best in adult or young adult sizes that need to be taken in at the waist or hemline for an appropriate fit.
Our favorite clothing picks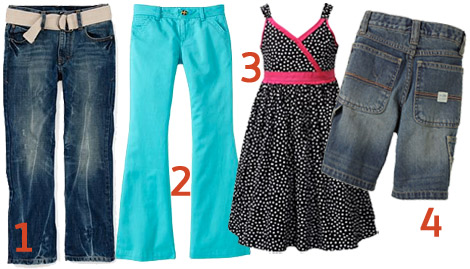 More on clothes for kids
Letting children pick out their own clothes
Two-piece swimsuits for girls: How old is old enough?
SPF swimsuits: Help or hype?