Posted: Apr 14, 2013 11:00 AM
Losing baby teeth is a rite of passage — for your school-age kid and for you, the newest tooth fairy. Leave magic intact by joining the big kid parenting ranks with these simple, creative tooth fairy ideas. Your child's (toothless!) smile will be the proof you need that these ideas are perfect!
The arrival of the tooth fairy is a big deal for your not-so-little-anymore child, and for you! Be prepared for this milestone with these sweet as-can-be tooth fairy ideas. Each one is unique and memorable and is sure to boost the magic in your home!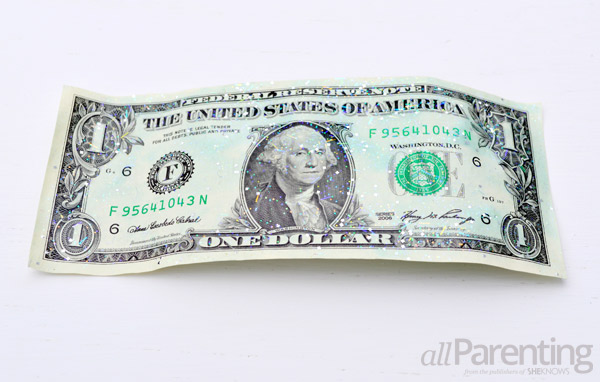 Show me the money
After a time — or two! — of early morning scrambling to ensure that the tooth fairy arrived, my husband and I decided that we need to be tooth fairy prepared at all times. That's why we love this DIY tooth fairy money that we pre-made in bundles. With a little glitter glue (or sometimes glitter hairspray) and fresh dollar bills, we've taken the guesswork out of knowing what the tooth fairy will leave for our children — and we've left magic intact!

A warm welcome
Kellie of Nest of Posies created a tooth fairy door that couldn't possibly be cuter or more magical. Check out her full tutorial to make one of your own. This would be so very sweet to make with your little one in advance or to make on your own and surprise her with when she loses her first tooth!

A sweet spot
Molly at The Purl Bee has created a tiny tooth bag that couldn't possibly be sweeter. You're going to love how simple it is to make these adorable tooth pouches and your toothless wonder will love having a special place for their new lost teeth!

With love, Your tooth fairy
Rachel of Handmade Charlotte offers free, printable tooth fairy notes that are sweet, adorable and deliciously teeny tiny. With the click of your mouse — and a little simple DIY magic — you can create memorable keepsakes that will delight your newly minted big kid!

All around town
For the sweetest ready-to-go tooth fairy ideas — no DIY required — you're absolutely going to love these websites!
Capture the Magic of the Tooth Fairy — Download a photo of your toothless sleeper and print it out with the tooth fairy magically in the photo! For under $10, this sweet capture will feel priceless!
Blue Tooth Fairy Check — Try these adorable tooth fairy checks, to be cashed at Bank Mom and Dad. This sweet touch is well worth the $9 price tag!
Office of the Tooth Fairy — The official tooth fairy kit makes meticulous record keeping in a lovely DIY package as simple as can be for only $16!
More memory-making DIY crafts
Filled to the brim with happiness
How to make a thankful tree
DIY ruler growth chart