Posted: Apr 04, 2013 5:00 AM
As an expectant parent, your mind is probably spinning at the idea of what baby products you need and what you should invest your money in. Don't freak out, stop crying and treat yourself to something delicious. I'm here to help you out. It's all about the Benjamins...
Hey there. You look awesome today. I just thought you should know that before we start. Given my line of work, people come to me for registry advice and assistance... a lot. People even pay me to customize registries specifically to fit their needs. At events I speak at, I often break down baby products by category to make it a little easier to understand what you really need for a new baby. Today I am going to go one step further and give you my six products you should invest your money in, as well as a few of my personal favorites in each one.
Car seat
This is obvious. Think of this as an insurance policy that you hopefully will never cash. I've had heated discussions with people who will spend hundreds of dollars on a diaper bag, but do not see the point in buying a more expensive car seat. My reasoning is this: All car seats are safe as long as they're used correctly and you're using the correct seat at each stage every time. But a diaper bag doesn't have the potential to save your child's life. What you see in more expensive seats are ease-of-use and ease-of- installation features which allow you to get a more consistent install and a better-fitting harness each time. This is one item that's definitely worth the splurge. My favorite infant car seats are the Cybex Aton, the Chicco KeyFit 30, the Graco SnugRide 35, the Britax Chaperone and (once available) the UPPAbaby Mesa.
Mattress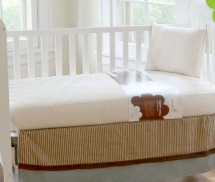 l know this category is exciting, so here we go. Hopefully your baby will be sleeping quite a bit (if not, you're still nailing it as a parent and you're gonna be awesome), so let's discuss what's in a mattress. Cheaper mattresses have cheaper materials inside. Innerspring mattresses have a layer of insulation and padding in them and cheaper mattresses use gross bits of leftover foam and trimmings as this layer. Better mattresses use coconut coir (the brown hair on coconuts — get into it!) because it is one of the only fibers that no one is allergic to. Who knew? Without getting into off-gassing and if there's actual concern for that (this is a touchy subject) just remember your baby's face is going to be on that mattress. A lot. This is another example of heated discussions I've had with people who will spend $2,000 on a crib, but think a $45 mattress is OK. It's not. Get a better mattress. It will be worth it. A few of my favorites: Naturepedic, Moonlight Slumber, L.A. Baby, Nook and Naturalmat.
Breast pump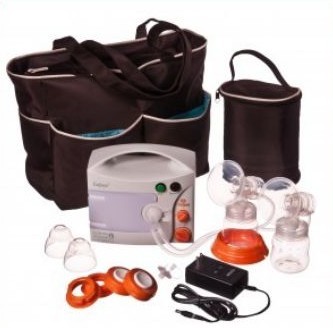 Boobs. Wasn't that fun? Invest in a pump that fits your needs. For most of you, this will be a double electric pump. It's also great to get a manual pump for when you're crazy-engorged and need quick relief (or if you're so engorged baby cannot latch on, this is a great way to get a little help). My favorite on the market is the Hygeia Enjoye LBI. It has a rechargeable battery so you're not tethered to a wall, is quiet, has completely controllable speed and suction, has a 3-year warranty, is recyclable and is shareable! If you're not going Hygeia, look at the Ameda Purely Yours — it's another great pump that is often overlooked.
Baby carrier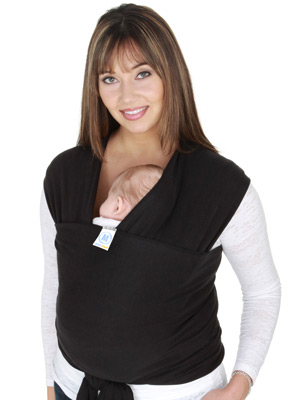 This is huge. You might not think you'll be into wearing your kiddo, but 99.999999 percent of you would be wrong. Babywearing is the best for many reasons (and those reasons could fill an entire article, so I will not go into that today), and a great carrier or two... or three... or four... will change your life. Because carriers can be tricky to fit (especially when you're pregnant) I always suggest beginning with a wrap like the Boba Wrap or Moby and then transitioning into a carrier like Boba 3g, Beco Gemini, Ergo, Catbird Baby and many others. There are a ton of carriers on the market, and chances are that once you really get into them you're gonna go wild and have a few.
Stroller
You knew it was coming. This does not mean you have to spend $20,000 on a stroller, but just know that a better stroller will make life a lot easier. Better tires, easier fold, better materials, longer lifespan and shock absorbers or suspension (yes, I am serious) will all make your strolling experience more enjoyable. This is usually the biggest decision people make when buying or registering for gear, so you're going to stress out anyway. I tried. If you live in an area where you walk a lot, really invest in a great stroller. If you're in and out of your car and visit the incredibly rough terrain of the mall, you don't need an urban tank of a stroller. This, more than anything else, is lifestyle-based. There are too many favorites to list here, so just come find me on Facebook. And breathe.
Diapers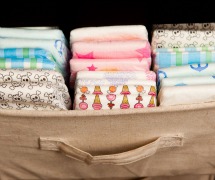 Yep. You weren't thinking about these, were you? Your baby will go through a lot of these things, so it's better to invest in a few now. If you're doing disposables, The Honest Company has the best I've ever used (no petro-chemicals or other nasty things to touch your baby's skin, and they actually hold leaks). If you're going to go the cloth route, buy 1 or 2 a month during your pregnancy to help offset the initial expense. And if you have questions about cloth diapers, Kim Rosas over at Dirty Diaper Laundry is your gal. What I am to gear, she is to cloth diapers.
I hope this helps you a little bit. Are you OK? That color looks freaking amazing on you, by the way. I'll see you next week.
More baby gear
Music for munchkins
Your baby gear questions answered
Diaper bags in disguise