Posted: May 24, 2013 1:00 PM
Memorial Day is a fantastic time to get together with friends and family to kick off the summer. It's the perfect opportunity to host a barbecue, have a picnic in the park or take a camping trip with loved ones. Although all the fun and games are great, we should never lose sight of the meaning of Memorial Day. It's important that your kids realize what the holiday is truly all about.
Memorial Day 101
I have a friend who always questions, "Is Memorial Day the holiday that begins the summer or ends it?" (Often mixing it up with Labor Day.) If you don't even know when Memorial Day is, how are you going to teach your children what it's all about?
Last Monday of May
Day to honor and remember those who died serving in the U.S. military
Originally called Decoration Day
Official federal holiday in 1971
American flag traditionally flown at half-mast from daybreak until noon
Memorial Day is celebrated on the last Monday of May and is designated as the day to honor and remember those who died serving in the U.S. military.
Originally, Memorial Day (then called Decoration Day) was an event to honor Union soldiers who had died during the Civil War. After World War I, it was extended to include all of those who died in any war or military battle. Post-World War II, the term "Memorial Day" began to be used instead of Decoration Day, and Memorial Day officially became a federal holiday in 1971. It's traditional for the American flag to be flown at half-mast from daybreak until noon on Memorial Day.
Honor and pay tribute
Are you looking for something to do on Memorial Day with the kids? Most cities have a parade or other commemoration event on Memorial Day weekend. VetFriends.com has a Memorial Day parade directory that features events all over the country. Also check to see if your area has a war memorial or a veterans cemetery where you can visit to show respect to the fallen heroes.
We can also pay tribute to our servicemen by bringing cookies, books or other goods to the local veterans hospital. Want to do something for our military men and women who are away from their friends and family? Check out AnySolider.com, where you can find out where and how to send a care package to support Army soldiers, Marines, Navy sailors, Air Force airmen and Coast Guardsmen. Your kids will love putting something together for servicemen around the globe.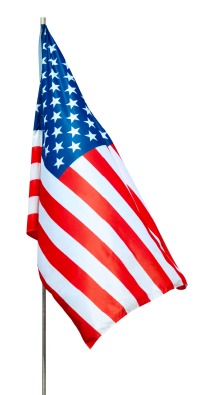 Watch and learn
Teach your kids about Memorial Day with age-appropriate books and movies about our country's military and about famous battles in our history. Some books to help explain Memorial Day to young children include Let's Get Ready for Memorial Day and Memorial Day Surprise. Reading Railroad books such as F is for Flag and L is for Liberty are also good choices for kids to learn the basics about freedom and sacrifice. You should be able to find these at your local library or bookstore.
Older children and teens may enjoy reading true stories of American military battles and conflicts or biographies of some of our famous military heroes. Also check out the History Channel and the Military Channel for educational and historical programming.
Continue the conversation
Memorial Day is a good opportunity to start talking to your kids about our military, their sacrifices and our freedoms, but the conversation shouldn't end there. Always keep an open (and age-appropriate) dialogue with your kids about our servicemen and what they are doing to protect our country. It's important to remember those that have died while fighting for our country, as well as honor those who are currently serving in the military, throughout the year.
More about raising kids
How to teach your child manners
Raising considerate kids of all ages
Parenting after the loss of a parent