Posted: Aug 02, 2013 11:00 AM
Back to school for moms means back to packing lunches for kids. Keep your home lunch recipes fresh with ideas from moms next door. Real moms share their best home lunch ideas for kids. So move over peanut butter and jelly, we moms are banding together with creative ideas for kids' lunches!
Last fall I was sitting shoulder to shoulder with several moms on the soccer field. After discussing teachers, homework and — eventually — soccer, one of them asked what we pack in our kids' lunches. We dove into that conversation with the gusto of moms knowing they're onto something good. And within minutes, we each had a handful of brand new lunch ideas. I decided to keep this fabulous mom-to-mom tradition going virtually. So to start your lunch packing year off right, here are 10 fresh lunch ideas from the mom (blogger) next door.

Caesar salad
My go-to lunch idea is a Caesar salad. I pack the ingredients — greens, Caesar dressing, Parmesan cheese, croutons and sliced chicken — separately so my kids can assemble their salad how they'd like it. I pack the salad with fresh fruit and a small dessert, of course.

Whole wheat wrap
Nicole Hempeck is a stiletto wearing and cabernet sipping mom to three lovely ladies and the blogger behind Moments That Define Life. Her clever lunch idea is a turkey, ham, cheese and spinach wrap on a whole wheat tortilla. She packs the wrap with popcorn, apple sauce, carrot sticks and blackberries.

Bagel and cream cheese
Shell Roush spills it all about parenting, marriage and mom life on Things I Can't Say. Her delicious lunch idea is a bagel with your choice of filling — her kids recommend veggie cream cheese and spinach — packed with fresh blueberries, goldfish crackers and fruit snacks.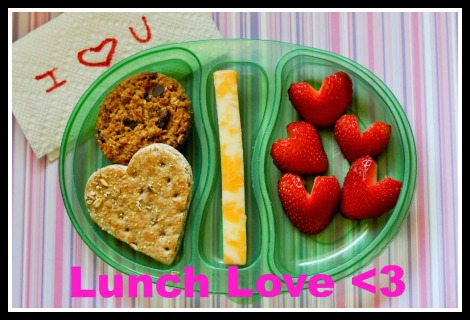 Flatbread sandwich
Elaine Alguire is the blogger behind The Miss Elaine-ous Life, a lifestyle blog full of photography, writing and the "miscellany" that fills the life of a busy mom of three. Her lunch idea is made with love. One heart-shaped turkey and cheese sandwich packed with a cheese stick, heart-shaped strawberries and an oatmeal cookie because oatmeal is good for your heart!

A wholesome sandwich
Amanda Rodriguez blogs at Dude Mom where life with dudes never looked so pretty. Her energy-filled lunch is a ham and cheese sandwich made on gluten free bread packed with tortilla chips, fresh fruit, veggies and a mini hummus dip.

Nachos
Keeley McGuire creates allergy-friendly, fun lunch boxes at KeeleyMcGuire.com. Her smart lunch idea is turning leftover tacos into packed lunch nachos. She packs the nacho meat, cheese and chips with a fresh fruit and vegetable.

Soup
Laura Bashar, wife and mother of three, writes regularly for her food blog Family Spice where she expresses her creative voice through her recipes and photography. Her comforting lunch idea is chicken noodle soup served in a thermos and packed with goldfish crackers and fresh fruit.

Cream cheese & cucumber sandwich
Angie Lee works in PR, editing and social media advertising. She's also the clever writer behind Seven Clown Circus and a mother of five. When it comes to making lunches, she tries to take things outside the box because pleasing five every day of the year isn't easy. Her inspired lunch idea is an herbed cream cheese and cucumber sandwich packed with fresh fruit and ants on a log (celery sticks spread with peanut butter and dotted with raisins).

Tuna
Julie Hornbecker has a Master's degree in counseling psychology and is a firm believer that much of our healthy emotional well-being has to do with eating non-processed, organic and non-GMO foods. Julie's healthy lunch idea is wild albacore tuna packed with frozen edamame (thawed and ready to eat by lunchtime!), carrot sticks, mandarin oranges, pistachios, fresh strawberries and mangos.
Silly smiles
HelloSociety Tastemaker Jamielyn Nye is the founder of I Heart Nap Time, a popular blog featuring her unique crafts and projects. Her sweet lunch idea is a monster face sandwich made with pretzel ears, sliced olive eyes, a cherry nose, a celery mouth and cheese slices to make wild hair!

Anne Newsome blogs at The Saturday Evening Pot and is the co-author of What to Cook for Dinner for Picky Eaters. Her smile-inducing lunch idea is a smiley face sandwich made with sandwich thins spread with peanut butter and jelly, M&M's eyes and dried cherries for the mouth packed with carrots or bell pepper sticks and dip.
More on healthy kids
Easy and healthy kid-friendly bento boxes
5 Fabulous kid-friendly smoothie recipes
Back to school with healthy habits