Posted: Aug 02, 2013 9:00 AM
Doesn't it feel like it was just the last day of school and now you're already preparing for the first? Well, why not start a tradition of documenting that first day so you'll be able to look back and cherish the memories for years to come.
One of the most memorable times of the year is when your child goes back to school. For some moms, it's a sad day and for other mothers, it's a joyous one. But either way, it's a time that is fun to document. And there are tons of creative ways to keep track of your child's journey from preschool through high school. My 2-and-a-half-year-old daughter is starting preschool this year and was gracious enough to pose for these pictures. (In exchange for a Popsicle, of course!) If you have a camera and a chalkboard sign, chalkboard wall, dry erase board or piece of poster board, you can make any of these ideas happen.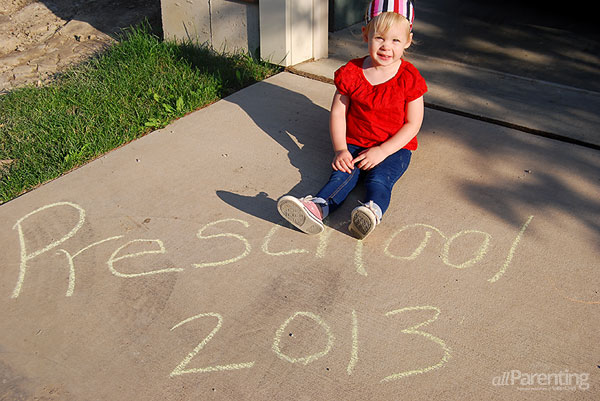 Bust out the sidewalk chalk
What kid doesn't love sidewalk chalk? Whether he's 3 or 13, it can be fun. Especially when it's used to announce the next grade he's entering into. One great way to do it is to scrawl the grade he's going to be in next on the ground and have your child sit next to it. And every year, you can take the same shot which will even further show how much he's grown.

Grab the props and create a fun background
Whether it's a mustache, glasses or a combination of the two, you and your child will have fun as he poses for this photo shoot. Pull out the dress up box or the costume bin, dress him up and have him stand next to a decorative background with the grade he's joining written on it. Who says back to school has to be taken seriously?

What does your child like to do?
Write down a list of the things your child loves at this point in his life and have him pose next to the list. It will be fun not only to see the change in your child's appearance from year to year, but also the differences in his favorite things.

What does your child want to be when he grows up?
Ask your child what he wants to be when he grows up. Write it down and have him pose next to it. It will be fun to see how much this occupation changes (or doesn't!) over the years.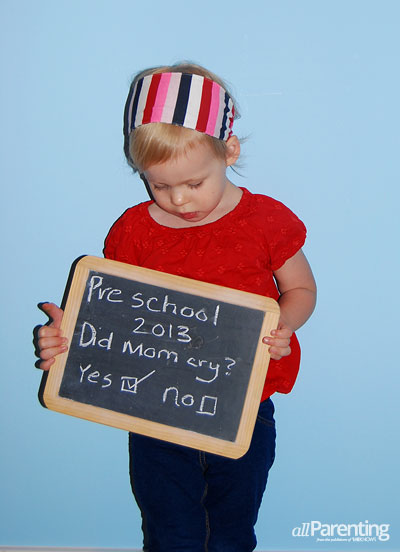 Did mom cry?
As I mentioned earlier, the first day of school can be sad for many moms, whether it's preschool or high school. So if you know you're an emotional mom, why not have some fun with it? Pose your child next to the question, Did mom cry with a box for yes and a box for no. Year after year, check the box that applies. And who knows, maybe one year you won't shed a tear!
More back-to-school ideas
Back to school with healthy habits
Back-to-school treats for your kid's classroom
Lunchbox love notes