Posted: Jul 18, 2013 11:00 AM
Swimming is one of the many wonderful things about the summer. However, every year, more than 600 people drown in swimming pools — half of those tragedies occur in the backyards of single-family homes. Before you head to the pool this summer, keep these important safety tips in mind.
Learn CPR
If you are going to have a swimming pool at your home (or bring your kids elsewhere to swim), take a first aid and CPR training course. Knowing CPR can be the difference in saving your child's life. You can find first aid and CPR classes near you by visiting the Red Cross website and entering your zip code.
Set rules
Establish a set of rules and guidelines for your family and visitors. Do not allow running around the pool or pushing and rough-housing in and around the pool. Keep electrical devices, as well as glass and other breakable objects, a fair distance away from the pool. Go over the rules with your kids, babysitters and any visitors so they understand the importance of pool safety. Create and enforce consequences when rules are broken. Everyone should take pool safety seriously.
Be prepared
Put together a tote or waterproof box with common first aid items, sunscreen, bottled water, lip balm and other outdoor essentials. Keep it stored near your beach towels so that you will remember to bring it with you each time you go out to your swimming pool.
Remember the dos and don'ts
Mitch Jawitz is a home safety expert with The Hanover Insurance Group who put together some strategies for keeping families safe around pools. These dos and don'ts are important for all parents and caregivers to know and follow.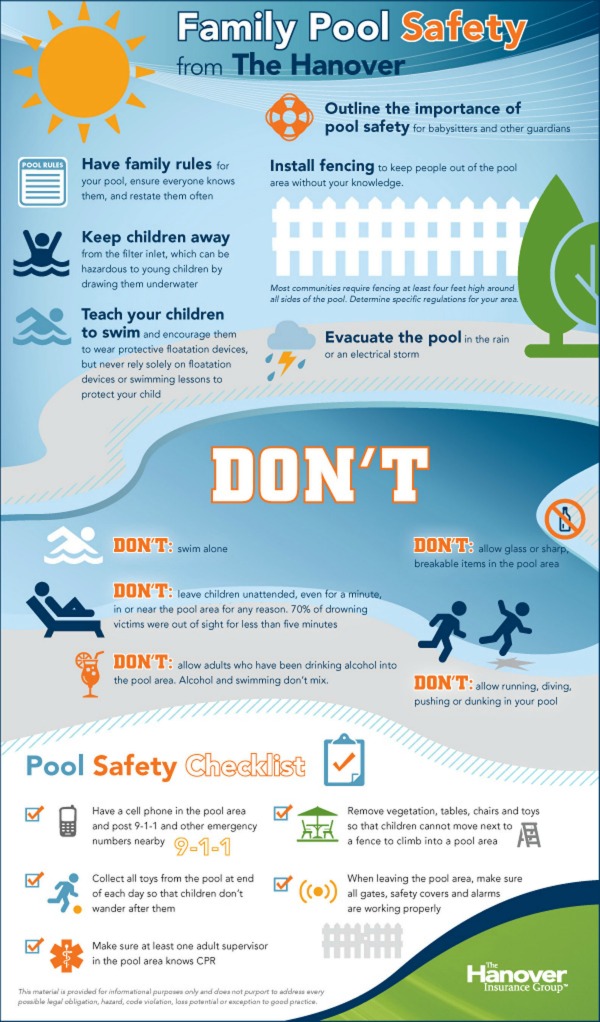 (click to enlarge)
Establishing a set of swimming pool safety rules for your family (and then enforcing them) is the key to a happy and safe summer in the water.
More about family safety
Fire drills, escape routes and safety plans
Your kids online: What worries you most
Guard your kids against heat related illnesses