Posted: Jul 29, 2013 6:00 AM
My family and I live in Phoenix, Arizona, where temperatures can reach 120 degrees in the summer. Yes, really. That means that park play dates are out (nothing like leaving a little seared skin behind on the slide), there's no such thing as a fun day at the zoo and you can only take the kids to Petco to see the tropical fish and pet the bunnies so many times before the employees catch on — no, we're not really there to add a new pet to our family.
I live in the hottest city in the world. OK, fine, maybe not, but we did have a few 120-degree days this summer and being cooped up with a 6-year-old and almost 5-year-old can feel like punishment. This is our first summer back in a city-sized inferno after spending several years in the San Diego area, where we felt like we were living a constant vacation, so making it through the summer months is taking some creativity. Because this isn't the only hot spot in the country, I thought I'd share the activities that have kept us sane.
Indoor game fun
My son has loved Dave and Busters since we first moved back to Arizona about nine months ago. He is a big fan of video games, ski ball and air hockey. And while I can hang out at a typical kids' place that has these forms of entertainment for a while, I'll be honest: I have my limits. Dave and Busters, however, is the perfect blend of fun for the kids and the adults.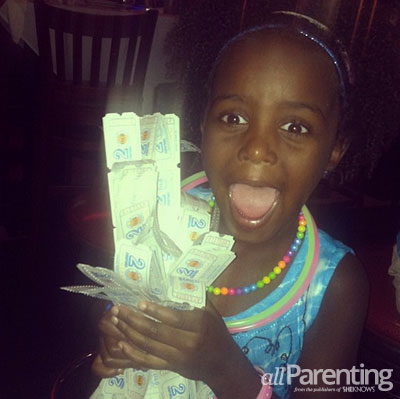 We can eat lunch or dinner as a family (and I'll admit, I was pleasantly surprised by how good it was and how easily my gluten-free diet was accommodated), my husband and I can enjoy an adult beverage if we're in the mood, and all four of us can play games. We often meet some of our good friends there and we all enjoy ourselves immensely.
My favorites this summer have been Fruit Ninja and ski ball. My son is partial to Cut The Rope. And as you can see by the photo, my daughter is thrilled to play anything that results in a ticket jackpot. Visit during the Summer Of Games for great deals on food and entertainment. I think you'll be as pleased as I was at how great everyone who works there is to both the kids and the adults. The awesome employees have made me even more loyal.
Summer movies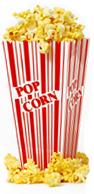 Many movie theaters all over the country, like Harkins, have reasonably priced summer movie series for kids. You can buy tickets for as little as a dollar a piece. That's a few hours in a nice, cool air-conditioned theater, a fun kids' movie that's actually great for Mom and Dad, too, and even better, something to look forward to each week.
Many theaters also allow you to purchase a refillable cup, so you spring for the expensive movie theater beverage price once, and then refill it for a buck for the rest of the season. My kids know I'm OK with them sucking down a fake sugar-laden Icee on occasion, so they have the kids' movie packs to look forward to once in a while, too. Hey, it's the small things, right?
Join the Y
Summer is an excellent time to join, as many locations offer discounts or waive the standard fee you usually pay to join.
About a month into summer, it became apparent we weren't going to survive without regular physical activities. And given the outdoor temperatures, that was no easy feat. We joined our local YMCA and have been so pleased with the options. While the location close to us is fairly new, I've heard similar sentiments from friends who belong to others. The giant pool with the beach entrance has been a life saver, as have the fun daytime activities. Bonus: The cost of membership is similar to a gym membership for just my husband and me — yet it offers great gym equipment and classes, plus so much more for the whole family (including a great child care room for the times we go to work out). Summer is an excellent time to join, as many locations offer discounts or waive the standard fee you usually pay to join.
Indoor activity centers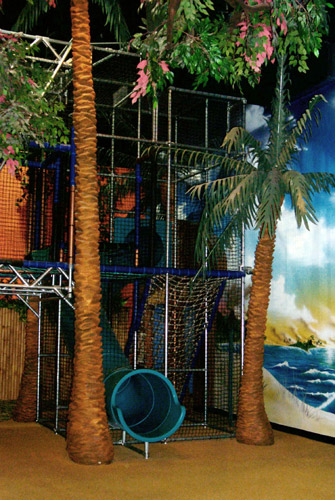 Bounce houses and giant indoor activity centers, like Makutu's Island, offer large air-conditioned play spaces for kids. I've relied on them this summer to wear my kids out. Wait. I meant to keep my kids entertained. Yes, that's it. Many also offer free Wi-Fi, so I'm able to keep an eye on my kids and get work done at the same time. The kids sleep well at night, nobody gets bored and we get out of the house. I always check the websites in advance to see if they're offering any deals or discounts. Tip: Call ahead to find out whether any large groups — like summer camps or church groups — will be visiting on the day you plan to go. It can get a little crazy or be difficult to keep track of your kiddos if there are too many little ones playing at once.
Get creative
When all else fails, get creative. I'm not ashamed to admit that I drove 45 minutes across town on more than one occasion this summer to shop at Ikea, where my kids enjoyed an hour-and-a-half in the kids' play center and I enjoyed an hour-and-a-half of quiet time. We hit the cafeteria for reasonably-priced lunch, and then they had fun and I had even more fun wandering around a visually appealing big box store. Alone.
I heard from a friend that some grocery stores have fun rooms for the kids to enjoy while parents do their shopping. I've never enjoyed the grocery store, but I could see my opinion changing if one of our local stores offered that service. Just being honest... We do what we gotta do during the summer.
More summer ideas
9 Summer snacks for kids
Summer snapshots: Fun kid moments
4 Ice activities for kids
Indoor activity centers photo credit: Makutu's Island