Posted: Sep 02, 2013 9:00 AM
Once your child outgrows the toddler section, she's exposed to fashion that's geared towards tweens and even teens — styles that may be a little more grown up and sassier than parents are comfortable with. So what is a parent to do when left with minimal choices at some of the most popular stores? We found some fall styles that kids will still think are cool but won't make parents squirm.
When my twin girls outgrew the toddler sections at our favorite stores, I almost cried. Not only because it was just another step in this whole growing up thing, but also because a lot of the choices in the girls' sections were just… well, ugly. And much of it didn't really seem all that appropriate for my 5-year-olds, who just a few months earlier were still in the 5T size range, in the land of butterflies and puppy dogs.
But this new section was different. Everywhere I looked, I saw neon splashes of color, faux rips in tiny denim and sequins, oh the sequins! Where were the soft, non eye-offending colors? The polka dots? Why are there spikes on those shoes, and who exactly is buying them? I felt like I had left the soothing, sweet sounds of a tea party for an all-night rave at the local night club.
From toddler to big kid
We get plenty of sass at home, thank you very much. I don't need a sequined kitten adding to the equation.
"
"
Taste is subjective, and I won't pretend to know everything there is to know about fashion. But there seems to be a disconnect between the toddler clothing sections and the girls' clothing choices, and I wish we could ease into it more gradually with size overlapping. Instead, when we move from one section to another, we're making a jump from little girl to big girl, and never the twain shall meet. Now some brands are assuming that our newly crowned big kids suddenly want tacky animal prints and gaudy, bedazzled skulls on their clothing. They're telling us that our girls want pizzazz and sass. We get plenty of sass at home, thank you very much. I don't need a sequined kitten adding to the equation.
Practical considerations
When I'm choosing clothing for my girls, there's more to consider than whether or not an article of clothing is cute or "in style." Kindergarteners and their parents should really only have to worry about a few things when selecting clothing, and none of them is style.
Can she run, skip, jump, climb and scoot in that outfit? Will she be comfortable sitting on the floor for story time or painting at a table? One of my girls recently banished all denim from her wardrobe because they prohibited her movements and slid down when she sat. . And thus came about my first purchase of jeggings.

Now can she do all of the above without her Hello Kitty underwear showing. Bike shorts or leggings are perfectly acceptable underneath a skirt or dress, but shouldn't be needed just to compensate for the length of the skirt, or lack thereof. Kids shouldn't have to wear layers to make an item appropriate.

Can she pull her pants up and button them without assistance? Those super skinny metallic stretch jeans might have been a bad choice if she exits the girls' bathroom with them around her ankles, asking for help on the first day of school.
Skip this and buy that
Despite the pains that some girls' clothing sections have caused my eyes, there are some decent selections out there that still allow our little girls to be little girls without the fast track to "tweendom."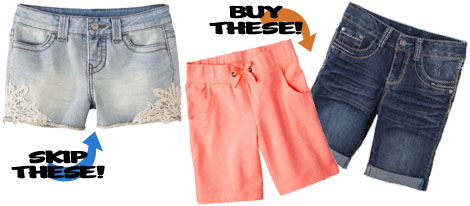 Skip these short Cherokee shorts with lace trim at Target.
Buy these Cherokee denim Bermudas or Circo lounge short with their more modest lengths.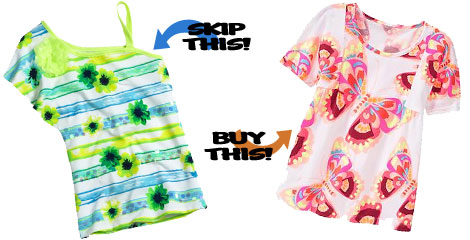 Skip the floral one-shoulder top from Justice (or really anything from Justice).
Buy this this sweet Old Navy butterfly printed tee.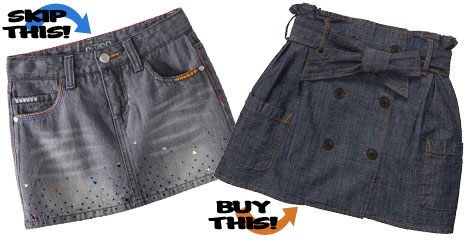 Skip this too short Circo mini skirt.
Buy this denim skort from Osh Kosh with built in jersey shorts.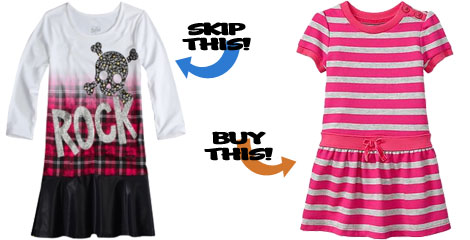 Skip this embellished plaid tunic with rhinestone skull from Justice.
Buy this classy striped drop waist dress from Gap Kids.
Let her be herself
The hardest part of shopping for my girls, given that I'm not bombarded with shiny, hot pink stretch pants, is that now at age 5, they actually have opinions. One twin opts to wear dresses day in and day out, while her sister refuses all things pink or dress-like. But these new-found opinions and tastes are quite freeing, as it gives me a greater peek into who they are as budding individuals, and that's an important part of their development as children and as twins. I'll let them choose as much of their clothing as possible, as long as I deem it appropriate and practical for their age. Unfortunately those options are getting a little harder to find.
Let's just hope we can stay away from the rhinestone skulls.
More on raising girls
Fashion trends that fast track childhood
Help your twins assert their independence
Tips for empowering girls