Posted: Sep 02, 2013 10:00 AM
Often at the last minute, a friend will call and have me do pick-up for their child at school but wait... do I have enough car seats? Does the child meet the weight and height recommendations for riding in a booster seat?
While all of these questions swim through your head as you sit in the school pick-up line, here's a quick refresher on the car seat safety recommendations so this school year you can carpool safe.
When it comes to driving kids in the car, whether they are mine or not, there is no compromising their safety. Too many times I have turned on the news when, unfortunately, you hear about an injury that could have been prevented if the child had been safely secured in their car seats or wearing their seat belts properly. Driving slow is one thing, although this doesn't protect you if someone hits you at full speed, but in order to really be truly safe, following the car seat recommendations will ensure that you aren't putting any child at risk as you zoom around town to soccer practices and park play dates.
While we all know that babies and toddlers are required to ride in car seats, it starts to get a little tricky as to what the requirements are as the kids start to grow in different spurts in preschool and early grade school years. More often than not, parents are switching from five-point harness car seats to booster seats before their child is really ready because they are getting impatient with the time lag from when the child enters the car to how fast they latch themselves and can pull out of the parking lot or it's too difficult to switch car seats during carpool. However, the reality is that parents are just as confused about when to transition younger kids from rear-facing to forward-facing car seats as they are about older kids making the transition from forward-facing car seats to boosters.
According to Alisa Baer, M.D., a New York-based pediatrician and nationally certified child car seat expert best known as the The Car Seat Lady, kids should ride in a 5 point harness car seat until they are at least 4 years old, at least 40 pounds and are mature enough to sit still in a booster. Kids should continue to ride in a booster seat until they can pass the Five Step Test, which typically happens around 10-12 years of age. If you answer "no" to any of these questions, your child STILL needs a booster seat to make the shoulder belt and the lap belt fit right and keep them safest.

Image credit: TheCarSeatLady.com, @SafetyBeltSafe USA
At a minimum, your child should be at least 4 years old AND at least 40 pounds AND mature enough to sit still for the entire trip to use a booster properly.
"
"
Two types of boosters
There are two types of booster seats: high-back and backless. Knowing which one to choose can be confusing. If your vehicle's seat back does not come up to at least the top of your child's ears while they are sitting in the booster, then you must use a high-back booster in order to keep the child's head protected from whiplash. If your vehicle's seat back comes up to at least the top of the child's ears, you can choose either a high-back or a backless booster. Children who are transitioning out of their 5-point harness will often sit better in a high-back booster as it tends to be a little more confining. Kids who still nap in the car will also prefer a high-back booster. Older kids who don't want to be seen in a booster will typically prefer the unobtrusive backless booster. Backless boosters are also great for fitting in narrow spaces, such as next to another child's car seat or booster.
Proper Belt Fit
The lap belt should be low and flat on the top of the child's thighs and nowhere near the child's abdomen. Baer also mentioned that while the shoulder belt rubbing against the child's neck will, surprisingly, not cause significant injury the lap belt resting on a child's abdomen can cause significant, life-altering injury to the spinal cord and the abdominal organs.
Carpool-friendly 5-point harness and booster seat recommendations
If you're going to be carpooling a lot this year, there are several options for boosters that make ride sharing easy and safe. In fact, you may want to keep a booster seat in the trunk of your car so that you're always prepared for extra kids.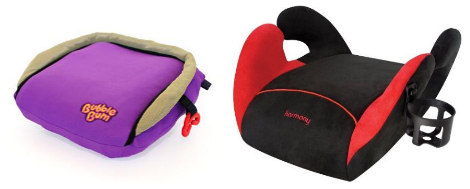 Bubble Bum Backless Booster ($40) — This backless booster weighs just one pound and is the perfect choice for carpoolers because it's inflatable and can easily be carried around in a backpack for post-school pick-up. Made of durable life raft material, with a seat belt webbing structure on the outside, the Bubble Bum passes all U.S. and European crash test standards. Best for ages 4 to 10 years of age and from 40 to 100 pounds, the Bubble Bum is the narrowest booster making it perfect for carpools with many boosters/car seats across.
Harmony Cruz Backless Booster ($17) — This booster's slim profile, due in part to the lack of bulky arm rests found on other plastic boosters that can make buckling a challenge, allows it to fit nicely in cars with multiple car seats/boosters across.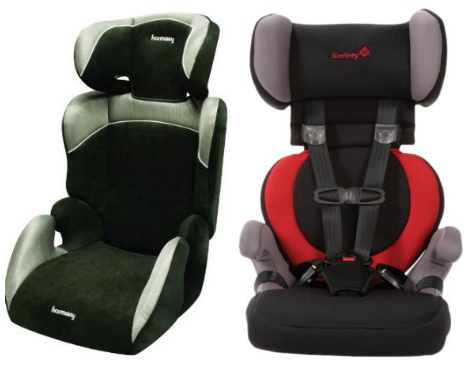 Harmony V6 Highback Booster ($80) — The Harmony V6 is the high-back version of the Cruz. It is the narrowest high-back booster on the market and as such is a great option when your vehicle necessitates a high-back booster because the vehicle's seat doesn't come up to at least the top of the child's ears but you have very little space in your back seat.
Safety 1st Go Hybrid Convertible Booster ($133) — Carpooling with kids in 5-point harness car seats is much more of a challenge. First you have to schlep the car seat, and then it takes time to install the child's car seat properly and adjust the straps properly on the child's body. If the car you are going in has LATCH (lower anchors and the top tether) in the position the child will be sitting, the Safety 1st Go Hybrid is the perfect solution. It weighs just 10 pounds and folds into its own travel bag, which comes included with the seat. It installs easily in less than 90 seconds using the lower anchors and top tether. Also, it is super narrow so it will fit in spaces where other 5-point harness seats simply won't. The 5-point harness car seat is for forward-facing children up to 65 pounds, and then it turns into a backless booster.
More on car seat safety
Top booster seats for your child
Safety first: Car seats, the Red CARpet event and Ali Landry
Top convertible car seats for baby
Main image credit: NHTSA.gov