Posted: Oct 11, 2013 7:00 AM
Halloween crafts for little kids should be more cutesy than gory. We've got four cute crafts that won't spook your toddler.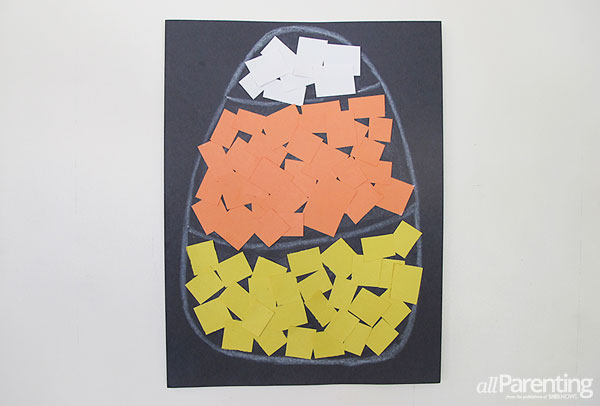 Confetti candy corn collage
This colorful candy corn project is perfect for preschoolers who are learning to use scissors. If your toddler isn't quite ready to maneuver a pair of scissors, this craft is just as cute using torn pieces of paper.
Materials:
White chalk or crayon
Full sheets of black construction paper
Strips of orange, white and yellow construction paper
Scissors
Glue stick
Directions:
Draw a large candy corn outline, with two curved lines inside to create three segments on the black sheet of construction paper.
Help your child cut white, orange and yellow strips of paper into small squares or let him go wild tearing his own "confetti" pieces.
Instruct him to glue the white pieces in the top segment, orange pieces in the middle segment and yellow pieces in the bottom third to complete the confetti candy corn collage.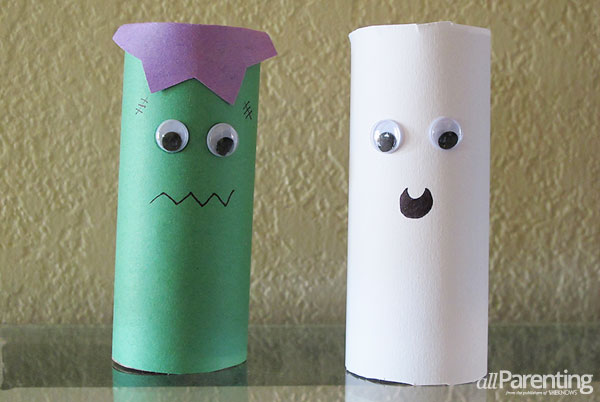 Toilet paper roll Frankenstein and ghost
Save a few empty toilet paper rolls (or paper towel rolls cut in two) to create these darling ghouls that can be used to decorate your child's room or any part of your home for Halloween.
Materials:
Toilet paper rolls
Glue stick and/or tape
Purple, green and white construction paper
Googly eyes
Black fine-point marker
Directions:
To create the ghost, wrap white construction paper around a toilet paper roll and then secure it with tape.
Cut excess paper along top and bottom to fit.
Draw a silly smile or circle for the mouth
Glue on googly eyes.
Make Frankenstein by wrapping green construction paper around an empty roll, taping it and cutting it to fit as you did with the ghost.
Cut a jagged piece of purple paper and tuck part of it into the top of the roll, with the remainder hanging down to create his "hair."
Glue on googly eyes.
Draw a zigzag for the mouth and "stitches" to finish the face.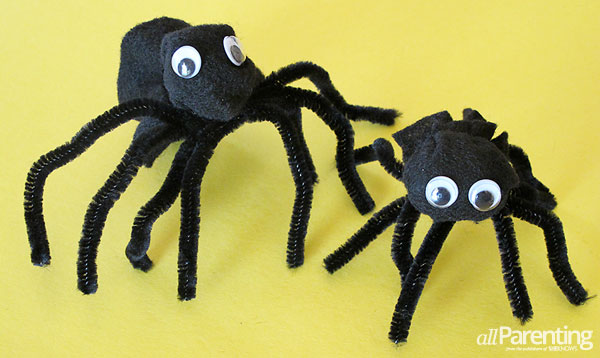 Spider lollipop
Preschoolers will love this cutesy spider — because it's a treat in disguise!
Materials:
Black felt
Small rubber bands
Googly eyes
Black pipe cleaners
Directions:
Wrap candy part of lollipop in a small square of black felt and secure with rubber band. If you wish, you can trim off the excess felt.
Glue googly eyes onto the felt.
Cut two pipe cleaners in half, twist around the base of the lollipop and spread out so the "spider" has four legs on each side. If you want your spider to have longer legs, use four full-length pipe cleaners.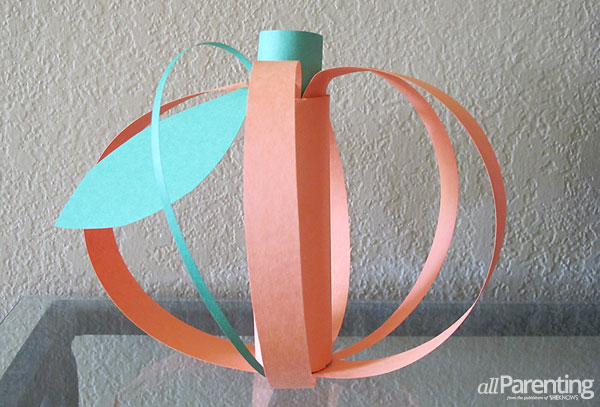 Paper pumpkin
This classy paper pumpkin is cool enough to serve as a centerpiece for your Halloween buffet table — but so easy a toddler can make it!
Materials:
Orange and green construction paper
Toilet paper roll (or paper towel roll cut in half)
Glue stick and/or tape
Directions:
Wrap a toilet paper roll in orange construction paper and secure with tape to serve as the core.
Cut thin strips of orange paper, varying the widths from thin to slightly thicker.
Cut a long, very thin piece of green paper to serve as the vine and a teardrop shape to serve as the leaf, leaving a small "tag" of paper on the leaf so you can tuck it into the top of the roll to secure.
Cut a rectangular piece of green paper, roll it up and secure it inside of the top of the toilet paper roll with tape or glue, with about an inch sticking out to serve as the stem.
Glue orange strips to the inside of the top of the toilet paper roll, then bow them out and glue the ends to the bottom of the roll.
Glue the leaf and vine to the top of the roll.
Remember that the most memorable (and fun!) parts of letting your child create a craft is to truly let him make it on his own (aside from helping with cutting as needed) — even if the outcome is not picture perfect. Down the road, these imperfect keepsakes will remind you of these precious times.
Love this? Find more crafts and DIY projects!