Posted: Oct 15, 2013 9:00 AM
When your kids are little, they might not have much say in the costumes you choose. Reenacting
The Wizard of Oz
might not be so popular with your elementary school-aged children, so try these family-friendly themed costumes instead.
Find a shared interest
Planning costumes for a group can be a fun way for kids to involve their parents in their interests — and the other way around. If you have a reluctant participant, letting him or her make some of the big decisions about the theme can turn hesitation into enthusiasm. Go out for pizza and talk about possible themes and ways to incorporate different ideas.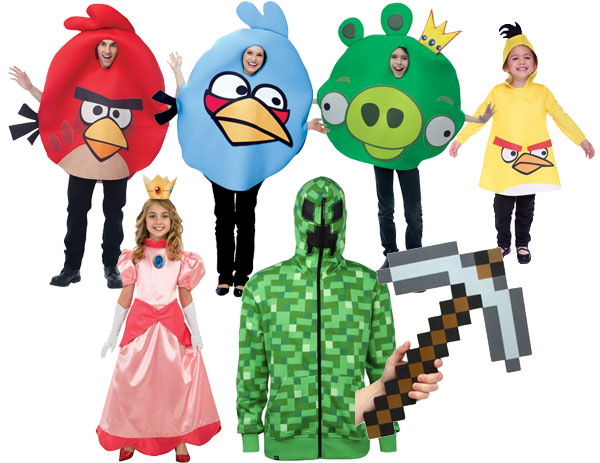 Mix and match video games
Putting together a set of costumes for a video game loving family can be as simple as choosing a variety of Angry Bird costumes (Spirit Halloween, $25 and up). If you all like gaming but can't agree on a favorite, you can keep the video game theme and branch out to let each family member choose their favorite characters, like Princess Peach (Costume Craze, $44) from the Super Mario Brothers franchise or a Minecraft hoodie and pick axe (Minecraft Costumes, $23 and up).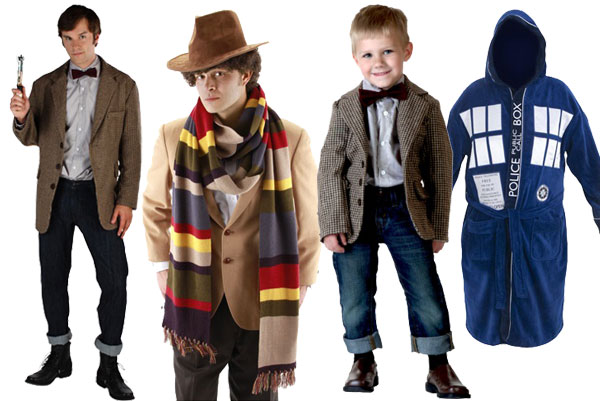 Turn to television
Certain TV shows turn their viewers into super-fans, and Doctor Who is one of those shows. The BBC series has a cult following and has amassed additional American fans since 2008, when it began airing on the Sci Fi (now Syfy) channel. Even if your younger children aren't watching, they may want to get in on the Doctor Who Halloween costume fun after hearing you and your older children talking about the show. Choose costumes from different doctors or flip a coin over who gets to be the all-important TARDIS (HalloweenCostumes.com, $30–$70).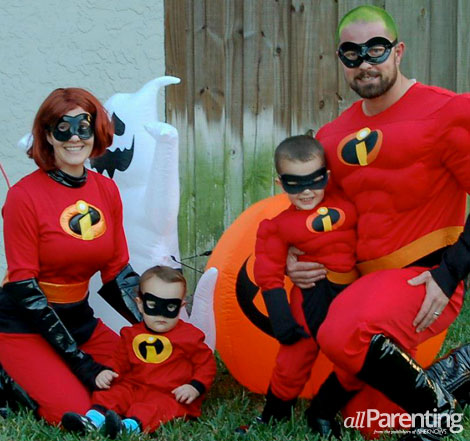 Make it a tradition
Rebecca and her family are old pros at group costumes. She recalls, "We do theme costumes each year. Last year we were The Incredibles. We've also done Toy Story. One year we were all royals, and the year before that the boys were Elvises and I was Priscilla." The family tradition will continue, even with her husband — who's in the military — gone for Halloween. "This year with Daddy gone, we are going with a Wreck-It Ralph theme."
Just "wing" it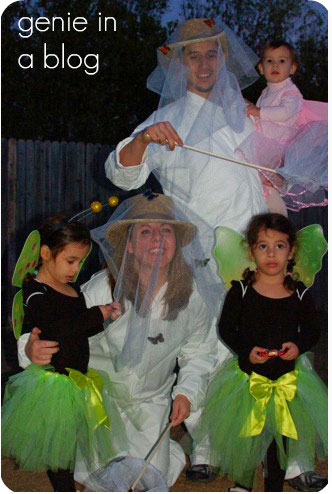 Not all family costumes need to be planned months in advance. Leigh Ann tells of creating a theme around the costumes her girls had already chosen. "We were headed to a party, and the girls were already set to be butterflies. When I heard that a few others were putting together family costumes, I knew I would have kicked myself for not doing so. And the Torres Family Butterfly Farm was born. We threw together our butterfly catcher costumes with paint coveralls from the home improvement store, hats from the dollar store and tulle and butterflies from the craft store. And lots of hot glue."
Leigh Ann's adorable butterfly farm is a great reminder that costumes can be designed from materials from almost anywhere — you don't need to stick to ready-made costumes to make an impact. The key element to family costumes is that you're spending Halloween together, so make the themed costumes about what your family loves!
More about family fun
Fabulous and fun science experiments
Build kindergarten skills
Hang out without the iPad