Posted: Oct 18, 2013 10:00 AM
Everybody loves a house decorated with spooky Halloween decorations, right? Wrong. The imagination is a powerful thing and some kids fear everything from decorations to costumes. It's important to create a Halloween that works for your child to ensure a fun holiday.
While costumes, parties, parades and a never-ending bag of candy might be fun for some kids, it can also cause fears for others. Halloween can be a fun night of trick-or-treating and meeting up with friends after dark, but it also includes some very scary imagery. Graphic costumes, fake headstones, haunted houses and talk of monsters can be frightening.
Many young children are shielded from topics like death until suddenly, once a year, fake coffins and makeshift cemeteries pop up all over town. Not only do the graphic images cause fear, but they can also cause little worriers to worry about their own safety.
There are a few things parents can do to take some of the fear out of Halloween and keep the holiday fun and inviting.
Know your child
The first step is to stop and evaluate how your child reacts to things like ghosts and monsters. Have you shielded your child from such imagery all year? Has your child ever seen or visited a cemetery? If your child has been living in the dark, Halloween night is not the time to bombard him with scary costumes and frightening props. If your child tends to be a worrier and has a fear of the dark (even just a little bit), think carefully before you proceed.
It's always a good idea to take a light approach to Halloween when you have a worrier on your hands. Even if you really love to cover your home in scary decorations.
Listen to fears
Try not to dismiss your child's fears about Halloween. Although it might seem silly to worry about a holiday largely based on the art of make believe, the fears are very real to your child.
Listen when your child expresses fear. Validate his fears and show empathy. Children need to feel heard and understood, particularly when they are under stress. Talk about what it means to feel afraid and what your child can do to feel less afraid (get a hug, think of something happy, do a silly dance).
Make adjustments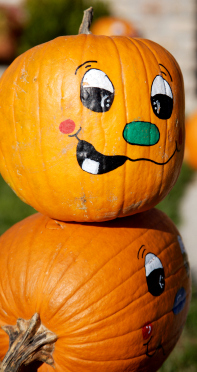 Many schools have a policy in place that forbids scary or violent costumes, but it's always a good idea to check on the rules and ask the other moms what the kids are wearing. Skip out on the school-based party if it seems like the imagery might be a bit too much and plan for some benign Halloween fun instead.
Pumpkins play a huge role in Halloween, and a pumpkin painting party is a great idea for kids who feel afraid. Avoid costumes with masks (for you and your child) as covered faces can spark fear of the unknown. Trick-or-treat early, before the sun goes down. Call on a few neighbors to be ready early so that your child can visit a few homes during the light of day.
Talk about pretend
Halloween is all about dress-up and using the imagination. Yes, the props and costumes can be scary to look at. But it is all pretend. Talk about that with your child. Practice by playing dress up before Halloween. Discuss what it feels like to pretend to be someone else for a while, and that you can always return to normal at any time.
Teach your child to direct his imagination toward positive or funny images when he feels scared. Flipping a scary image to a funny one can help reduce fears in the moment.
Keep it brief
Worriers love routine. Routine provides a sense of control and makes kids feel calm. Try not to blow the routine on one night of extended Halloween fun, particularly if your child has fears.
Avoid excessive sugar intake, as this can make it difficult to settle down. Try to keep the relaxing bedtime routine in place, and don't push the bedtime much later than 30 minutes past the usual time.
More on parenting
Toddler fashion police
The power of play
The value of volunteering