Posted: Oct 02, 2013 10:00 AM
In college, I often began my mornings thumbing through my worn copy of
14,000 Things to Be Happy About
. Now that I'm a mom, I'm creating my own running list of what makes me happy in motherhood. Despite the fact that motherhood is exhausting and emotionally challenging, there are always things that make it all worth it.
I spent my last semester of college fulfilling my student teaching duties in a fourth grade classroom in Auburn Hills, Michigan. Taking over another teacher's class for several months was my final test to prove I was worthy of my own classroom — that everything I had learned about child development and classroom management actually meant something. I didn't know a lot about fourth graders, but I did have a lot of saved ideas — classroom routines I had been dreaming of implementing from the very first day I picked teaching for a career. One of these was a morning happy list — a way to start every day on a good note. It was an easy concept: I'd take my tattered copy of one of my favorite books, 14,000 Things to Be Happy About, and I'd pick a few of these happy things to write on the blackboard every morning, reminding my students that little things were to be celebrated. This simple activity soon became one of my students' favorite daily routines, eventually leading to them begging to take turns choosing our daily happy list. Throughout the months that followed, along with fractions and the effects of supply and demand, my students learned to look for happy little things — from orange soda and hammock naps to the sound of roller skates on well-known sidewalks.
These days, my classroom is my home and my students, three younger and slightly more demanding little ones. But I still have the same copy of 14,000 Things to Be Happy About, its binding now completely torn and several pages loose and patched together with tape. While I still love to flip through the book and be reminded of happiness that exists in things I may have overlooked, I find making new lists today, patching together the hidden gifts in motherhood that make the hard times well worth it. Our list is nowhere near 14,000 things, of course. But it's growing steadily, and we're only six years in.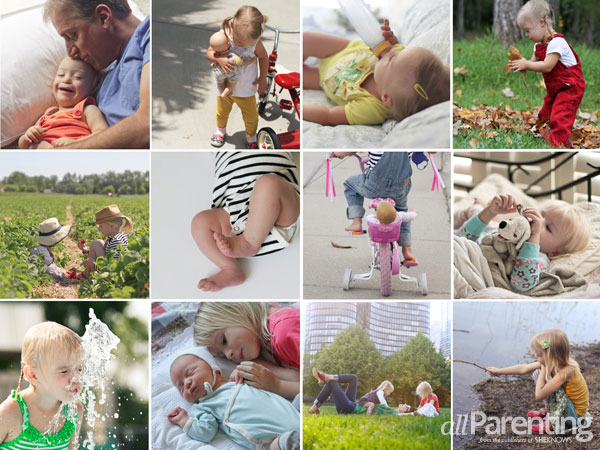 A mother's not-quite-14,000 things to be happy about:
When you're sitting on the floor and they back up to sit in your lap

"Hold you" instead of "Hold me"

Car seat smiles visible from the rear view mirror

Almost too-small footie jammies

"Pasketti"

Getting to leave a boring event because, you know — the baby

Going to pack a diaper bag but deciding to wing it instead

Settling on a name and confidently writing it on the birth certificate

"How many more days 'til my birthday?"

Wobbly first steps

Baggy tights that bunch up like elephant skin above patent leather Mary Janes

Lips that suck while they sleep

Those four little dimples underneath four pudgy fingers

Hospital receiving blankets

When they rob your lipstick from your makeup case and use it without your help

Mini saltwater sandals

A clean high chair tray

Hearing them babble in their crib when they're alone in their room

Seeing the tiny diaper and stretchy hat laid out for your baby while you're still in labor

Graduating from suspension liquid Tylenol to chewables

Mother's Day cards with misspelled words in all caps

When they clutch your hair while they fall asleep

Colorful kid Band-Aids

Lovies

Believing in Santa again

Imaginary friends

The smell of Cheerios

Finding a crumb-covered diaper at the bottom of your purse when you thought you were going to be forced to make one with a towel and duct tape

Saying "my son" and "my daughter"

Water beads on their eyelashes during a bath

When they hold your finger while they sleep

Answering the question, "Which one is yours?" at a recital/soccer game/school play with a giant smile, a pointing gesture and "that one, right there"

Playdate moms who bring you coffee without asking

Hearing "Miss Kelle" from my daughter's friends

Pat the Bunny

books

Old-fashioned bonnets

When you're holding them face-out and they turn their head practically upside down to look up at you

Nailing a ponytail with "no bumps"

Babies in all white

The Christmas when they get a new bike

Mixed-up pronouns: "Him looking at me"

Kindergarten backpacks that swallow them whole

Chunky crayons

Being away from your child and finding their sock/pacifier, Polly Pocket doll in your purse

Answering "Mommy?" with "I'm right here"

Singing "Blackbird" while swaying them to sleep

That first smile when you walk in after their nap

Hearing them say "Find me" from their super-secret hiding spot (hiding their face behind their hands)

Catching yourself swaying back and forth when you're not holding a baby

Taking scooters to the park

The way their skin smells like outdoors after a long summer day

A bundle of dandelions delivered as if they were an expensive bouquet

Tippy toes to reach the drinking fountain

Ruffle butts

When they clomp around the house in your shoes

The way it feels to swear when you step on a Lego

Bubble bath Santa beards

Goodnight Moon

The original Burt's Bees Baby Buttermilk scent

Thigh chub — theirs, of course

The slump — when they finally fall asleep in your arms and you know it just from the weight of their bodies

The Itsy Bitsy Spider motions

Talks about kindness with your kindergartener and feeling them "get it"

When they reach out to hold your hand when you thought they were over it
Our list expands every year with new experiences and new perspective. Surely, we'll make 14,000 someday. Do you have any of your own you'd like to add to our list? Do share!
More from Kelle Hampton
Create a book-loving home
My 30-minute house cleaning secret
Yoga for two