Posted: Oct 23, 2013 6:00 AM
Not all dance moms are pushy or living vicariously through their daughters. There are so many other aspects to dance lessons besides auditions and being the best that make it a meaningful experience for little girls. After three years of both Mommy and Me classes and watching my daughter from behind the glass, I appreciate so much more the art, dedication and beauty behind ballet.
It's Thursday afternoon. We hustle after school to grab snacks and find clean tights. We're lucky today — we not only find tights but a leotard, skirt and both ballet shoes. My daughter hops on one foot while she slips the other one into her leotard, and I simultaneously attempt to brush her hair while she gets dressed. "Stay still," I say, "I've got to get this bun in." After three years of ballet, I've got the bun thing down to a science: four quick brush strokes, three ponytail twists and an impressive rubber band snap to fasten it all in place.
After three years of ballet, I've got the bun thing down to a science: four quick brush strokes, three ponytail twists and an impressive rubber band snap to fasten it all in place.
"
"
"We can't be late," my daughter cautions. To school, maybe. But ballet? It's her favorite.
We've been enjoying ballet classes for over three years now. Two daughters. Five leotards. Six pairs of maxed-out ballet shoes. Runs in our tights. Ribbons in our buns. While shows like Dance Moms might sadly make out children's dance classes to be a hot mess of cut-throat competition, excessive pressure and fisticuffs for a trophy, our three years of dance have been anything but. Through ballet, my girls are learning about the graceful potential of their bodies, being encouraged to stretch out socially, understanding the importance of following directions in instructional settings and, most important, experiencing the beauty and expression of dance.
For our littlest, the past year of Mommy and Me ballet classes has been the perfect opportunity to sharpen her social skills and grant this middle child some individualized attention. Our consistent Tuesday morning schedule has helped her understand routine and set the foundation for instructional settings to come. At first hesitant to interact with other participants and stray far from my leg, she now dances freely, knows the names of her classmates and often has to be reminded that the barre is not intended for hanging and swinging and making faces in the mirror. Every week, there's a moment in the middle of her class that makes me tear up — twirling little girls in soft pink leotards, the sweet slow song and this brief moment of eye contact with my little ballerina as she looks up — "Do you see me, Mama?" clearly evident from her smile. In that 30-minute class, I feel so grateful for my little girl and her ability to dance.
For our eldest, ballet has had even more benefits as she's been involved a little longer. The shy girl who refused to let me out of her sight for her first three classes (they basically had to kick me out) doesn't even look back now as she walks far ahead of me to her studio. She's more aware of her breathing, her posture, how good it feels to stand confident and tall. She pushes herself to stretch her body a little further than she at first thinks it can go, and she excitedly tells me when she succeeds: "Mommy! I can almost do the splits now. I got down this close this time — I'm almost there!" She appreciates classical music more, pointing out good "ballet songs" when she hears them. And she's beat some good healthy stage fright performing in recitals and enjoying the adrenaline rush that follows. Mostly, she loves the dance. The friends. Miss Ruth, her teacher. Learning. Watching herself twirl in the giant mirrors stretched across the studio's walls. And I like her ballet smile. I know it well.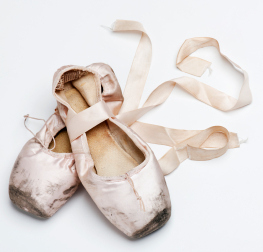 We make it on time for class. I kiss the top of my girl's head before she runs off and starts her stretching, and I smile at the sight of her little tights-covered toe sticking out from the hole in her shoe. Pair number seven — another one bites the dust. I settle into a chair behind the glass. I can hear the soft piano music from the opening in the door and the teacher's gentle instructions. Point. Flex. Point. Flex. I love this studio. I love the way the warm light seeps in from the large arched windows, casting shadows on the worn wood floors. I love seeing little girls happy. For me, this is what ballet is.
Whether my girls keep dancing or decide one day it's not for them, I will always be entranced with the beauty and grace of ballet. For now, I watch smiling, thankful for this opportunity to be a dance mom — the good kind.
More from Kelle Hampton
In defense of Halloween
14,000 Things to be happy about
The stories of our past