Posted: Nov 18, 2013 7:00 AM
What's more fun than playing with your food? Eating it afterwards. Give your kids an activity they can eat this Thanksgiving Day.
Oreo cookie turkeys
We couldn't resist whipping up an edible turkey craft of our own using a few of our favorite sweets! We're sure your little sweets will love them, too.
Ingredients:
Oreo cookies (We used the golden ones, but you can take your pick!)
Candy corn (we used original and chocolate varieties)
Miniature Reese's Peanut Butter Cups (Put them in the refrigerator for a little while to help the chocolate peel away from the wrapper)
Edible eyeballs
Peanut butter or frosting (for the "glue")
Directions:
Separate the 2 sides of the Oreo cookies, taking extra care not to break either side. However, if a few casualties do occur, don't make a fuss — simply dip the broken ones in milk, gobble them up and move on to the next Oreo in the package!
Then use peanut butter or frosting to affix around 5 upside down candy corns around the top of 1 side of the Oreo to make the "feathers."
On the bottom side, use 2 more candy corns as the turkey's feet.
Close the Oreo.
Use peanut butter or frosting to attach the edible eyes, Reese's Peanut Butter Cup (bottom facing out) and another candy corn as the beak.
Popcorn and apple turkeys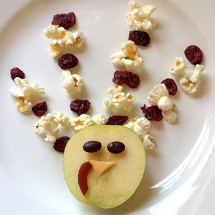 Daniele from We Know... Stuff doesn't want her kids filling up on chips and pretzels before a big Thanksgiving meal, so she offers cute, fun and healthy alternatives like this darling apple and popcorn turkey. All you'll need are a halved apple for the body, dried cranberries and popcorn for the feathers, yogurt raisins for the eyes, a piece of cheese for the beak and fruit leather for the waddle.
Check out more of Daniele's healthy "turkey" snack ideas here >>
Handprint turkey cookies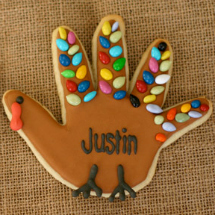 These darling handprint turkey cookies from Bee in our Bonnet serve not only as a craft and a treat but as a place "card," too! Inspired by kids' paper handprint turkeys, this version is just as cute but a lot more delicious! We're sure your kids will agree.
Click here for Bee in a Bonnet's complete tutorial >>
Gobble gobble Rice Krispies treats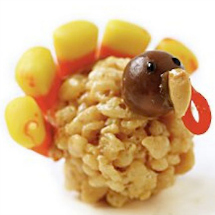 Kids and Rice Krispies treats go together like peanut butter and jelly. Add some seasonal candy corn and a few other sweet ingredients and you'll have a crafty dessert that your kids can't wait to eat.
Learn how to make these sweet turkeys on All Free Holiday Crafts >>
Colorful gumdrop turkeys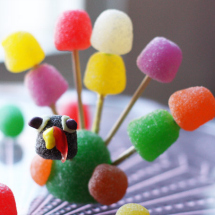 With just a few simple ingredients, your kids can create (and better yet eat!) these sweet colorful gumdrop turkeys featured on All Free Holiday Crafts.
For the complete how-to, click here >>
More Thanksgiving fun for kids
Four Thanksgiving traditions to start with your kids
Thanksgiving kids' tables that rock
Top 6 children's books for Thanksgiving