Posted: Nov 07, 2013 6:00 AM
When you find it is tough getting your holiday feast on the table, engaging kids with some Thanksgiving activities may be just the distraction they need to let you get cooking! From pinecone turkeys to Mayflower handprint crafts, unwrap these Thanksgiving crafts that keep kids busy.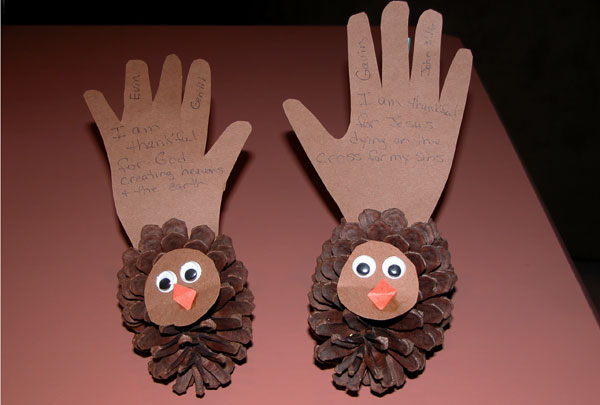 Thankful pinecone turkey
Keep kids busy while giving them a lesson in thankfulness with this oh-so-easy thankful pinecone turkey handprint craft from AllyShints.com.
Materials:
Different colors of construction paper
Wiggly eyes
Pinecones
Glue
Pen
Scissors
Instructions:
Cut out a circle for the face of the turkey and attach the wiggly eyes and the mouth (cut a diamond shape and fold in half) with glue.
Trace your child's hand print and cut it out and have him write what he is thankful for upon it.
Place a pinecone on its side and slide the hand print into the larger end near the base to form the turkey's tail feathers.
Finally, use a large loop of tape to attach the face of your turkey to the pinecone.
Teepee craft
To save time and money, give kids Thanksgiving activities created with the things you already have on hand like this Native American teepee craft by easypreschoolcraft.blogspot.com.
Materials:
Brown construction paper
Scissors
Tape
Decorating materials
3 short sticks or kebab skewers
Rubber band
Instructions:
Cut a large half circle from brown construction paper.
Fold into a cone with a small opening at the top and tape in place. You could also crumple up the paper and spread it out again to give it a more realistic look.
Decorate the outside of the teepee. You could just color or put on animal or Native American motifs stamps or shapes cut from paper. Alternatively, test the cone shape and decorate before taping.
Put 3 sticks or skewers together and tie together about 3 inches from the top with a rubber band. It should act as a tripod and stand on its own.
Place the cone over the top of the tripod and tape to the inside of the cone.
Cut a slit from the bottom and fold back to make a door.
Play with other animal or Native American toys.
Thanksgiving Mayflower hand print craft
Just as much as a keepsake as it is a Thanksgiving craft to keep kids busy, this Thanksgiving Mayflower hand print craft by easypreschoolcraft.blogspot.com may need a little more supervision — or at least a lot of wet wipes nearby.
Materials:
Gray or light blue construction paper
Brown, blue and white paints
Paintbrushes
White paper
Scissors
Instructions:
Paint child's hand brown and press onto the gray construction paper.
Paint a blue sea and white clouds with paintbrushes.
Cut some sails from white paper and glue on your Mayflower.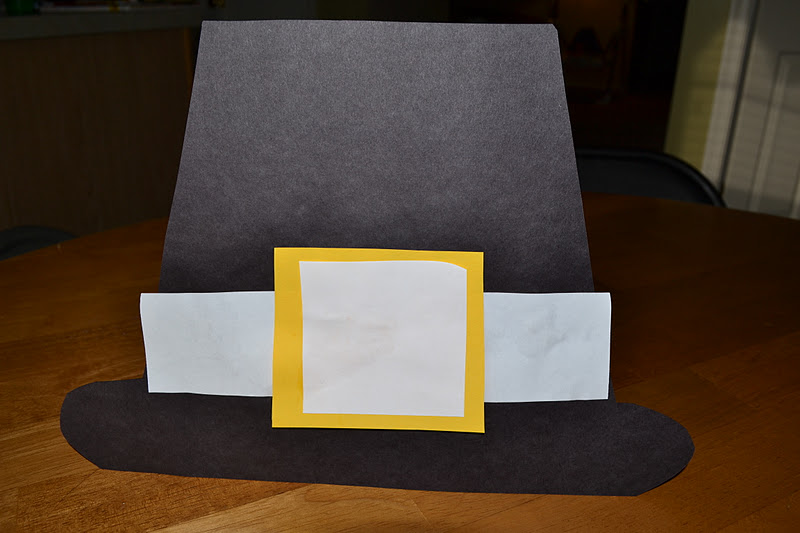 Easy pilgrim hats
These easy pilgrim hats from mamaslikeme.com make teaching your kids about the history of Thanksgiving fun while you whip up the perfect holiday feast.
Materials:
Poster board strips
Black, yellow and white construction paper
Glue
Scissors
Stapler
Instructions:
First, free-hand the basic shape of the hat on black construction paper and cut it out.
Next, cut a long rectangle out of white construction paper.
Then for the buckle of the hat, cut a larger yellow square and a smaller white square. Older kids could cut the squares and rectangles themselves.
Now let the kids glue their pieces together to make the hat and then glue their hat to a 2- to 3-inch strip of poster board.
Finally, wrap the poster board strip around the child's head to measure and then staple together to form a band.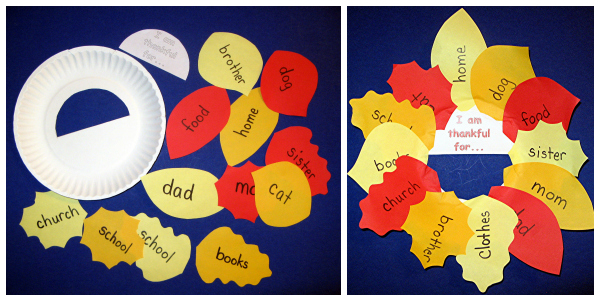 Paper leaf thankful wreath
Whether you precut the plates and leaves or let school-age kids do the snipping themselves, this paper leaf thankful wreath from AlphabetWorkout.com is a Thanksgiving craft that will get kids looking at this fall holiday in a whole new way.
Materials:
White paper plate
Scissors
Computer and printer
Downloaded leaf template
Pen
White glue
Instructions:
Give each child a stack of leaf papers. They should cut along the vertical and horizontal lines before they begin to cut the leaves.
Have your child write something they are thankful for on each leaf.
Give your child an "I am thankful for..." half circle, a pre-cut paper plate and glue.
Glue the leaves with 1 end of the leaf touching the hole of the edge of the "I am thankful for..." half circle. Allow to dry and hang!
Thanksgiving paper thankful pumpkin

Perfect for older kids who have mastered more fine motor skills, this Thanksgiving paper thankful pumpkin by craftbits.com is both decorative as well as introspective.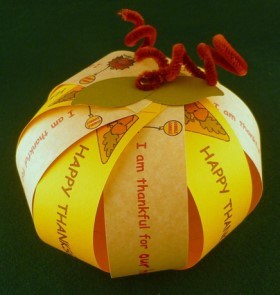 Materials:
2 sheets of cardstock
Small hole punch
2 brads
Green construction paper
Brown pipe cleaner
Instructions:
Cut cardstock paper into strips: 1-1/2 inches x 8-1/2 inches (you'll need 10 strips for each pumpkin).
Write "I am thankful for (insert your ideas)" on 5 strips of cardstock.
Decorate and write "Happy Thanksgiving" on the other 5 strips.
Make a small hole in the center of both ends of each strip. Using a small hole puncher or another tool to make the small holes.
Alternate the "I am thankful" and "Happy Thanksgiving" strips of cardstock and put them into a stack.
Feed the prongs of a brad through the holes on 1 end of the stack with the metal circle of the brad resting on the side with the writing. Secure brad.
Fan out the slips with the writing side facing the table.
Pull up 1 strip and feed the prongs of the second brad through the hole with the metal circle resting on the blank side of the strips. Continue putting strips on the brad going in a circular pattern.
When all of the strips are on the brad and you have formed a ball, secure the brad by pushing the prongs down in opposite directions.
Cut 2 leaf shapes from the green construction paper. Make a small hole at bottom of each leaf.
Wrap the brown pipe cleaner around a pencil to make a spiral shape. Gently slide the pipe cleaner off to keep spiral shape.
Lift up prongs of brad, hold brad in place from below, and slide on leaves.
Place brown pipe cleaner next to prongs, push prongs down on top of pipe cleaner to securely attach the leaves and "stem."
Read more crafts for kids
DIY recycled crayon crafts
4 Mardi Gras crafts for kids
Terra cotta pot jack-o'-lanterns