Posted: Jan 08, 2014 6:00 AM
With two of my kids' birthdays just weeks apart, party planning could easily turn into something that's stressful and overwhelming. By focusing on meaningful details of our kid birthday parties and simplifying others, we keep party planning fun and enjoyable.
Whether it's because I skipped the party scene in college or because I just really love cupcakes, I'm a diehard party girl today. No beer pong or keg stands for me though. Specifically, I love kid parties — the colors, the balloons, the paper cupcake wrappers that come in a gazillion styles now. I know my kids don't need too many bells and whistles to feel special on their birthdays — they're happy with cake and a balloon and getting to relight the candles and blow them out five times in a row. But I enjoy creating magic to celebrate their special days and love a good reason to buy paper straws and crepe paper.
We've had a Tea for Two, a Luau for Five and a Western Round Up for a fourth. And now, with two more birthdays only three weeks apart coming upon us, we're gathering the goods and printing little invites for two more celebrations. Am I stressed and crazy with planning? Nah. I try to throw meaningful parties with fun details and pretty touches while simplifying other areas to keep things kid friendly. The bonus of throwing children's parties is that kids are easy to please. In fact, most kids would rather eat quartered peanut butter and jelly over garnished salmon on a cracker any day.
Here are a few things that have helped make our kid parties fun, meaningful and smooth to plan and execute:
Keep the food simple
Think sandwiches, pizza, hot dogs, pretzels, popcorn and fruit. Not planning elaborate meals (which won't impress kids anyway) eases up your time and pocketbook to put into other areas of your party like activities, decor or favor bags. I've even made up lunches in paper bags, closed them with decorative stickers and had them ready to go when kids arrive to make things easy. If you want to jazz up your food table, you can always print fun descriptive labels for your food or offer a special drink for kids such as pink lemonade in small Mason jars or sugar-rimmed cups of punch.
Kids just want to play
I realized that the kids' favorite part of every party though was just running around and playing together without some party-crazed mom bossing everyone around.
"
"
For the first couple of birthday parties I threw for my kids, I thought I needed to plan every second of the event — crafts, multiple games and enough entertainment so no one got bored. I realized that the kids' favorite part of every party though was just running around and playing together without some party-crazed mom bossing everyone around. Now, for parties I usually have one easy "make station" (paint a picture, bead a necklace, etc.) and one game, and I allow lots of time for the kids to just be kids. We usually end our parties by dragging out all our trikes, bikes, wagons and sidewalk chalk and huddling with other moms in the driveway as we watch our kids play.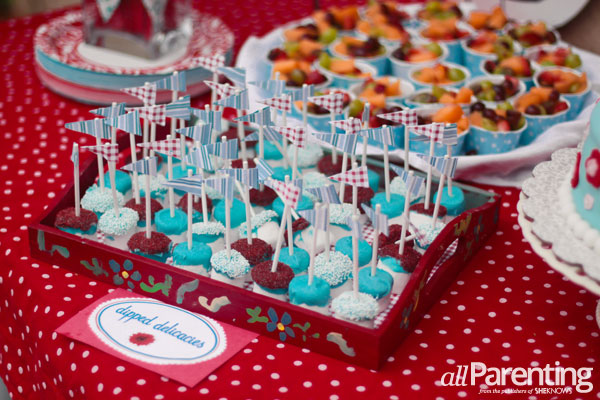 Have an appropriate invite list
It's easy to get caught up in, "Well, if we invite her, then we have to invite her." But this could go on forever until you need an arena to hold all the friends and siblings of friends who might know your child. We do our best to consider friends' feelings and never want anyone to feel excluded, but 20 kids at a party can feel overwhelming to a little one. Try and keep an appropriate invite list for the age of your child and the "feel" of your party (intimate tea parties are better with smaller groups while a skating rink celebration might allow for more).
When in doubt, host a scavenger hunt
Can't think of any games for the party? Kids love scavenger hunts, and they're easy to plan. For simple scavenger hunts, I've hidden themed objects (for example, packaged tea bags for a tea party or peanuts for a carnival party) all around the yard and given the kids small bags for their hunt. For more detailed scavenger hunts, I've planted clues kids need to follow to find their way to a buried treasure. Without fail, at the end of every scavenger hunt, the kids all ask, "Can we do that again?!"
Invest in neutral tablecloths
Stores like HomeGoods, Marshalls or Tuesday Morning have great inexpensive linens that can be used and reused for all of your parties. While it's tempting to buy that zebra print tablecloth for a safari-themed party, think about what can be reused. Tablecloths in solid neutral colors can work for any party theme as well as holidays and other entertaining opportunities, and investing in some nice cotton linens will save you money — plastic ones add up over time!
You don't need an ice sculpture
While party books might intimidate you with some pretty elaborate decor for kids' birthdays, there are so many ways to add simple details (prettier, if you ask me) and yet keep things festive. Some fun, inexpensive things to add flair to a kids' party: paper straws, fabric bunting, tissue paper flowers, balloons, sparklers, twinkle lights, simple frosted cupcakes with a pretty topper (fresh flowers, cherries, miniature animals, etc.), handmade signs and paper doilies.
Add music

One of the easiest and significant ways to make a party memorable is to add music. Select songs that fit the tone you desire for your party and make a playlist ahead of time to keep the party rolling. For an extra touch, duplicate the playlist, create a cute CD label and pass out CDs of the party music for a favor.
Favor bags
While every kid loves party trinkets, you can spice up the old cellophane bag filled with candy by thinking outside the box for favors. Small muslin bags can be stamped and filled with treats, jam jars can be filled with jellybeans, and paper lunch sacks can be decorated and stuffed with caramel corn. Or skip the bag altogether and pass out flower seeds and tiny watering cans for a garden party, a sketch pad and some crayons tied together for an art party or some gold chocolate coins wrapped and tied in newspaper for a pirate party.
For fun and unique party treats and decor, check out these favorite sites when planning your next kids' party: Hey Yo Yo, Jillybean Kids, Fancy That Loved on Etsy, and Dash and Dollop on Etsy.
More from Kelle Hampton