Posted: May 07, 2014 7:00 AM
Digital images are so simple to capture that photo booths — rented and DIY — are popping up at events from weddings to preschool parties. Make your own with a few supplies and add perfect props for kids to celebrate the end of the school year.
Photo credit: JGI/Jamie Grill/ Blend Images/ Getty Images
Celebrate with a photo booth
Kids are the perfect subjects for photo booths — they love dressing up, acting silly and making photos an adventure. Whether you want to arrange a photo booth in your child's classroom as part of their end-of-the-year party or simply commemorate the end of the school year with an in-home play date, a photo booth is an easy way to get some special pictures. The props they choose and expressions they make are a way to capture their personalities in a way that traditional photos don't always manage to do.
Choose a background
One of the keys to making your photo booth pictures pop is a dedicated background. Using props in the middle of a classroom party might be quicker, but background action in the photos will take away from the impact of the photo booth effect. Set aside a small area and decide how you want the background to look. Remember to make your background larger than the area you'll be photographing. Sheets, tablecloths and even rolls of wrapping paper will work. Solid colors or simple, two-tone patterns work best — stripes or polka dots can be festive and fun. If you're using wrapping paper, make sure it has a matte finish. Super glossy backgrounds might drive you crazy with reflected light and glare issues.
Find photo booth props

Photo booth props can be done two ways — easy and easier. We love the End of the School Year printable props from Chela Williams (Etsy, $4). The instant download gives you two files. One file contains colored images and the other contains outlines only, so you can customize the props any way you choose. The Circus Carnival printable props are fun for kids, too (Etsy, $4). After your props are printed, you will need to attach your own sticks.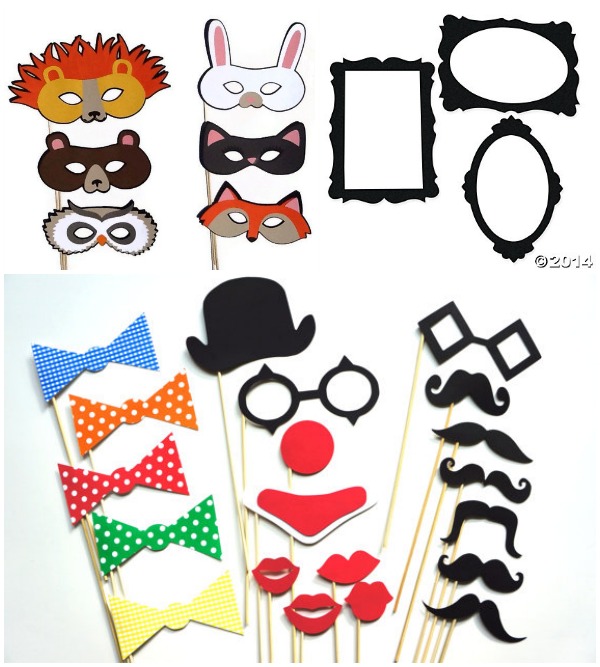 If you prefer an even simpler option, photo booth props can be purchased in a wide variety of motifs. Start with frames, held by the subjects, like the Black Picture Frame Cutouts (Oriental Trading, $9). The Circus Collection is a 20-piece set of silly props that will create some cute photos (Etsy, $28). Kids will get a kick out of Animal Masquerade Masks, especially if they start combining them with mustaches and goofy hats (Etsy, $25).
Keep things moving
If you're creating the photo booth for a large group of kids, such as a classroom party, the photo booth will run most smoothly with at least two adults keeping the flow of traffic moving through the booth. One adult can handle the camera or iPad, setting up shots and showing waiting kids how the finished photos look. Another adult can help keep the props organized and encourage kids to choose the few props they think will be the most fun. If you're using props on a stick, vases or large jars can help keep things visible yet neat. Larger props like actual sunglasses, boas and headbands or hats may work best in a large basket. Remember that the more smoothly the process runs, the more opportunities the kids will have to take photos.
Distribute the photos
Use a class email list to distribute the photos as soon as possible to parents. If the kids are buried under an avalanche of props, ask them to drop their hands after you've captured the silliness. You can snap a quick shot of them unadorned for easier identification. Take a minute or two and snag your child for a parent-child photo — after all, we can all use a little more silliness in our lives.
More about kids' parties
A playlist for parenting
Tips for a successful kids' party
Enrichment activity ideas for kids