Posted: May 20, 2014 9:00 AM
Animal-assisted therapy can help children and adults in many ways. Animals can signal a non-judgmental, comforting feeling in people that helps develop social, physical and emotional skills in a wide range of patients. Discover the ways animal-assisted therapy can help your children — or someone else you love.
Photo credits: Camp Casey
Animal-assisted therapy has multiple uses
Deborah Meridith is a Licensed and Certified Recreation Therapist at the Kopper Top Life Learning Center in North Carolina. She explains, "I use all types of animals in a therapeutic setting. I take animals to schools, nursing homes, day habilitation facilities and more. My age range is 4 months to death. I also use horses in my therapy program: Equine Therapy for children and adults."
When they mount a large, powerful horse, they're able to — for the first time in a while — experience personal confidence.
"
"
Benefits of animal therapy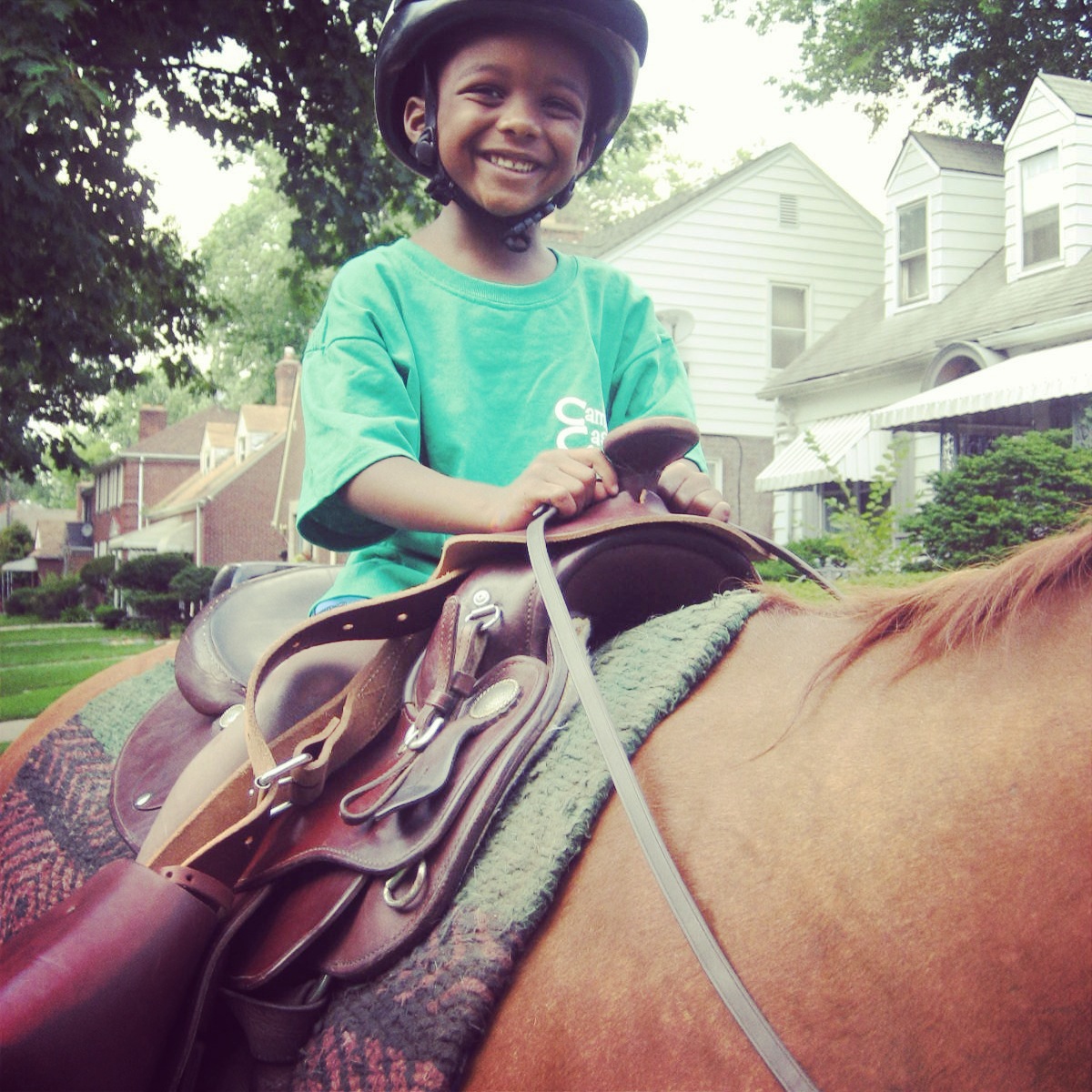 Molly Reeser is the founder and executive director of Camp Casey, a non-profit horseback riding program for kids with cancer, sickle-cell anemia and aplastic anemia. She talks about the way horses help the cancer patients who participate in any of Camp Casey's three equine programs. Reeser says, "We find that children going through cancer treatment are at a loss of control in many aspects of their lives — they have no control over the fatigue, the hair-loss, the scary needles at the scary hospital, the tears they see their parents cry. It's scary, and there's not much they can do about it but trust that they are going to be OK. When they mount a large, powerful horse, they're able to — for the first time in a while — experience personal confidence. Even the most excited, animal-loving child usually experiences a bit of fear when first placed in the saddle. But, once taking the reins and learning how to gain control of the horse, the confidence builds and he or she feels empowered. Camp Casey children may then apply these encouraging qualities to their battle with cancer. Masterfully riding a large horse reinstates a sense of control that is often lost when faced with an unexpected illness."
How Camp Casey began
Camp Casey evolved from what Reeser expected to be a one-time event to honor the life of a young cancer patient she met while working at a form as a sophomore in college. Eleven-year-old Casey made an impact on Reeser, who remembers the young girl's relationship with horses, "She found respite during her visits to the barn where she groomed and rode horses. I witnessed her family receive great therapy while watching Casey interact with the horses, since it was one of the only times that she was able to experience a bit of normalcy and enjoy life as a child." After Casey's death, Reeser made arrangements for cancer patients to visit the farm, and Camp Casey has evolved into an organization with three distinct equine programs.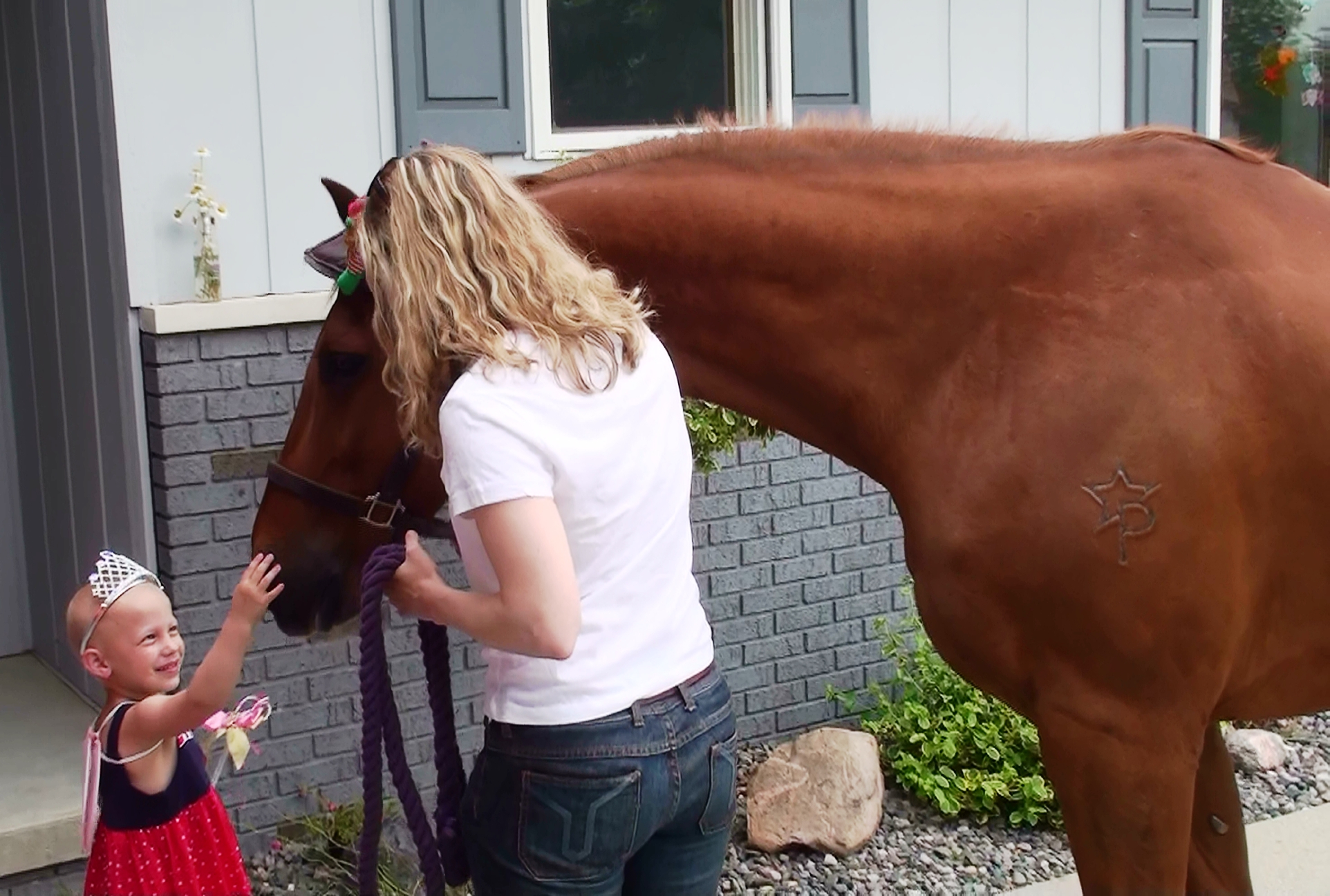 Camp Casey's programs
Families are able to experience Camp Casey's programs at no cost, and there are three distinct programs available. The Cowboy Camp Outs program offers overnight horseback riding getaways for families to enjoy together and Outlaw Outings are 1-day fun events. Reeser talks about their final program, "Our most unique program is called Horsey House Calls and surprises children with a knock on the door and a horse on the doorstep. Every weekend Camp Casey's horse visits a child with cancer. The parents know we're coming but the kids of the household are surprised." You can watch a Horsey House Call for yourself.
Consider animal-assisted therapy
The benefits of animal therapy can be found in both small and large animals, and the benefits range from comforting to confidence-building. Whether you're investigating animal therapy for an illness, temporary condition or a new diagnosis, talk with your physician or therapist about expanding your health team to include a four-legged therapist.
More about helping kids
Social anxiety in kids
Curb violence between siblings
Use a marble jar to enforce positive behavior