Posted: May 08, 2014 9:30 AM
Public shaming or humiliation has become a more widely used parenting technique for disciplining kids in recent years. But when does it cross the line? In a recent situation where a parent shaved their child's head in an awful way, it seems pretty clear that it went way too far.
Contributed by: Crystal Brown, director of content for SheKnows.com
My husband gets his hair cut once a week. He goes to the same barbershop and sees the same barber. Every. Single. Week. Even as we look for a new house that would put us 30 or so miles away from his barbershop, he's worrying. Who will cut his hair? Is it worth paying more in gas than the haircut costs just to keep from having to change barbershops? The point is, for a black man, there's not a whole lot more important than having a good haircut.
Photo credit: ogkermit Instagram page
Which is why a photo I've seen circulating through my Facebook feed and online forums struck me as being especially cruel. I was surprised at how hurt I felt looking at this photo, looking into the little boy's eyes. Surprised because I've never considered that this new phenomenon of using the internet as a tool for public shaming was necessarily a bad thing.
When author Reshonda Tate Billingsley punished her daughter by forcing her to hold up a sign admitting her e-crimes (i.e., posting photos of herself holding alcohol) I nodded in agreement. That's what she deserved, I'd said. And when a North Carolina dad posted a YouTube video of himself reading his daughter's insensitive Facebook posts that ended with him shooting her laptop, I understood. I didn't agree — mostly because he basically shot his own computer, since he probably paid for it — but I understood.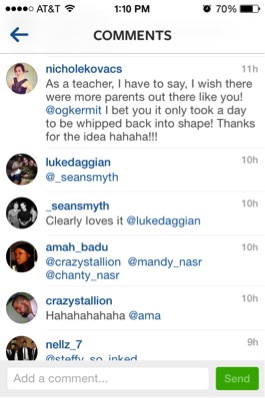 But this, I didn't understand. This went way beyond just being an Instagram post. That boy will eventually leave the house, go to school, to carry his punishment even further by subjecting him to the ridicule of his peers. And from the more than 7,000 likes — and 3,000-plus comments — I saw on the Instagram post, that ridicule would also come from adults. One even came from a teacher: "As a teacher, I have to say, I wish there were more parents out there like you!" The comment read in part.
Disgusting.
Both my boys were born with thick, curly hair that we had professionally cut after they turned one. My oldest already takes pride in his appearance — usually, anyway — and loves the opportunity to go to the barbershop to get his hair "cut like Dad's." He has his own brush, which my husband reminds him to use before leaving home. I look at my two boys and couldn't imagine putting them through this type of ridicule. I couldn't, as my husband put it, allow their peers to be responsible for their punishment.
Christine Miller, a work-from-home mom of two with a background in school counseling (and also one of my amazing women on my "call-in-case-of-emergency" list) went through something similar with her own kids. Months into her Army husband's deployment, the kids took the clippers to their own heads and had to wear it to school until she could get them into the salon.
"It wasn't as severe as that boy, and I made sure to handle their hair situation that afternoon. But I never said a word to ridicule them and would never post anything like that on a social site. Never. And kids never said a word to either of them. That's the part that you really have to think about. In our house, the kids made the choice, and the consequences naturally played themselves out. That's enough."
There's a difference between consequences and abject humiliation.
"
"
There's a difference between consequences and abject humiliation. And I think the George Jefferson haircut was the latter.
Looking at that little boy's red eyes and pained expression, I don't even care what he did. I just know that I don't want anyone to make my kids feel the way he must have felt at that moment. Not even me.
Read more about public shame
Why I chose to publicly shame my child as punishment
Shame is not a parenting strategy
Mom posts video on Facebook scolding daughter