Posted: Jul 14, 2014 9:00 AM
What's hiding in your medicine cabinet? Take a look at some of the more common medications and you might be surprised at how many of them look like candy. We found several drugs — and their look-alike candies — that parents need to be aware of.
Photo credit: Top Photo Corporation/ Top Photo Group/360/ Getty Images
According to the American Academy of Pediatrics (AAP), each year approximately 2.4 million people swallow or have contact with a poisonous substance — more than half of those are under the age of 6. One of the most common ways in which a young child may be poisoned is by ingesting prescription or over-the-counter medications. Making this particularly enticing to young children is the fact that many medicines have a look-alike candy counterpart.
Look-alikes are common
Even if you spend time teaching your kids about the dangers of taking medicine that isn't intended for them, they aren't really capable of recognizing differences between medications and candy or vitamins that they think taste good. Leave white ibuprofen tablets out on the counter and they may look just like a Good & Plenty candy to a 5-year-old. Some Tylenol tablets look similar to Tic Tac candies. Red Hots or red M&M'S candies look very similar to iron tablets. This graphic, courtesy of Ruth A. Lawrence Poison and Drug Information Center, formerly housed at the University of Rochester, shows common candy/medication look-alikes — and is a good example of how confusing this might be to your kids. Drugs left in plain sight and in reach of children can have deadly consequences when children mistake them for something harmless.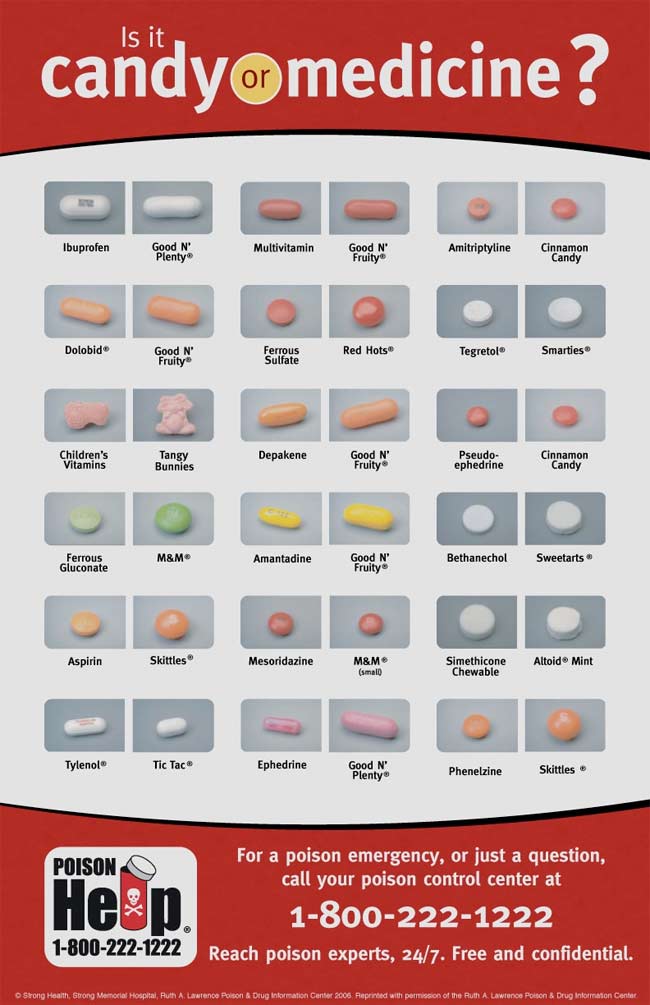 Safety first with medications
It may seem obvious that you don't want your young child to accidentally ingest any medications that aren't meant for him. But safe storage and extra caution with medications around your house — and any other place your children spend time — goes a long way toward keeping little ones safe. The Centers for Disease Control and Prevention (CDC) and AAP share these tips for keeping medication away from children.
Keep medications stored in areas up high and out of your children's reach, or in a locked medicine cabinet
Don't leave medications out on the counter after you are finished taking them
Keep your medications in their original containers, with labels intact
Remember to securely close the childproof safety cap each time you use any medication
Don't leave your next dose out on the table or counter as a reminder to take it later
Properly dispose of any unused or expired medications
Never refer to any medications as "candy" or a treat
Bottom line: Be prepared
Be vigilant about safety issues with any prescription or over-the-counter medications you have at home, and be aware of what to do in an emergency situation if you suspect that a child has ingested something poisonous.
Stay calm
Quickly try and determine what the child has ingested
If victim is awake and alert, call Poison Control at 1-800-222-1222 
If the victim is unresponsive, has collapsed or is not breathing call 911 immediately
If the child has swallowed something, take it away from them but do not induce vomiting
Do not use syrup of ipecac
More children's health and safety
Sleep: The cornerstone of your child's health
Would you give your child medical marijuana?
When to have a child allergy tested