Posted: Jun 09, 2014 1:30 PM
Recently a Tampa mom was asked by a Bob Evans manager to cover up while nursing her babe in the restaurant, citing customer complaints. After a social media firestorm, a nurse-in was planned and held — which could have been a public relations disaster for the restaurant. Instead, Bob Evans turned it into public relations genius, issuing a heartfelt Facebook statement from Senior Vice President Brian Carney that seems to have calmed the masses.
Photo credit: XiXinXing/ iStock/360/ Getty Images
It seems we can't go more than a few months without hearing about some poor breastfeeding mom being shamed by a business. Just this year, issues with Victoria's Secret, Delta Airlines and IKEA have been in the news, each with employees denying a nursing mom the ability to breastfeed in public as she'd like. With each story has come an apology, usually along the lines of "the employee was mistaken and we will retrain." But none of these recent events has spawned an apology as heartfelt and sincere as the one recently issued by restaurant chain Bob Evans, which has nursing moms everywhere shouting hooray.
The "Boob Evans Event"
The situation forcing the apology happened in a Tampa, Florida, Bob Evans location on Saturday, May 31, 2014. Kristina Gray, mom of two, was waiting for lunch with her family when her 5-month-old nursling started to give hunger cues. Maddox is still exclusively breastfed and nurses on demand, so Kristina began to discreetly feed him in the restaurant booth. After a short time, the manager approached Kristina and offered her "something to cover up with." Kristina declined, as Maddox is not a fan of being covered and has latch issues which need to be monitored and occasionally corrected. The manager persisted. Kristina informed the manager of her rights, citing Florida law which allows for nursing mothers to feed their babies in any location, public or private, with or without a cover.
Kristina informed the manager of her rights, citing Florida law which allows for nursing mothers to feed their babies in any location, public or private, with or without a cover.
"
"
Kristina said this was the turning point in the conversation. The manager acknowledged her understanding of Florida law protecting nursing mothers, but said, "I've had people complain and I need to respect them." Kristina said she felt "harassed and bullied," and that the manager "was aware of the law (protecting Kristina's rights) but was going to disregard it." Kristina went on to say, "I'm not OK with that and I don't think anyone should be." Kristina was able to finish her meal with her family, but left the restaurant feeling embarrassed and harassed. She took to social media, posting this review on Bob Evans' Facebook page and mentioning the incident to online mommy friends, who immediately planned a nurse-in protest.
What Bob Evans did right
Until this point Kristina's story is — sadly — like many others. What makes this situation so remarkable is how Bob Evans responded. First, a comment was posted to the Bob Evans Facebook page directly by Margaret Standing, Director of Communications. In this first statement, Margaret not only apologized for the "embarrassing and disrespectful" treatment Kristina received at the restaurant, but posted her email address asking for Kristina to contact her directly to discuss "how we're going to prevent this from happening in the future at Bob Evans."
Next, after emailing her contact information, Kristina received a call from Margaret personally. Margaret was quite sympathetic to Kristina's complaint, having been a nursing mother herself. A "nurse-in" at the offending Tampa location was already planned, so Margaret offered to have Bob Evans "host" the nurse-in as a show of solidarity with breastfeeding mothers. During that call, Kristina requested a public apology not just to her but to the breastfeeding community as a whole. Once the formal apology posted to Facebook, however, Kristina said she was "shocked — it was more than I could have asked for."
The amazing mea culpa
In a public statement issued on Facebook by Bob Evans' Senior Vice President Brian Carney, he not only apologized for the way Kristina was treated and promised to re-educate staff, but offered a free meal to any nursing mother attending the nurse-in. Additionally, he pledged to donate 10 percent of the entire day's receipts from the Tampa restaurant to an organization of Kristina's choosing. He closed by saying, "We look forward to the opportunity to demonstrate our support for these moms in their efforts to raise awareness." Great apology, or best apology ever?
While Bob Evans may have (smartly) co-opted the scheduled nurse-in, they certainly didn't slack on their hosting responsibilities. Kristina said of the event: "When we arrived… there were at least a half-dozen managers working; the regional manager, Scott Devries, came up to myself, and all the other nursing moms, and introduced himself while apologizing for the way I was treated. He was so warm and welcoming; Scott made sure each and every participant was pleased with their meal and visited… It was such a positive environment and an amazing day overall."
Activism beyond the nurse-in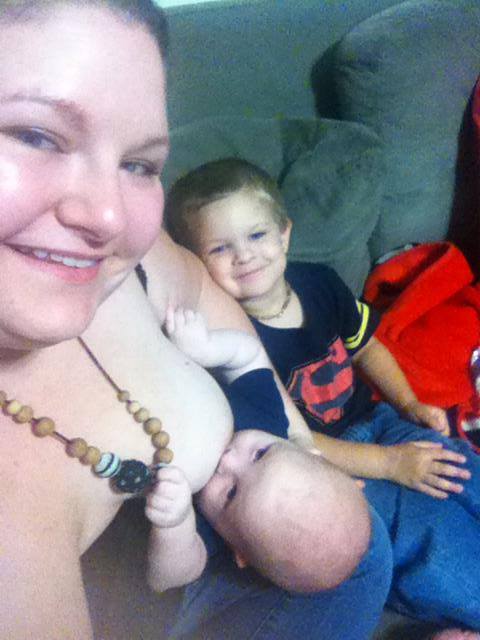 Kristina's experience has not only brought awareness to the rights of breastfeeding moms, but it also spawned a breastfeeding support group. After posting in a private Facebook group about her public shaming, Kristina and fellow mommy advocates Kristi Ibrahimovic and Chuck Gillingham founded Tampa Bay's Breast Friend, a group geared toward empowering and supporting women who nurse. In less than a week, the secret group has gained over 200 members, with the complementary public page already up over 100 "Likes" as well. All three moms have been floored by the immediate response — both virtually on social media and personally at the nurse-in.
"Because of (this group), another mom will find her voice and protest instead of hiding in the bathroom or her car (to nurse). You have no idea what you've done for her," said Chuck in a recent Facebook post. Chuck is right. While no woman should ever feel ashamed or harassed when it comes to feeding her baby, it's hard to feel bad about an outcome this good. When shaming situations like Kristina's are addressed as smartly and empathetically as by Bob Evans — with sincere apologies, charitable donations and awareness — it provides a profound experience which brings us closer to the ultimate goal of normalizing breastfeeding in public.
Photo credit: Kristina Gray
More on breastfeeding
The dirty truth about breastfeeding in public
When family, friends and strangers fight for your right to breastfeed
Mom turned breastfeeding advocate