Posted: Jun 10, 2014 4:00 AM
Until recently, photographs of nursing mothers were often removed due to Facebook policy which considered them "nudity" or "pornography." A quiet policy adjustment has changed all of that though, and now breastfeeding pictures are fully allowed.
Photo credit: Casarsa/ iStock/360/ Getty Images
Breastfeeding, while natural, doesn't always come naturally. Tongue-ties, lip-ties, milk oversupply, milk undersupply, lazy latch, clogged ducts — the possibilities for nursing hiccups are vast and common. As a result, many moms feel a sense of pride and accomplishment with each and every meal they are able to feed their babe. And what do 21st century first-world people do when they are feeling proud and accomplished? They post about it on social media, often with photos.
Reported, but not removed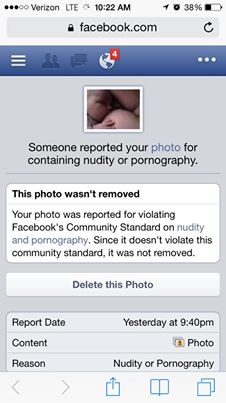 That's what Nichole St. Pierre was doing recently when she posted a photo of herself nursing her 4-month-old son in a closed, pro-breastfeeding Facebook group. She'd had to formula feed for a few weeks, while pumping to maintain her breast milk supply. When she was finally able to feed her son from the breast once again, she wanted to share the news with her group, who would understand the significance of this milestone. The photo was well received — that is until it was reported by someone to Facebook for containing "nudity and pornography." What happened next though came as a total surprise to Nichole. The photo wasn't removed, which until recently was exactly what Facebook always did with reported breastfeeding photos. Instead, Nichole received a brief notification from Facebook letting her know it was reported and that it didn't violate the "community standards," so it remained.
The world's quietest policy change
The reason the photo was allowed is because about three weeks ago, quietly, without promotion or fanfare, Facebook changed its policy on photos depicting nursing moms. Until mid-May 2014, the official answer to the question, "Does Facebook allow photos of mothers breastfeeding?" read as follows:
"Yes. We agree that breastfeeding is natural and beautiful and we're glad to know that it's important for mothers to share their experiences with others on Facebook. The vast majority of these photos are compliant with our policies. Photos that show the fully exposed breast where the child is not actively engaged in nursing do violate the Facebook Terms. These policies are based on the same standards which apply to television and print media."
Now, the italicized portion is gone. In its place is a simple sentence: "Please note that the photos we review are almost exclusively brought to our attention by other Facebook members who complain about them being shared on Facebook."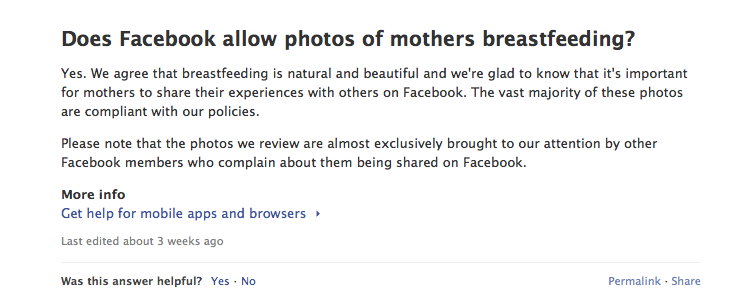 While this may seem like a subtle shift, it is huge for the breastfeeding advocacy community as a whole. The fight between Facebook and nursing moms has been hard-fought and well documented, for example here, here and here (just to link a few). To have Facebook remove that end portion and to simply say "breastfeeding is natural and beautiful" is a total win. Now, a mother can feel free to post a photo of her nursling off-breast, smiling up with love in their eyes, without fear of removal or — in extreme cases — banning.
Normalization is the ultimate goal
Even more importantly, this move by Facebook is indicative of an overall shift toward the normalization of public breastfeeding. Quite recently, celebrities such as singer Jessie James Decker, and models Natalia Vodianova and Jamie King, have all taken to social media with photos of their nurslings — and they have been well received. With the Facebook policy change in place, we will likely see even more moms posting nursing photos with abandon, as it should have been allowed all along.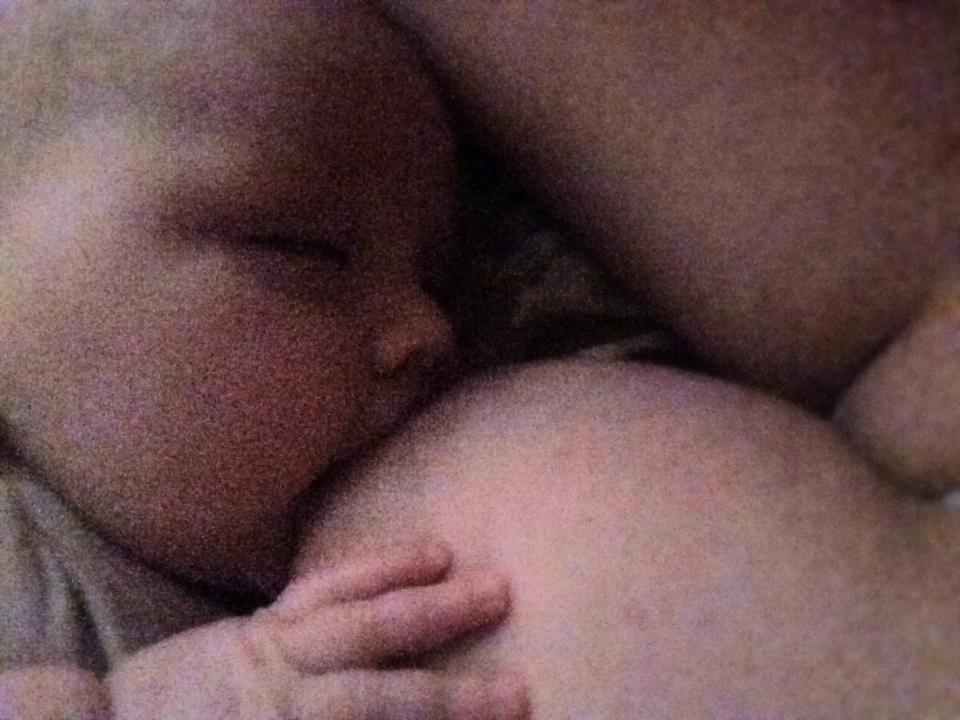 Prior to this policy adjustment, Nichole was fearful of posting nursing photos directly to her Facebook wall, instead only posting them in the "closed" groups she felt were safe. No more, says Nichole. "I will definitely be posting to my own wall now that the policy has changed." Nichole and her nursling are coming out of the closet and onto the wall, courtesy of Facebook finally, finally getting their policy right.
Photo credit: Nichole St. Pierre
More on censored breastfeeding
Censored: Magazine cover of mom breastfeeding preschooler is a no-go
Why does Facebook remove parenting photos?
Why is Instagram blocking breastfeeding photos?