Posted: Jul 16, 2014 8:00 AM
Jealous of parents who have automatic babysitting in the form of grandparents and aunts and uncles? You're not alone. We talked to families who are doing it alone to find out what they do to cope and build community.
Photo credit: Tracey Steer

There's a reason they say that it takes a village to raise a child. For many families, that village doesn't come in the form of family living nearby. We talked to three families that live far away from relatives to find out how they built support systems.
Connect with the neighborhood
Tracey and her husband Martin live in Canada with their two children. Living without family nearby has become a way of life for Tracey. "You don't really consider it, until you hear your friend describe how her mother-in-law is going to pick up the kids straight from school, take them to swim lessons, and then keep them until after dinner," she says. "Martin and I rarely go out together, or at the same time."
Thanks to their close-knit neighborhood, Tracey has developed a support system over the years. Neighborhood families share school drop-off and pick-up duties and take turns hosting play dates. A local private Facebook group helps families coordinate last-minute childcare. "When Martin's mother was dying of cancer, one neighbor drove me and the kids over three hours to the little town where my husband was with his parents," says Tracey. "That was with about an hour's warning."
Make friends through school
Jenny and her husband have four kids, including twins. Without family nearby, it can be a major struggle to coordinate child care. "Having four kids is definitely my biggest hardship if something comes up," she says. "Now that the twins are old enough to watch the younger two, I can feel comfortable leaving them for a bit during the day or for dinner, but anything more is tough."
When Jenny's kids started preschool, her family began developing a support system. "Almost all of our friends came from our kids' friends' parents," says Jenny. "We met most of them in the preschool years, which isn't a surprise since we were at a co-op preschool." Jenny makes sure her friends know that her family is available to help out. She set up a child-care swap with friends so that moms could take turns volunteering in the classroom. "In thinking about who our friends are, we have fallen into a community-oriented group who are just as dedicated to families as we are."
Take advantage of child care opportunities
Abbie and her husband have three kids, including twins. They've lived in three different states while growing their young family. "When the kids were babies it was a shock at first not having people around," says Abbie. "I really had to work at not letting myself have a pity party when moms I knew had a relative that scheduled watching their kids so Mom could have some alone time or even run errands without spending 45 minutes just preparing to leave with twin babies!"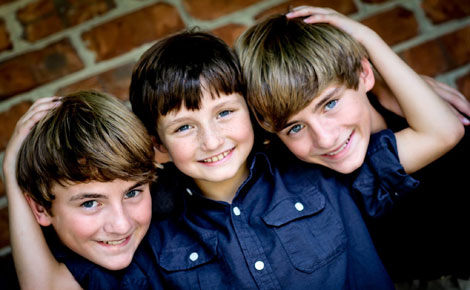 Photo credit: Modern Belle Photography
Local community services became a major resource for Abbie as she struggled to keep up with grocery shopping and errands. She found a local church with a "mother's morning out" program. "These were my sanity hours. I had two hours, twice a week, in a safe, accredited place that I could leave my kids and do grocery shopping or even go to a doctor's appointment without two babies with me." As her kids got older, Abbie found herself staring down the emergency contact card during school registration. "I quickly realized that asking someone to be my backup wasn't a big deal if they were already a parent of a child in the class," she says. She soon found that other school families were happy to help out.
More on friendships
The importance of best friends
Is an at-home party business for me?
Amazing things women are doing online