Posted: Jul 30, 2014 7:00 AM
July is Juvenile Arthritis Awareness month. This painful disease, one of the most common childhood illnesses, can be hard to diagnose and has no cure. Trent Diebold was diagnosed with JA when he was 5 and has been managing the disease since. We talked with Trent and his family and learned how they discovered he was sick, what his treatment entails and how they work tirelessly to help find Trent a cure.
Photo credit: Angie Diebold
In 2004, after fertility issues and complications, Brian and Angie Diebold were finally pregnant. Their son Trent was born in April of 2005, after 37 hours of tough labor. Even at birth, Trent had health issues. He was born with a 104 temperature and had to remain in the NICU for several days, needing manual manipulation to eat. His newborn photos have his IV line hidden by a teddy bear, a chilling prelude of things to come.
First failure to thrive
Trent's early years were plagued with illness. When Trent was just six months old he had a common cold which turned into asthma, then turned into Respiratory Syncytial Virus (RSV). He had rashes that would span the entire side of his body, chronic stomach pains, and after he turned 2 he stopped gaining weight. The cold was considered a fluke, the rash was attributed to allergies and the stomach pains were thought to be just a typical toddler refusing to eat.
Then growing pains
When Trent was 3, he started complaining of knee pain. He was still happy, active and playful, so doctors chalked it up to generic "growing pains" and gave it no further thought. At 4, his complaining increased as his activity decreased. Brian and Angie wanted to encourage Trent to be active, so they signed him up for a soccer league. Trent played only a few minutes of the first game before leaving the field saying he hurt too bad to continue.
He couldn't ride his bicycle for more than a few minutes, when he'd have to be carried back into the house.
"
"
At 4 Trent's condition worsened. Doctor after doctor said he was within the realm of normal, as Trent begged to be carried or pushed in a stroller. He couldn't stand in restaurants long enough to be seated at a table. He couldn't ride his bicycle for more than a few minutes, when he'd have to be carried back into the house. He'd take frequent breaks at the playground to ice his knees, the pain was that bad. A Diebold family friend was diagnosed with cancer and recognized Trent's symptoms as more than growing pains. At the friend's insistence Trent's blood was tested — all came back normal.
Trent started kindergarten when he was 5 and almost immediately his health deteriorated. The first month of school he was extremely sick — he lost weight, had a pale, sickly pallor and perpetual black circles under his eyes. That November he was at his worst. He routinely wore pajamas, and usually asked to go to bed around 6:30 p.m. He suffered fevers, joint pain and fatigue. Brian and Angie were at a loss as to what was wrong with their son.
Finally, a diagnosis

After Christmas, Angie spoke with a client, Rochelle, whose son had been diagnosed with Juvenile Arthritis (JA). Angie had no idea children could get arthritis — she thought it was a disease which only struck adults. As Rochelle described her son's symptoms, Angie couldn't help but think of Trent. Angie began to describe Trent's condition and Rochelle stopped her mid-sentence. Rochelle looked at Trent's photo on the wall and said, "I think he may have arthritis," pointing to the joints in Trent's fingers. Rochelle specifically guessed Trent's condition to be psoriatic arthritis, and sadly she was right.
Over the next few months Trent went through extensive testing to definitively determine his condition. Finally, on March 1, 2010, he was officially diagnosed with psoriatic arthritis, just as Rochelle had guessed. Since then Trent's little body has been bombarded with treatments and medication as doctors work to stop his body from attacking itself. Trent also suffers from Crohn's disease, another autoimmune issue. This is quite common, as many people with one autoimmune disease will develop another.
Photo credit: Angie Diebold
"I need to go to heaven"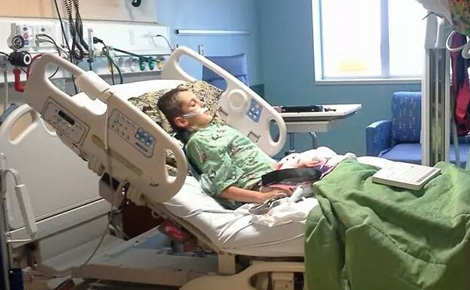 Photo credit: Angie Diebold
Trent takes 16 medications daily. He travels from his home near Tampa, Florida, to UF Health Shands Hospital in Gainesville monthly for infusion treatments via a port that was implanted into his chest in April of 2013. In 2012 alone he had 23 hospital stays. He routinely submits to invasive testing including colonoscopies, bowel studies and blood work. During one particularly rough day of testing Trent refused to get out of the car. "I'm just so sick, I need to go to heaven."
It was at that point Brian and Angie decided to change their approach to Trent's illness. They became activists for the Arthritis Foundation (AF), which has introduced Trent to other kids like him. The entire Diebold family advocates tirelessly for AF, working hard to help find a cure. More than anything they want to raise awareness about JA, so other children don't have to suffer as long as Trent did waiting for a diagnosis.
Juvenile arthritis fast facts:
JA is an autoimmune disorder, where the body's immune system mistakenly attacks healthy cells and tissue.

Almost 300,000 American children are affected by JA.

While it isn't conclusively known what causes JA, it is believed to be genetically coded and then activated by a trigger like a virus.

Common JA symptoms include joint swelling, pain and stiffness, excessive clumsiness, high fever, skin rashes and lymph node swelling.

Diagnosis of JA involves physical exams, blood tests and x-rays.

There is currently no cure for JA, just treatments to minimize pain and life interruption.

The Arthritis Foundation is the largest nonprofit organization fighting JA, investing more than $4.5 million annually in outreach and research.
More on childhood illnesses
Embracing my son's Down syndrome
Could your child have asthma?
Earmark this: All about ear infections