Posted: Sep 22, 2014 5:00 AM
From nerves to disorders, separation anxiety shouldn't be ignored. Wondering what to do when your kids have separation anxiety? Experts and moms weigh in and explain how to fix separation anxiety in kids.
Photo credit: Angela Youngblood

Separation anxiety in kids is more common than you might think. A study conducted by the National Institute of Mental Health cites that 25 percent of teenagers aged 13-18 have experienced some sort of separation anxiety. There is a difference between worrying about and missing your caregiver and actual separation anxiety. Mental health and relationship expert, Rhonda Richards-Smith, LCSW, explains, "Separation anxiety is common among toddlers and will usually dissipate on its own. While it's normal for most young children to miss their parents while they're away, excessive and prolonged worrying can be a sign of separation anxiety disorder. This condition tends to strike between the ages of 7 and 11 years old, but early intervention is ideal. If your child becomes so worried about being away from you that they physically feel sick, believe harm will come to you if you're separated or these fears impact their school attendance or performance, consult with your doctor. Other signs may include bedwetting, fear of sleeping alone and nightmares related to being separated from a caregiver. In some cases, psychotherapy and/or medications may be prescribed."
There are ways to support your child if they're experiencing separation anxiety. Four women share — mom-to-mom — how they helped their own kids through it.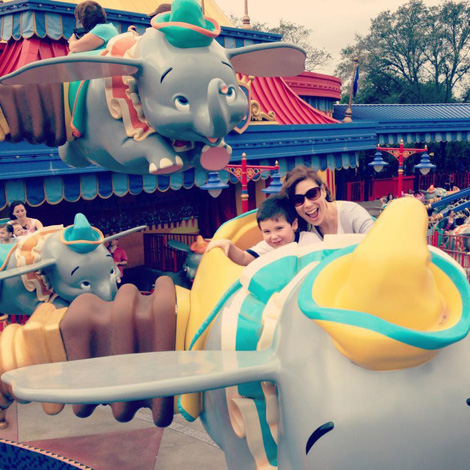 Stephanie Stearns Dulli is a former professional actress embracing suburbia and stay-at-home mom-ness and all the adventures that come with it. About her best tip for helping a child going through separation anxiety, she says, "My best tip would be to talk through the routine with your child. My son in particular liked to know everything that was going to happen. I'd tell him, 'We wake up, get dressed, have breakfast and then drive to school. You'll go in with your teacher and have lots of fun and mommy will go home, get some coffee, do some laundry and work. Then mommy will come get you and we will go home.' He really liked knowing what I was doing while he was away and I even found him saying it to himself. "Mommy goes home, gets some coffee, does some laundry and works then she comes and gets me." Be patient and give lots of love and positive reassurance."
Image credit: Stephanie Stearns Dulli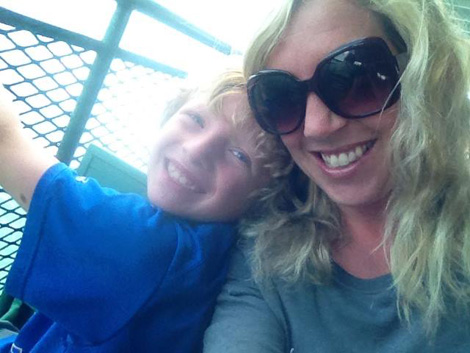 Angela Youngblood is a freelance writer who documents the often hilarious adventures of her family of six on her blog, Jumping With My Fingers Crossed. About her best tip for helping a child going through separation anxiety, she says, "My outgoing, social son has had separation anxiety since the first day of pre-school. He cried, he clung, he didn't want me to leave — ever. Over the years we've found different things that helped. Now that he's entering third grade, there's less crying but still a lot of anxiety. What works for him is talking about expectations for the day and the year. Having a routine before and after school helps, too. It usually involves playing catch which helps to calm his nerves."
Image credit: Angela Youngblood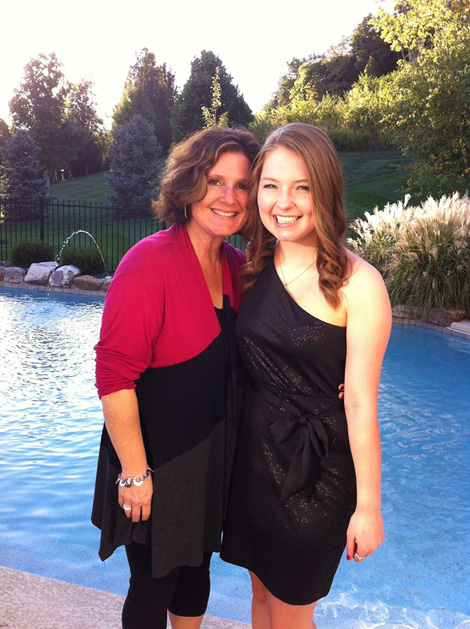 Ellie Grossman is the founder of the site and writer of the book, Mishegas of Motherhood, and co-director of the Listen to Your Mother Show, St. Louis. About her best tip for helping a child going through separation anxiety, she says, "Even though high schoolers are young adults, they still need Mom. So I get up in the morning with her and fix breakfast even if it's just peanut butter and an apple. Then I try to let her navigate her way when things come up friends, teachers, coaches, etc. I stay off of Infinite Campus and don't monitor her grades, homework or tests and I let her take responsibility. And on the rare occasion she wants to tell me something about school... I drop everything to listen because it doesn't happen often. Also, the only volunteer work I do at high school Is once a semester in the school store since it's fun and I can buy her and her friends a snack when they pop In. Otherwise I stay out of her way and try not to cramp her style."
Image credit: Ellie Grossman
Heather Davis drives in the funny lane at Minivan Momma. About her best tip for helping a child going through separation anxiety, she says, "I dropped my teen off at a college campus this summer. She was there for a full week. As I left her there, she asked if she could call home. I told her, 'Whenever you want.' We got calls at 11, two and six. But it was a very comforting thought for both of us that whenever she needs her daddy or me, we are just a thumb-tap away."
Image credit: Heather Davis
More on your kids
Gender bias: How moms need to flip the script
The home alone debate
Teaching kindness starts at home