Posted: Aug 03, 2012 8:00 AM
We all have them -- those boring wine glasses that our neighbors have and their neighbors have. They probably even came from the same store. (And they're probably lost behind all of your sippy cups.) Here's how to use etching cream to make yours into a unique expression of your personal style.
I use stemless wine glasses because they can easily go through the dishwasher. But when we have guests, it's easy to get the glasses mixed up. By etching the names of my favorite varietals onto different glasses, I can help everyone know which glass is which.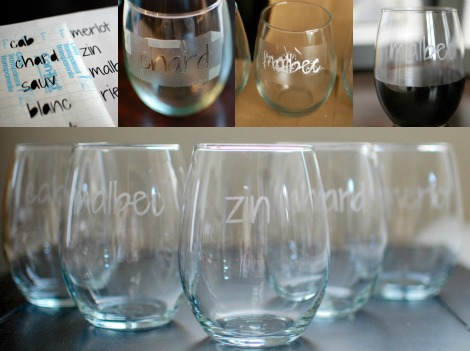 How long it will take
This project took me roughly 2 hours from start to finish. I chose a tricky font for my template, so it took quite a while to cut out the letters. If you choose a simple monogram or a less curvy font, the project will take a bit less time.
What you'll need
Glasses
Etching cream (available at craft and art supply stores) 
Plastic gloves
Protective eyewear
Clear adhesive sheets (like clear Con-Tact Paper)
Template of your choice, or print out our template here
Utility knife
What you'll do
Wash and dry your glasses.
Protect your work area completely. Both the utility knife and the etching cream can cause irreparable damage to your work surface.
Place your template beneath the adhesive sheet and tape around the edges to keep it securely in place.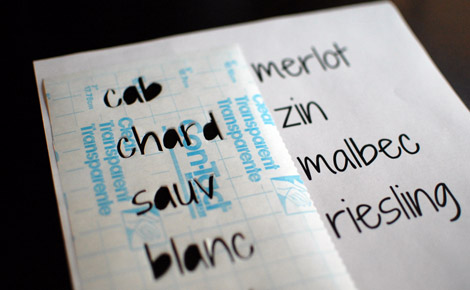 With a sharp utility knife, cut out your stencil, discarding the cut out letters and keeping the remaining adhesive sheet as your stencil. Be sure to keep the interior portions of letters with closed shapes (like o and a).
Peel the back off the adhesive and apply the sticky side to the glass as smoothly as possible.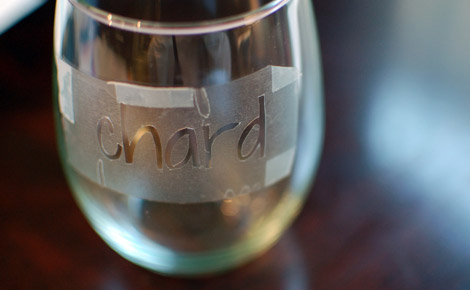 Rub the entire surface to ensure there are no spots that aren't in complete contact with the glass. Give extra focus to the edges of the letters.
Before using the etching cream, be sure to protect your skin and eyes by wearing a long-sleeved shirt, plastic gloves and goggles. Etching cream can leave severe burns on your skin.
Apply a thick layer of etching cream to the glass, being careful to avoid spills. (The etching cream will leave permanent marks on anything it touches.) Wait 15 minutes, then rinse off the etching cream with warm water. If possible, rinse everything outside to protect your sink from any damage.
Remove the stencil and wash your glass with dish soap and water.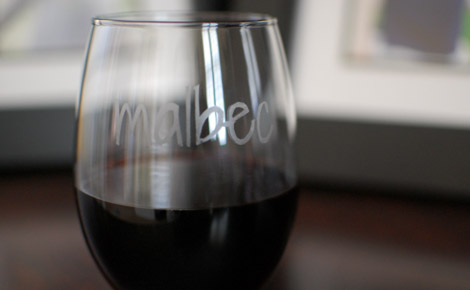 Finally, add wine!
Cheers!
Editor's Trick^ Make this craft even easier by using a Cricut or Silhouette electronic die-cutting machine. Simply feed your contact paper through like you would a piece of paper and let the machine do the work of cutting! - Kristin Bustamante, managing editor
More DIY projects
DIY tile coasters
DIY cupcake wrappers
How to make lovely wax luminaries