Posted: Jun 01, 2012 11:00 AM
Are you drowning in clutter? Don't wait until you're the star in the next episode of
Hoarders
to face your inner clutterbug. Say yes to less with these simple tips for decluttering your home.
Say yes to less
The first step on your path to a clutter-free home is to embrace living life with less. Sure, it might not be easy to say goodbye to your favorite stone-washed jeans from the '80s, but once you've let go, you will hear the angels sing. Too much stuff robs us of the ability to enjoy what we have. A good rule of thumb is to give away anything that you haven't used in the past three years. Make piles for things to recycle, give to charity and throw away. Focus on one room at a time and have everyone in the family pitch in!
Mudroom makeover
Chaos in your entryway can zap your energy and make you feel exhausted. Make over your mudroom
and create an organized space that has a place for everything.
Hang hooks for backpacks, jackets and keys. A cute basket captures umbrellas, dog leashes and other odds and ends. Stow your boots and shoes in cubbies or a large chest to keep things neat and tidy. We love the Brady Entryway System from Pottery Barn with open lockers, drawers and bins for a functional and stylish front door storage solution.
Pantry perfection
Is your pantry so full of cans, bags and half-full boxes you can't find a thing? Invest in a selection of glass containers like this set of Acacia and Glass Canisters from Crate and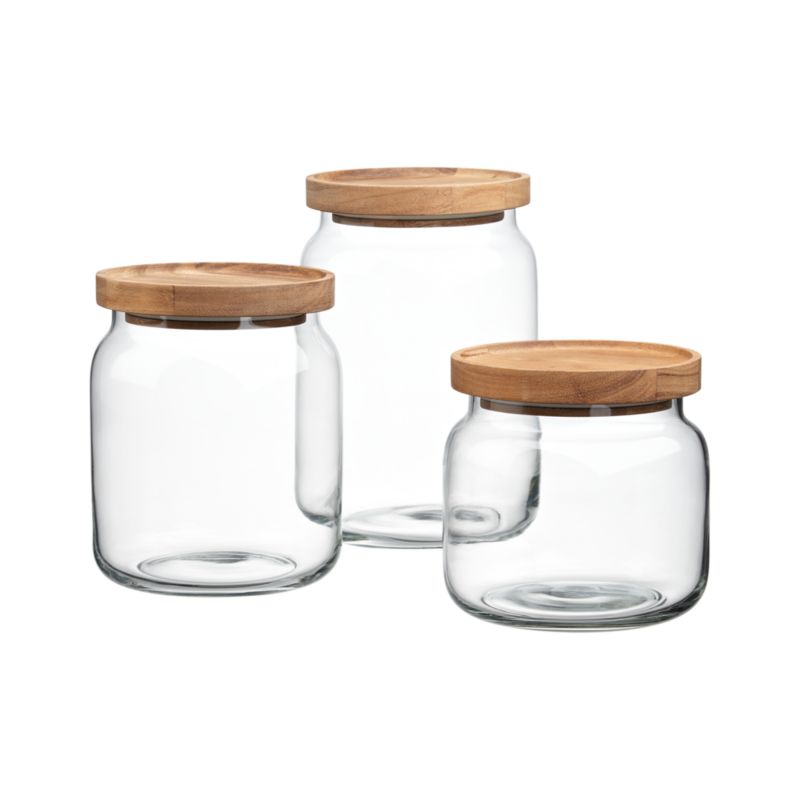 Barrel to store dry goods like rice, pasta, flour, pancake mix and beans so you can find them in a glance. Place smaller stackable containers filled with snacks, crackers, nuts and seeds on the lowest shelf so they are easily reachable for little hands. Group canned goods together for easier searching and place less-used items on the top shelf.
Clean closets
There's no denying that a clean closet is a happy closet. Begin by getting rid of anything that isn't in your current clothing rotation. If your closet is just a big open
space, consider adding some clever storage solutions such as shelf dividers, trays, baskets, cubbies and bins. Sort clothes into groups of like items -- jeans, shorts, work pants, long-sleeve shirts, tees, sweaters, belts, scarves, etc. Put the clothes you wear the most in the most convenient locations and stow less-used items on the sides and in back. You can get some fabulous ideas for smart closet storage with the exclusive new Closet Storage Collections from The Container Store.
Meaningful mementos
It's not always easy to decide which of your children's hundreds of art projects and other family mementos to keep or throw away. But some creative storage solutions can
make things easier. Scan your children's art and make a digital album to share with family members. Turn old baby clothes into a memory quilt. Collect cherished family recipes into a family cookbook. Install a big corkboard in your family den or use a Dynamic Artwork Frame to display current masterpieces from your little ones.
More about your home
5 Home accessories to bring summer into your home
Change the look of a room for free!
Updating your kitchen for spring