Posted: May 30, 2012 9:00 AM
Let us help you create a backyard oasis that is fun for the kids and enjoyable for parents, as well! One of the easiest ways to get the kids off the couch is by creating a backyard that entices them to get outside. Find out how to turn your backyard into your favorite family hangout!
You can have a backyard that is the best of both worlds -- fun for kids and relaxing for adults, regardless of your space and budget.
Embrace your natural surroundings
Whether you have a large backyard or a small area, the first thing you should do is divide your outdoor living space in sections -- play area, cooking area and an area for relaxation.
Bethe Almeras, Center Director for the National Center for Physical Development & Outdoor Play, says to strive to keep your backyard as natural as possible. "Keep a grassy area to promote gross motor play -- running, tag and a place for picnics," she says.
Best backyard toys
Pick age-appropriate toys that will grow with your child. Depending on your space and budget, you can create a kid oasis with a wooden swing set that includes a climber,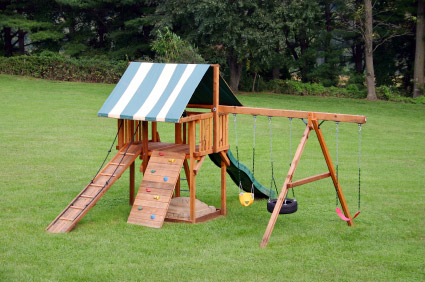 swings and slides. There are also smaller swing sets available for smaller spaces, as well as climbing domes and trampolines (with safety net) that are great options for kids of all ages.
Backyard toys don't have to be big or fancy! Have backyard games on hands for you and your kids to enjoy, such as a basketball hoop and/or a soccer net. Scooters, bikes and skateboards are all kid-favorite toys. Outdoor sidewalk chalk easily comes off with water and is a fun way to get kids playing hop scotch.
Keep a large bin nearby to keep toys and balls contained and organized.
Outdoor living
The toys will draw your kids outside, but a cozy patio will draw you outside. Make your outdoor patio as inviting and comfortable as your living room. Start with a chic outdoor rug that has a cool print, such as stripes or florals to put under your patio furniture. Spruce up your patio furniture by adding outdoor throw pillows for added color and comfort.
Place potted plants around your patio area and hang strands of lights off surrounding bushes and trees to provide soft light at night.
Get gardening!
"Square Foot Gardening or container gardens are a way to share gardening experiences with children," says Beuna Tomalino (Garden Coach, Landscape Consultant and Mom). "Children are more likely to eat what they were involved in growing."
What should you plant? "Herbs and edible plants can be used in place of or in addition to typical ornamental plants," suggests Tomalino. "Edibles in the landscape can be used to stretch the food budget and expose children to edibles they may not have tried otherwise."
Need more entertainment? "Setting up bird feeders and a bird bath will attract birds for the whole family to enjoy," says Tomalino.
More about decorating
5 Home accessories to bring summer into your home
Change the look of a room for free!
Updating your kitchen for spring