Posted: Nov 17, 2012 8:00 AM
Whether you freelance or have your own business, technology has made working from home a viable option for a lot of parents. Working virtually gives you the flexibility to set your own schedule and ideally frees up time in the day that you can spend with your kids. However, in order to make a home office work for you, you need to set some ground rules.
Beyond the laptop
You'll be spending a lot of time in your office and need to set it up accordingly. Anyone can work from home with a laptop and Internet connection, but if you want to be productive, you'll need a designated space where you can lock yourself in and get down to business. Ideally this space has a door -- with a lock! Children have a funny way of barging in on very important conference calls.
Leave it at the office
When you work from home, it's hard to leave it at the office. Your email, your documents, the projects you've almost finished are all just a few steps away. You have to learn how to turn everything off, walk away and shut the door behind you. Consider putting your phone away, too. It's just too easy to see an email come through on your phone and pop back into your office "just this one time" to reply.
Establish boundaries
The upside of working from home is the flexible schedule. The downside of working from home is that other people will notice when you're working at 6 a.m. or 11 o'clock at night. Do yourself a favor and establish regular business hours when people can get reach you if they need you. If you opt to work before your kids get up, or dip back into your office after you've made dinner and tucked them in, don't take business calls or text with colleagues. It sets the expectation that you're available for work 24/7.
Get help
Do yourself a favor and establish regular business hours when people can reach you if they need you.
"
"
Just because you can juggle kids, work, diapers, deadlines and manage to hold it all together doesn't mean you should have to do it alone. In order to be good at whatever type of work you're taking on in that office, you need to be able to check out of mommyland and focus on the task at hand. Consider hiring a nanny who can watch the kids while you work.
The more productive you can be while you're locked in your home office, the more time you'll have to take them to school, be at soccer practice, sneak away for a ticklefest -- all the little things you might miss if you were working in a cubicle.
Three office products you should try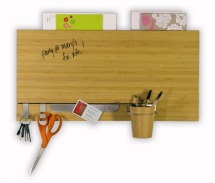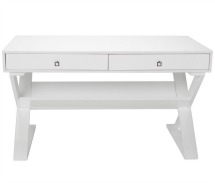 This Bamboo Dry Erase Channel Panel (Three by Three Seattle) takes the white erase board (circa your college days) to a whole new level. It has a sleek, modern design and is multi-functional with two channels for magazines and files, plus hooks for scissors or keys, a container for pens, magnets and a magnetic strip.
The Jett desk (Z Gallerie) has clean lines, two drawers with nickel-plated pulls and a functional angled shelf. This white lacquer desk will take any office from mediocre to super modern.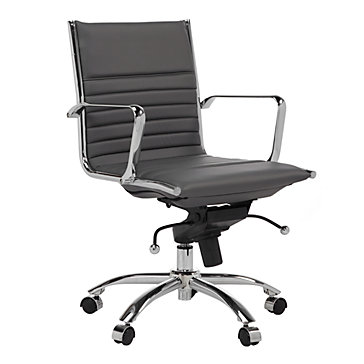 The Malcolm office chair in grey (Z Gallerie) has a chrome-plated steel frame, easy-to-clean faux leather and a streamlined design for both comfort and support.
More about your home
5 Home accessories to bring summer into your home
Change the look of a room for free!
Updating your kitchen for spring