Posted: May 18, 2012 10:00 AM
Divorce not only takes a toll on you and your family, it can also make your house no longer feel like home.
When a divorce divides your family and your property, you might be left scrambling to redefine home. Interior designer, Susan Manrao, specializes in design for divorcees. She offers these tips for parents that need to pull the pieces together after a split and make the transition more seamless for their kids.
Personalize your space
Make room for new memories. Refresh family photos with special shots of you and your kids, or candid shots of siblings together. Create a Memory Board using a 3-foot by 4-foot cork board. Print photos with white borders and display them with map pins. Be sure to leave lots of open space for new memories.
Make your house feel like home — one room at a time
If you're feeling overwhelmed, start with the main living area of your house where your family gathers the most (the kitchen, dining room or living room) and make it great. Take a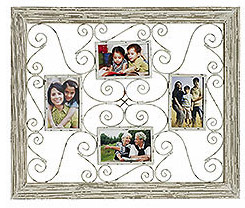 photo of the space and examine it with a critical eye. Many times it's easier to see things in pictures that you don't notice in person. Take note of what is missing, what seems imbalanced and any key furniture pieces you need. Give it a fresh coat of paint and fill in the blanks ASAP (empty book shelves, missing photos on your walls). The faster you have one room that is a place that you and your family feel comfortable in, the faster everyone will feel better.
Reconnect with your personal style
Fill your space with things you love, or old hobbies you'd abandoned — curate your collections for everyone to see. Experiment in new colors and patterns you may have stayed away from because of your ex-partner's taste. This is an important opportunity for you to be you.
Indulge in amazing bedding
You deserve it. Throw out the old blankets and buy a whole new bedding set you love — from sheets and a duvet, to throw pillows and accent pillows. You'll not only sleep better at night, soon enough you may even realize that you enjoy having the whole bed to yourself!
When a separation happens, Manrao notes that it's easy to feel shell-shocked and stay stuck in that uncomfortable transition phase. Remember, it's important — for you and your kids — to pick up the pieces and start creating a space that you can call home, with a fresh new look and new memories to match.
More about decorating
5 Home accessories to bring summer into your home
How to create a kid-friendly and parent-friendly backyard
Change the look of a room for free!