Posted: Jun 11, 2012 5:00 AM
Having children doesn't mean you have to sacrifice your personal style for functional pieces when designing your family's living spaces. With a bit of planning, style and function can truly coexist. Here are five tips for creating a family-friendly family room.
Contributed by Kendra Stewart, Pottery Barn expert

Create a storage plan
Good storage is key to creating a stylish, functional and kid-friendly family room. A modern furniture piece like the Logan Full Media Suite is great if you have room because it holds the TV, game consoles, DVDs and kids' toys all in one spot without seeming cluttered.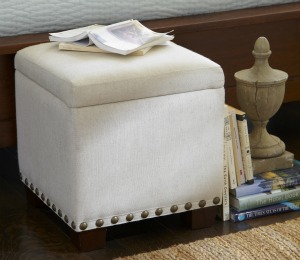 Make your furniture work for you
Dual purpose furniture like the Raleigh Upholstered Storage Cube with Nailhead makes for chic and comfortable seating for anywhere in your room which opens up to reveal generous storage.

Think beyond sharp edges
Rather than having a coffee table with sharp corners, consider the more kid-friendly option of using a large ottoman. A durable leather piece like the Sullivan Leather Square Ottoman is versatile for additional seating and can handle the wear-and-tear of kids and adults in an active family room. Use trays or a stack of books to create a sturdy surface for serving food or drinks for guests.

Add big impact with a little color
Pillows can make a big impact when decorating a room. A group of throw pillows adds texture or a pop of color to liven up your decor -- and they are great for additional seating or lounging for family movie nights.

Protect your decor
If you have kids or pets (or spill-prone adults!), consider slipcovered furniture which can be easily removed for cleaning. Pottery Barn's Comfort Square Furniture Slipcovers are a great option.
More on family-friendly spaces
Chic storage
What to invest in and what to cheat
Sweet dreams, sans Dora