Posted: Jun 19, 2012 9:30 AM
Tori Spelling had fun throwing the perfect backyard tea party for her daughter Stella's 4th birthday. From the whimsical cake to the shabby chic decor and food (tea sandwiches, courtesy of daddy Dean McDermott), get all the details on Stella's fabulous birthday party. Spelling also shares budget-saving tips on how to plan your own tea party birthday bash.
Tori Spelling has a knack for throwing amazing parties, as seen in her new book celebraTORI, and she put her fab ideas to work when throwing her daughter Stella's 4th birthday, which she shares on her website ToriSpelling.com.
Stella knew exactly what she wanted for her birthday party, giving her mom strict orders on the color scheme, which was hot pink and purple with pops of yellow.
First things first, finding the perfect party dress!! Spelling writes that she found this precious dress on Etsy.com, and called it the "perfect blend of fairy couture and princess poof!"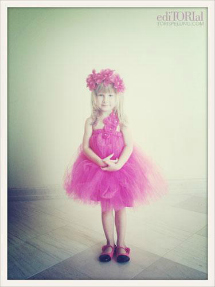 Decorations fit for a princess
To accommodate the 20 kids for her backyard party, Spelling set up lounge areas using shabby chic decor from their eclectic shop, invenTORI. For the main seating area, Spelling used the antique farm table (that seats 20) she purchased at the antiques fair in Texas last year, which was seen on their reality show Home Sweet Hollywood.
Pink and purple balloons, along with her favorite flower, peonies, added color and warmth to the party. The peonies made beautiful centerpieces for her table and she placed them in simple colored glass bottles that she found online "They are whimsical while still being modern and chic," Spelling writes of the flowers.
As another fun (and inexpensive!) touch, she added piles of purple and pink plastic pearls on the tables for added color. Spelling made pink paper tissue balls to hang from the trees, and set up an adult beverage station nearby.
The Pinterest-inspired birthday cake
Spelling and Stella came up with the design for the amazing birthday cake from Pinterest. Hansen's Cakes designed the beautiful cake, which was marble cake with buttercream filling.
"Hansen's Cakes has been doing the birthday cakes for my family since I was one year old, and they never cease to amaze me," she writes. "It's a family tradition and I've passed it on to my kids."
Tea party food and drinks
Spelling placed tea pots filled with pink lemonade on the table, along with wood skewers of fruit on silver serving trays, which they called "magic fairy fruit wands."
The mom of three (soon-to-be four!) used mismatched teacups and saucers for a whimsical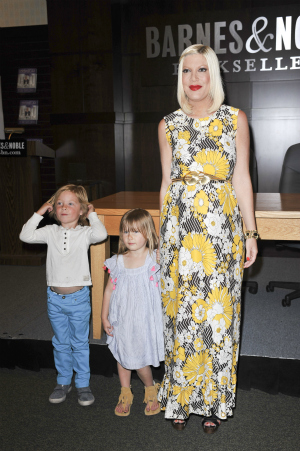 and less formal look. "Check your local Goodwill for them and make your own eclectic collection!" Spelling writes. For the placemats, she made her own by spray painting white paper doilies in pink and purple.
Her culinary hubby, The Gourmet Dad Dean McDermott, made tea sandwiches. He used crown cookie cutters to make them in different shapes to go along with the theme of the party. The dessert table contained yummy cake pops (in purple and pink, of course) as well as edible glitter.
Stella had a wonderful time holding court with her princesses, enjoying story time, crafting and jumping in the bouncy house.
Check out ToriSpelling.com for all the fabulous photos -- and you have to see big brother Liam and little sis Hattie in their tea party attire.
Top photos courtesy of Tori Spelling, photo of Tori and children courtesy of WENN
More birthday party fun
Celebrity tots birthday parties
Birthday party cake ideas
5 Ways to cut down on birthday party stress